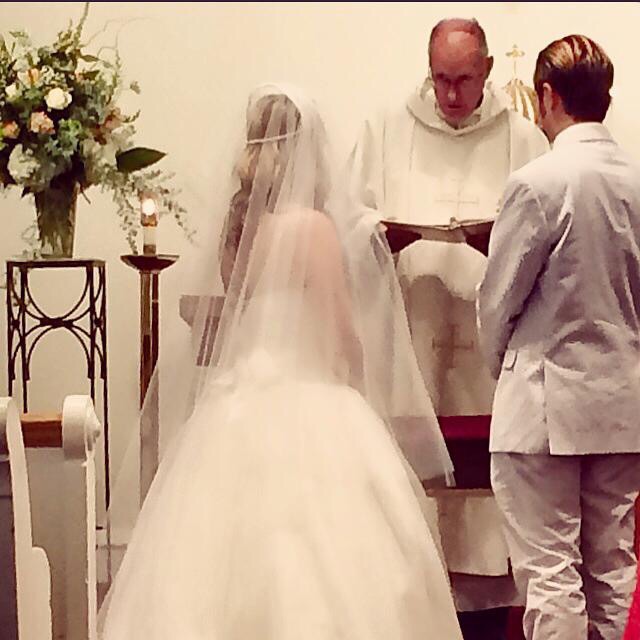 Wedding flowers and music —  two of the most important presentations to be made at any wedding.  Janice, mother of the groom, picked up the baton of theses two curial factors and ran with them!
First the flowers…through the process of writing a blog, I have viewed many, many pictures of wedding flowers.  I haven't seen any prettier than the ones Janice and KK chose.  In the photo above, you see KK and Tyler at the alter, actually saying their vows.  To KK's left, you see the exquisite alter flowers.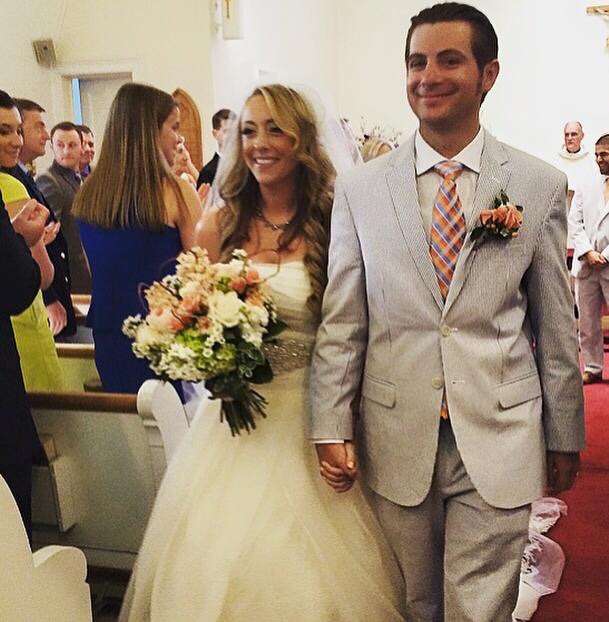 The new Mr and Mrs… walking down the aisle as man and wife.  This photo shows KK's bouquets off to a good advantage.  I love how it doesn't overwhelm her — she's a little woman.  The flowers are varied and give the bouquet a multi-level dimension.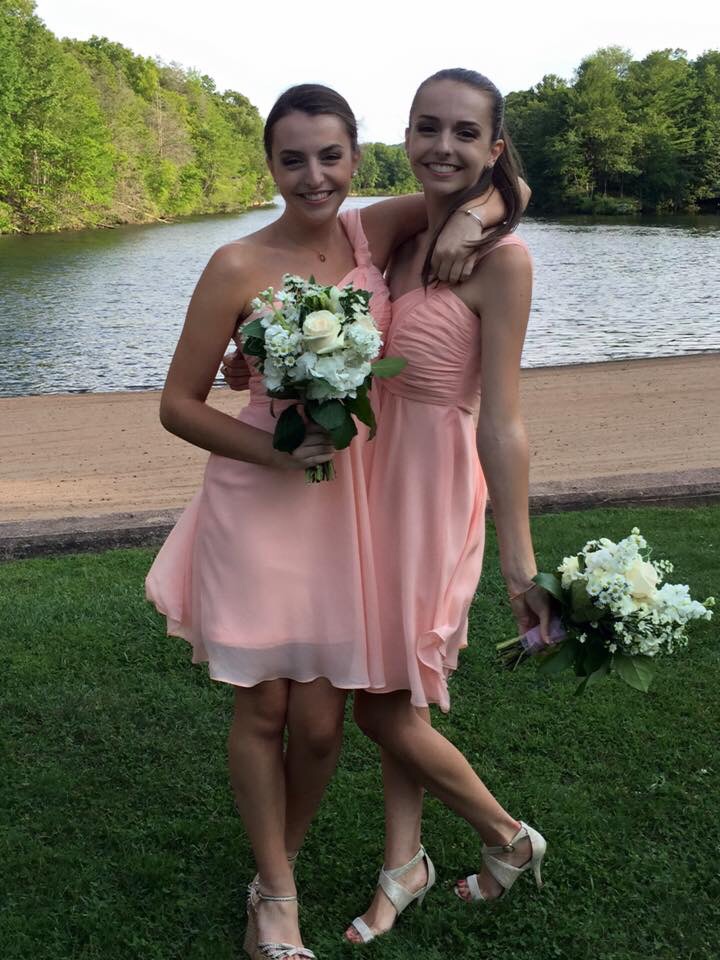 The bridesmaids bouquets are modeled by my own Tess and Julia, sisters of the bride.  I love the variety of all the flowers, but yet how they work so well together.  There was just enough peach in the bouquets to make them pop.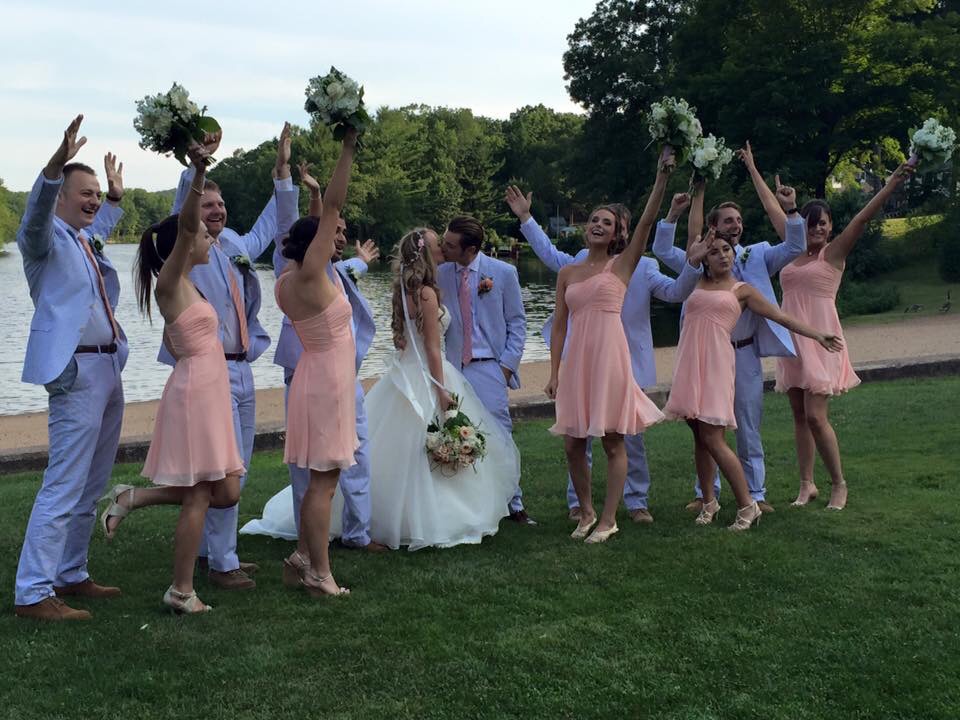 This photo is so KK and Tyler – relaxed, happy, and so were their attendants.  Their exuberance is definitely highlighted in this shot.  And when it comes to giving photo creds…they belong to me, with the exception of the top photo, (which was captured by one of KK's girlfriends), on my tiny iPhone.  Hasn't technology advanced?  Wow…is all I can say!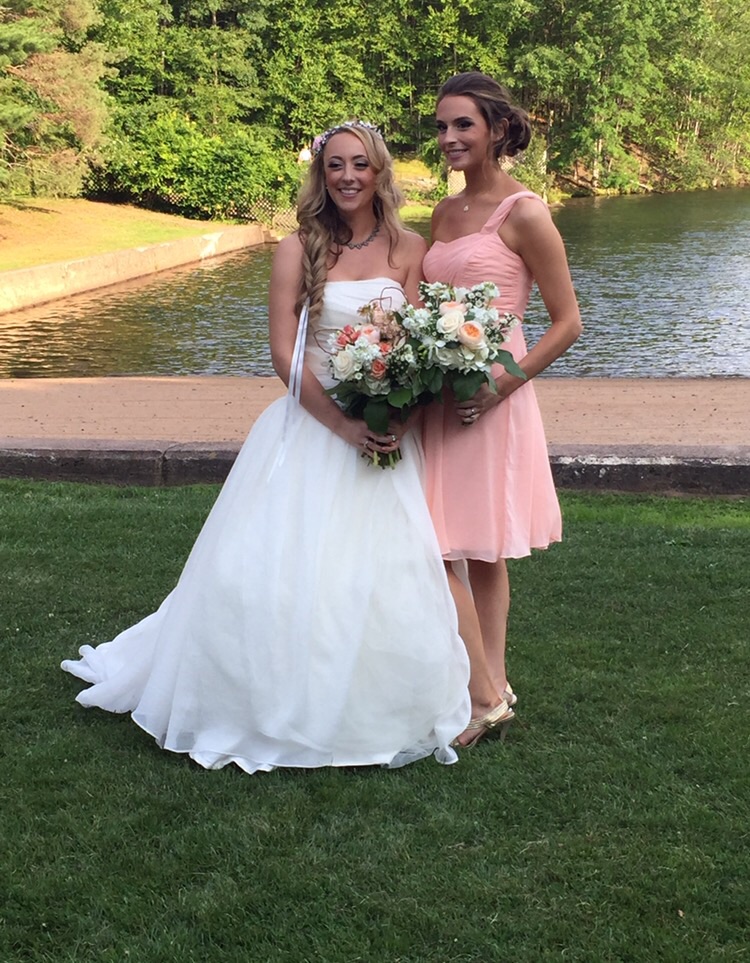 The last picture above – life long best friends…KK and  her "little" sister, Matron of Honor, Maggie.  I love this picture, just like the girls…And yes, I love the flowers you chose, Janice and KK – job well done.  The music, wow!  Janice hired a string trio to play all the wedding music, and the most beautiful cantor to sing all the responses in the Mass.  I was so happy for the couple, I had no tears, but the sweetness of the music…well that made my eyes well…