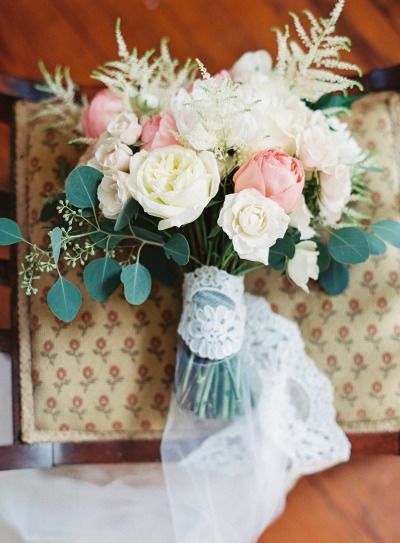 How will you make your bouquet YOURS?  When you start to think about this, and do a little research, there are actually many ways.  The above photo, with the remnants of a wedding veil, MUST have a story…my guess is that the bride is honoring a beloved family member who was unable to attend her wedding – maybe a mother or grandmother?
A bride's bouquet is a beautiful way to add a sentimental wisp of whimsy to your wedding.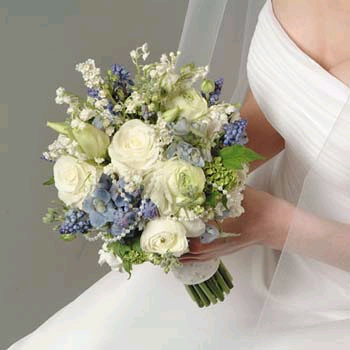 How about the lavender and white bouquet above?  I love the pearl necklace woven through the blossoms.  I'm sure it has some special meaning, belonged to someone dear to the bride.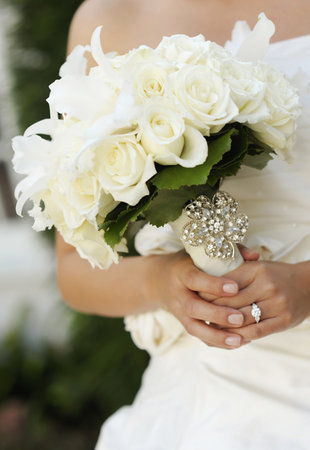 The white ball of flowers above is embellished with vintage rhinestone broaches.  Broaches?  You know…the pins older ladies used to wear.  Queen Elizabeth, Queen of England, is a serial broach wearer. 🙂
The image of the white bouquet offers the best of both worlds.  Not only it does sport gorgeous blooms, but it showcases a "flower" rhinestone broach.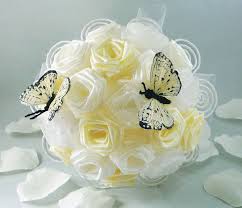 I have an inkling that butterflies have a place in this bride's heart — her bouquet above is very whimsical.  And what about my own darling daughter, Kathleen, aka, "KK"?  What will she do to "make her bouquet her own"?  Well, I'll spill a little secret…  My father is quite the artist, of many medias.  One project took his fancy.  He made all different types of jewelry fobs out of abalone shell.  One piece was of a butterfly that he gifted to my mother.  KK will incorporate this lovely moment into her bouquet.  It will be big enough to be seen, but not as large as the butterflies above.  It will hold a place of honor while still being subtle.  I think it will be very special.
Shop Amazon – Save Big on Open-Box Cameras