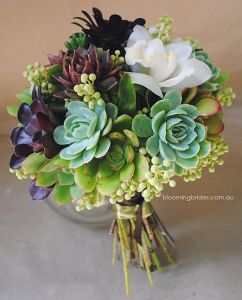 Of course you want a unique and beautiful wedding bouquet.  It's what every bride wants.  But how far are you willing to go to be different?  Would you consider any of the options on this page?   If I had it to do all over again, I might consider the top bouquet made of succulents.  These lovely plants are native to the West where I was born and raised.  I think it would be a nice tribute to my roots.  But that is NOW.  When Kenny and I got married 31  years ago, my mind-set was on soft and romantic – which the succulent bouquet is not.
Another option is the origami bouquet below.  Please read the included blurb from theweddingscoop.com.  If you click on the link, you can check out the instructions on how to DIY.  I think one would have to be quite talented for this creation…but the cost would be low, especially if you make it for the bride and all her maids.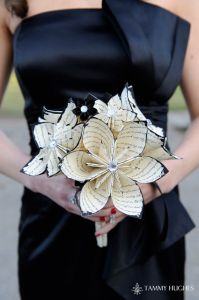 "If you have been searching for a unique and alternative bouquet to carry on your wedding day which doesn't use fresh flowers, then this might be the perfect pretty option! Something which you (and even your bridesmaids) can keep well after the celebrations!" You can read the full feature at: www.theweddingscoop.com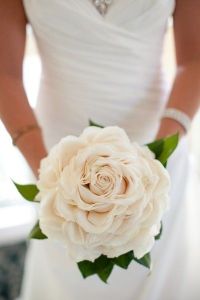 What about the giant white rose bouquet above?  It is definitely original…made out of rose petals with a rose in the center to look like a giant rose.  Not sure it strikes my fancy…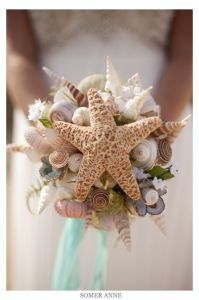 The seashell bouquet above is the most interesting, one of a kind I have ever seen.  I bet few guests would have seen one like it.  Soft and romantic it is not…
My favorite bouquet is the last.  Made entirely of broaches, it is unusual and impressive.  Inexpensive it would not be, but the bride would not have to worry about costly preservation!
Header: www.erichegwer.com
Image #1 indulgy.com
Image #2 etsy.com
Image #3 pinterest.com
Image #4 buzzfeed.com
Image #5 emmalinebride.com