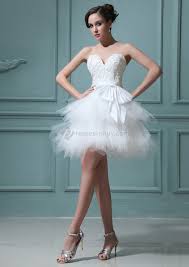 Can't make up your mind? You want a romantic ball gown type wedding dress…no! Wait! You want a sexy, slinky affair…The answer to your conundrum…Why not have both! Both of them would look fantastic in your wedding photographer/videographers' work from the day. If you work with a company like Snow Shoe Productions, I'm sure they could make this outfit look amazing. Do what the celebrities do…wear a dress for the wedding ceremony, then another for the reception. Unless your budget is unlimited, however, you will need to be conscience about the price point of both dresses. Two wedding dresses? You're sure to drive your mother mad! Choosing one dress is hard enough…So what are the advantages beyond a simple style statement? Comfort for one. I was very surprised at the weight of Maggie's dress, and it had no heavy beading or bling. Throw a bustled train in the mix, and she was carrying around a lot of extra weight. One could argue, though, that she was burning calories just by walking around and greeting her guests. 🙂
I love the dress in the top photo. Even though it's short, it screams "Bride" in its light, airy feel. What about the dress below? I envision that this bride wore a big puffy, romantic ball gown for her ceremony, but wanted to "kick it up a notch" for the reception. She is projecting a sophisticated air in this gown. And the black and cream bodice and train lend a nice splash of color.
Other advantages to wearing a "reception dress"? — additional photo opportunities. Just think, the bride has more poses to make, a different silhouette.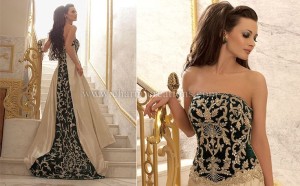 If a bride does go the 'two wedding dress route', I think she's wise to stick with white, black or a combination of the two. The next picture is adorable, and still lends a festive air. I bet this bride will be more mobile on the dance floor. A definite advantage to a reception dress.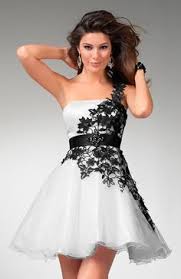 The last picture is elegant. I'm not sure I'd encourage one of my daughters to wear black to her own wedding, but this girl looks lovely. What do you think, readers? Would YOU spring for two wedding dresses?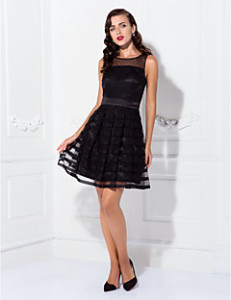 Get the FREE amazon wedding planner, (Kindle edition), from amazon! Just click on the link below.
My Perfect Wedding Planner Free (Kindle Tablet Edition)
Image #1 dressesinbuy.com
Image #2 pininterest.com
Image #3 pininterest.com
Image #4 lightinthebox.com