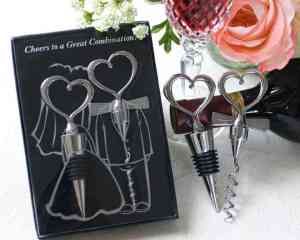 Ok…I love these!  If you choose favors, it's best to give something that will be used.  Who doesn't need an extra wine stopper or corkscrew?  This favor is not only something your guests can and WILL enjoy, but it can be personalized as well.  It meets all a bride's 'take-away' bucket list.  We all love our names emblazed on things.  Kenny and I had our names all other everything at our wedding… sad, but true…  :- )  
Check out the picture below.  This is innovative, useful – (Yum! – your name and wedding date are one them!), and relatively inexpensive.  In a previous post, "Will You Have Extras At Your Wedding?"  I mentioned late night snacks.  This fills that criteria.  Not only are these popcorn containers pretty and cute, they look like they could be a DIY project.  Print out the papers a couple of weeks in advance, pop the corn a day or two ahead of time, store it in airtight containers, and package them up.  Remember to ask a reliable person deliver the bundles to the reception.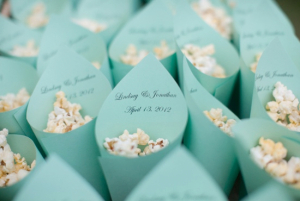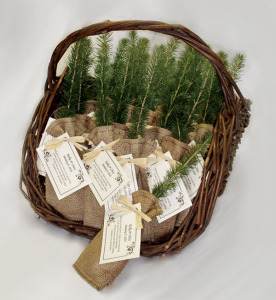 What about an altruistic favor?  These replantable tree saplings fit the bill.  You can also personalize them with your name, wedding date, or anything you'd like to have immortalized… and you would be helping the planet.  This could be prepared ahead of time, and would need no refrigeration.  Just remember to keep them moist.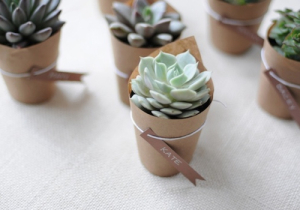 It's funny…I never liked succulents when I was growing up in California…but now…it seems like home.  I think these are charming, thoughtful, low maintenance gifts.  A simple tag can personalize them, with either your name or your name and wedding date.
I'm not sure what KK and Tyler will choose for their favors.  But rest assured it will be novel, useful and lovely.  It's how they roll.
Header image: mbwep.com
Image #1 www.favorsdepot.com
Image #2 chicweddingfavors.com
Image #3 thepinkbride.com
Image #4 handmadeandcraft.com