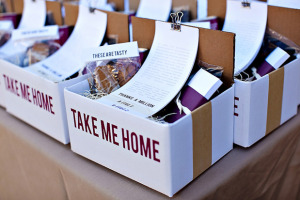 Will you have "extras" at your wedding?  What do I mean by this? "Extras" are the something "More" all brides are looking to provide their guests – the goal to make their wedding memorable.  This is an area where there are boundless options.  It ranges from something as simple as a water bottle with the bride and groom's names, to extravagant goodie "Boxes" pictured above.
In the next few blog posts, we'll explore a few of the ideas out there.  KK and Tyler's reception venue, "The Pavilions at Crystal Lake," offers multiple food options for guests.
Pre-wedding, they offer a variety of refreshing non-alcoholic beverages…flavored water, bottled water, cold cider, hot coffee, hot cider, hot chocolate, iced tea, and lemonade.  This option is offered if you are holding your wedding on site in the gazebo.  We are not.  KK and Tyler will be married at St. Augustine's in Glastonbury.
During Cocktail Hour, you can opt for "Culinary" Extras.  This include "Sweet and Savory Baked Potato Bar,"  "Build Your Own Taco Bar," Build Your Own Slider Bar," "Smothered Mac and Cheese Bar," "Philly Cheese Steak Station," "Salt Block Small Plates," and "Oyster and Clam Raw Bar."  Of course all these choices come with an up-charge for each…I maintain after a few of these options, would you be interested in the regular Cocktail Hour fare?  Would you even want dinner?
Post Dinner, AFTER the wedding cake…options: Pie Station, Cupcake Station,  Sundae Bar, (Ben and Jerry's!), and Honey Glazed Homemade Donuts.  Really?!?  And if you think your guests will STILL be hungry after all this food, you could pre-order the S'Mores Bar, Cider Station, Cupcake Truck, Pizza Bar ,Warm Pretzel Station, or CHICKEN AND WAFFLE STATION.  Really?!?
One extra I would consider, but is not offered by the Connecticut Wedding Group, owner and operator, of KK's venue, is an Espresso Coffee Truck.  I love the idea…
More tomorrow about "Take Aways", favors, and  bonus gifts…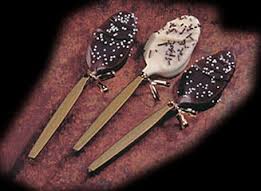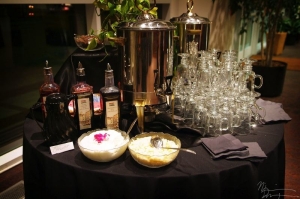 Image #1 glitterinc.com
Image # 2 weddingthingz.com
Image #3 www.chicagonow.com
Homepage Background Picture: Patty Cloherty