Do you know how to preserve your wedding cake? The tradition of eating the top layer of your wedding cake on your first anniversary is at least as old as my great-grandparents.  Some bakers now offer a "free" separate top layer to save.  You must store it the right way, however, or it will NOT be a delicious experience.  We must have done a decent  job of storing our top layer, as I know my husband and I ate it, and I don't remember it being awful…  Luck must have been involved as much as expertise.
It was very easy to preserve the top layer of daughter and son-in-law's wedding cake – we'll have to wait a year to see if my system worked, however!  The only thing you should do in advance is make sure you have a very large Tupperware-type round bowl – about 18″ across and 6″ deep, a board to set the cake on, plastic wrap, foil —- and this is the most important part — room in your freezer!
The above photo is my own daughter's wedding cake
Step #1 – Choose someone reliable to commit to preserving your top layer.
Step #2 – Safely wrap and preserve any cake topper you may have used.  Hopefully, the future generations would like to use it.  I love how the groom's mother chose a porcelain ornament so it can be handed down.
Step #3 – The experts say to freeze the cake 30 minutes to 2 hours ahead of the process.  I think this was recommend because some cakes are frosted in butter cream and thus the frosting is not firm.  I did freeze the cake for about an hour, but as Maggie's was covered in fondant, and I don't think I needed to.
Step #4 – Whatever you choose to set the cake on, whether it be a plastic cutting board, a piece of wood, or cardboard, wrap it in foil to protect the cake from tasting like the platform.
Step #5 – Cover the cake in 2 layers of plastic wrap.
Step # 6 – Then cover the cake in 2 layers of foil.
Step #7 – Store the whole think in the Tupperware Bowl and freeze.  Don't forget to "burp" the Tupperware to get the air out!  This will preserved your cake for up to a year.
Initial info was gleaned from: Susannah Chen – www.yumsugar.com, although I tweaked it as I went along with my own supplies
Shop Amazon – Gift Cards for Weddings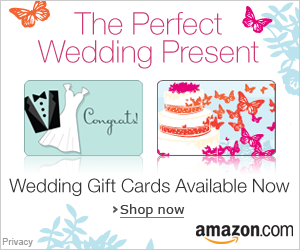 Image credits:  #1 Lisa Thibodeaux
                             #2 Patty Cloherty