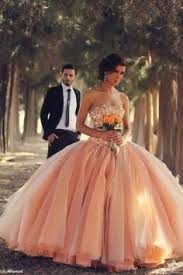 Ah…the Fall Wedding.  There IS a reason why autumn is currently the most popular time to get married.  Why if you want your number one venue ON A SATURDAY in the fall…book it at least 18 months in advance.  Fall is beautiful.  It gives the bride an instant theme.  Even if  you are not lucky enough to life in a "Four Season" part of the country, you can manufacture an autumn feel.
Now I might have thought of a pumpkin color scheme for the bridesmaids' dresses, but probably wouldn't have chosen it for the bride's dress.  I kind of like it, though…how about you?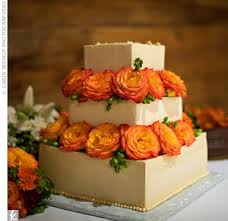 And look at the cake above – gorgeous!  In fact this cake would fit in with any wedding style that had a peach, burnt orange color.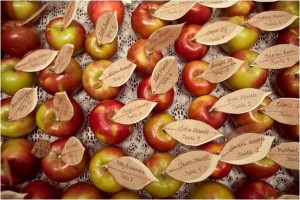 So many escort card/seating card choices with a fall wedding.  I love the apples above. Kenny and I actually went to a wedding where they used just these mini apples to direct us to our table.  And it wasn't even a fall wedding!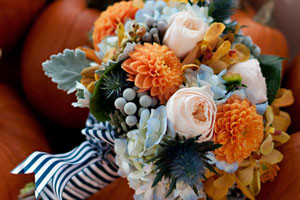 The two bouquets above, and below are simply gorgeous.  Not sure which is my favorite.  I do think, though, that both have a less formal air than the tradition bridal bouquet.  Maybe that was the bride's vision?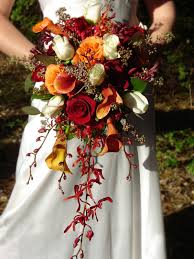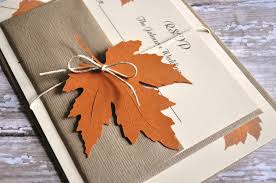 A Fall Wedding can lend itself to a country/casual air, take the invitation above.  I would imagine much of it is possible as a DIY project, which could greatly take the pinch out of the bride's budget.  OR…look at the photo below.  This fall table setting has a very formal air.  I have mixed thoughts about the tall vases in the photo below as table decor. Yes, they are dramatic, and make quite a statement.  BUT…they make visibility around the room a challenge, as well as one for the photographer.  And in my opinion, from the weddings I have attended with them, chatting to your seat mates is NOT easier…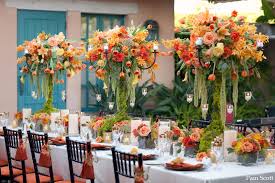 Let's not forget the delicious fare you can serve your guests at a fall themed wedding.  Everyone's autumn favorites are sure to be a hit.  Just look at the delightful table below groaning with tasty treats!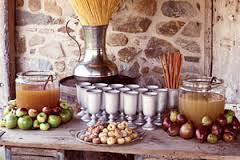 But probably the best reason to schedule your wedding in the fall…the GORGEOUS photo opps!  What more do you need in the way of decoration than nature's own!  Neither KK or Maggie had a fall wedding.  It fit in better with their schedules to plan late spring, early summer for them.  And yes, there IS something to be said for starting your life together in the tender pale green of budding new life…

Both my girls used the "theknot" planner above. It was the best out there…and there were a lot of wedding etiquette/planning books.  Click on the link below, if interested, and check it out from amazon!
The Knot Ultimate Wedding Planner & Organizer [binder edition]: Worksheets, Checklists, Etiquette, Calendars, and Answers to Frequently Asked Questions
Image #1 www.pinterest.com
Image #2 theknot.com
Image #3 equallywed.com
Image #4 brides.com
Image #5 pininterest.com
Image #6 etsy.com
Image #7 blog.karentran.com
Image #8 brides.com
Image #9 sunsetcanyonphotography.com