From Wikipedia:

"Groom's cake is a tradition most popular in the southeastern United States that began during the Victorian era, inherited from Britain.[4] By the 1890s, the groom's cake had become a popular complement to the "lady's cake."[3]Traditionally, the cake was cut by the bridegroom and served with wine to the bridesmaids before going to the church.[3]Groom's cakes never became particularly popular in England, but in the Southern United States, the practice of having two separate cakes became very popular, with the bride's cake being light and the groom's being dark.[3] Groom's cakes are traditionally served at the wedding reception but can also be served at the wedding ceremony. It is usually considered proper for the groom's cake to be served separately from the bride's. Traditionally, groom's cakes are chocolate and are often garnished with fruit. Many are decorated to reflect the groom's hobbies, such as golfing, fishing, or hunting.

By the middle of the 20th Century, a competing custom incorporating both cakes on the same table had arisen. The bride's cake would form the base, and the groom's cake would be mounted on top. The bride and groom would cut the cakes and then give pieces to each other to eat.[3] The cakes would then be served to the guests.

One tradition was to cut a piece of the cake and put it in a small box, then present the box to an unmarried woman attending the wedding.[5] The woman was not expected to eat the cake, but rather to put it under her pillow. Superstition held that this tradition would help an unmarried woman find a husband."

I remember the first wedding I went to as a little girl of four.  I don't think I was presented with a piece of groom's cake, but I WAS sent home with a little box with a slice of wedding cake in it.  And YES, I did put it under my pillow, as my mother told me I would dream of my husband…Did I??  No, I slept the sleep of the very young, closing my eyes, and opening them ten hours later, as if just a moment had passed…

I think the tradition of the Groom's Cake is charming.  From the research I've done, it appears more often than not, to be a novelty cake.  While the top cake looks luscious, and is quite different from the traditional white wedding cake, most of the "Grooms' Cakes" are themed based.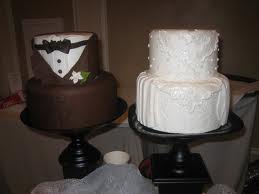 I really like the wedding dress/tuxedo theme of the two cakes above, but my favorite is the cake below…I think it's perfect for Tyler and KK.  Both love to fish, and I think it would be a delightful addition to their menu.  Rob and Maggie didn't have a groom's cake.  For another guest dessert option, they picked macaroons, (a sentimental choice for them), and other various pastries.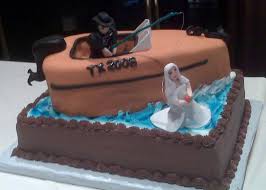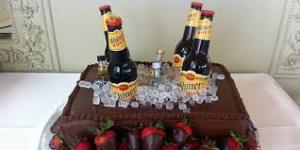 Header: weddingwindow.com
Image #1 embreehouse.net
Image #2 blog.wedalert.com
Image #3 eventstoatdc.com
Image #4 weddings.gatheringguide.com