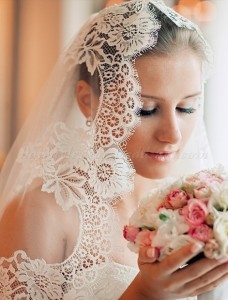 Will you wear a traditional veil or a mantilla?  What is a mantilla?, you ask, even though you've probably seen them on brides.  According to Wikipedia:
"A mantilla is a lace or silk veil or shawl worn over the head and shoulders, often over a high comb called a peineta, popular with women in Spain. It is now particularly associated as a pious religious practice among women in the Roman Catholic Church."  
Below, you can see a picture of a "peineta."  Also from Wikipedia.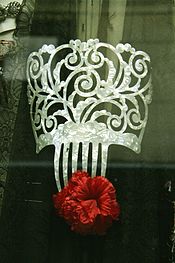 "A peineta," states Wikipedia,  "similar in appearance to a large comb, is used to hold up a mantilla. This ornamental comb, usually in tortoiseshell color, originated in the 19th century. It consists of a convex body and a set of prongs and is often used in conjunction with the mantilla. It adds the illusion of extra height to the wearer and also holds the hair in place when worn during weddings, processions and dances. It is a consistent element of some regional costumes of Valencia and Andalusia and it is also often found in costumes used in the Moorish and Gypsy influenced music and dance called Flamenco."
Darice 35745, Knife and Server Set, Faux Crystal
 (The cake knife and server are perfect for the traditional cutting got the wedding cake.  Only $ 6.38 from amazon.  Click on the link for details!)
The bridal mantilla, at least in the United States, has morphed from the traditional Spanish one.  We do not use the "peineta."  The bride's mantilla is placed gently on her head with no other adornment.  It's a very beautiful look, though.  When I was ten years old, I was a "Candle Lighter" in my cousin Linda's wedding.  She was the most beautiful bride I have ever seen – until I saw Maggie.  🙂  Linda wore a mantilla very similar to the top photo.  She was my absolute vision of what a bride should look like.  For YEARS I insisted, to anyone who would listen, that when it was MY turn to be the bride, I too would wear a mantilla.  That was until my mother got ahold of me.  "You MUST have a veil to cover your face,"(what we call a blusher today).  My mom never asked much of me, the wedding was Kenny and my own to do as we wished.  So this request was honored.  And frankly, I'm glad.  While I adore the look of the mantilla, my personal romantic taste goes to the veil covered bride.  When Kenny lifted my veil to kiss me, it was magic.
The photo above is just exquisite.  Another downside to the mantilla, however, is that it is rarely worn with a headpiece.  I think a headpiece adds an extra touch of panache.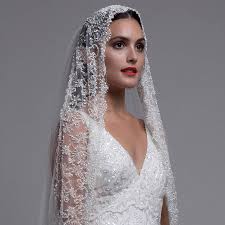 But then ones one need extra sparkle if a mantilla like the one above is chosen?  That's a whole lotta lace – gorgeous.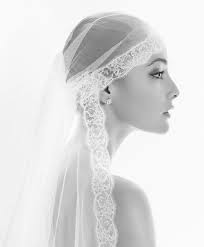 The next photo has almost a Greto Garbo feel to it.  I like its old world charm.  Just remember, when choosing your wedding attire, you have to love it.  If you don't… keep looking…
Image #1 hairstyles-for-weddings.com
Image #2 wikipedia.com
Image #3 etsy.com
Image #4 imgkid.com
Image #5 junebugweddings.com