Weddings going forward will be smaller. The dreaded novel Corona Virus is one reason, economics is another. Let's face it, we probably won't return to our normal lives for quite awhile. On top health concerns, many have lost jobs or are impacted economically. Does that mean couples will not want to marry? Of course not! We will just have to find creative, less expensive ways to go about it.
What are the two biggest costs of a wedding? …your caterer and venue. What about renting an" Air B n B" for your wedding party and ceremony? Not only could you hold your celebration at an "Air B n B" home, you could also stay there instead of a hotel. Disclaimer: you must be upfront with the owner and declare your intended use. Keep in mind, celebrations may not be allowed at some properties. Look at the beautiful property above. Beach front property! What a perfect location for a wedding AND a rehearsal dinner the night before. You may even want to consider a post wedding brunch the next day.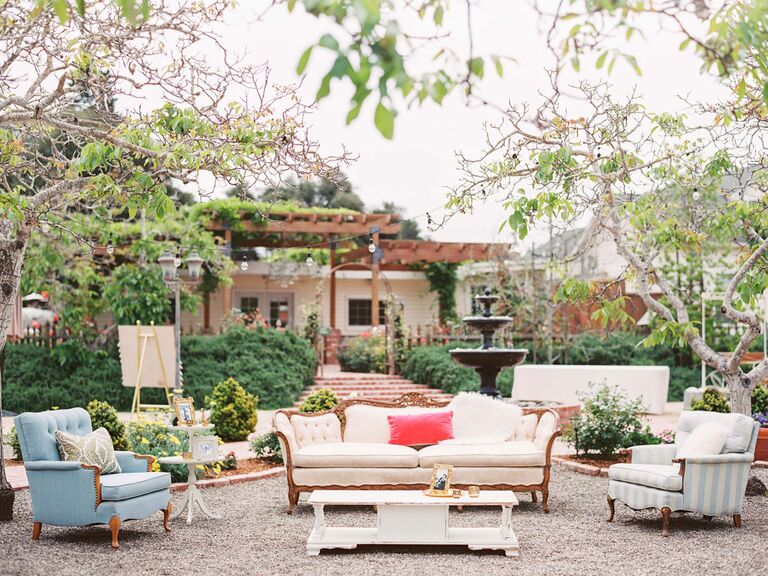 Doesn't the above photo look cozy for an intimate affair? Oh! Your property doesn't sport outside furniture?…easy to rent from a staging/event rental company. Once again, check with property owner to see if outside furniture is allowed.
Let's talk caterers. This is probably your biggest cost. Who says you must have a formal sit down dinner? In my role as wedding planner, I see most guests fill up on food and drink at "Cocktail Hour" and only pick at the formal dinner. Everyone is just too full. What a waste! One can save money and still have a plentiful offering for your guests with heavy appetizers.
Just remember, there is no right or wrong for your wedding, just what you want for your special day.