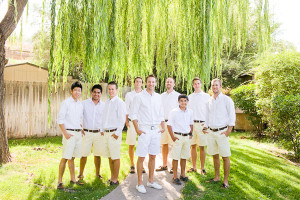 So you've decided to have a summer wedding?  There are so many options, from attendants attire to refreshments to decorations.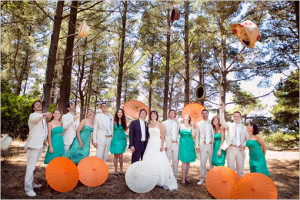 Signature cool beverages can add a delicious way to stay cool as well as a wedding color theme to enhance your decor.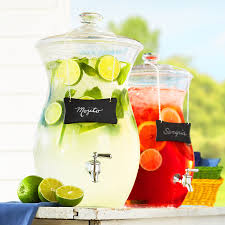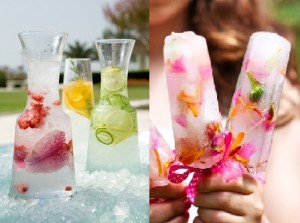 You can also tie in your summer theme with some beachy items to use as place cards.
Please enjoy a few excepts from www.tastycatering.com on some inspiring summer wedding ideas…
Put a variety of flip flops in a basket so that guests in uncomfortable shoes have something into which they can change by the time dancing starts.
Hang up your flip flop offerings on a string between two trees.
Give out sunglasses at the outdoor ceremony as a wedding favor.
Personalize the sunglasses with your names on one side and the wedding date on the other.
Provide a basket of bug spray, especially if your reception will take place near a pond or lake.
Keep a basket of sunscreen for guests to use during your ceremony and reception so they don't get too much sun.
Include small bags on your sweets or candy table so that guests can fill a bag to take with them before leaving at the end of the night.

Summer Outdoor Wedding Entertainment Ideas

Personalize a bags set (also called "cornhole"), or several sets, as bags is a popular outdoor game.
Provide Bocce ball, horseshoes and other casual outdoor games for simple summer weddings.
Provide bubbles for the kids, and/or host a bubble send-off, where guests blow bubbles as you two leave the reception.
Turn your send-off into a sparkler send-off, where guests light up the path from the tent to your decorated car.
Host a bonfire, perfect for a s'mores bar idea in the summer wedding menu ideas.
Let lit-up paper lanterns go into the sky at the end of the night, a celebration of guests' well wishes for you.
Provide an outdoor photo booth with plenty of props and signs for visitors to hold and wear as they get their photos snapped.
Would you like to order your own outdoor paper lanterns?  Click on the link below to order from amazon!
Fiesta Paper Lantern Value Pack Party Accessory
Next time…what if you want a Fall wedding???
Image #1 bridalguide.com
Image #2 giantdesign.us
Image #3 busybeedesignstudio.wordpress.com
Image #4 equallywed.com
Image #5 wedding.allwomenstalk.com
Image #6 bridesmaids.com