I think if we're honest with ourselves, we all take a moment of reflection now and then.  This is especially true when we have life changing events.  It's certainly true for me.  In this year, my youngest left for college and my husband and I will become grandparents in December (our oldest and son-in-law).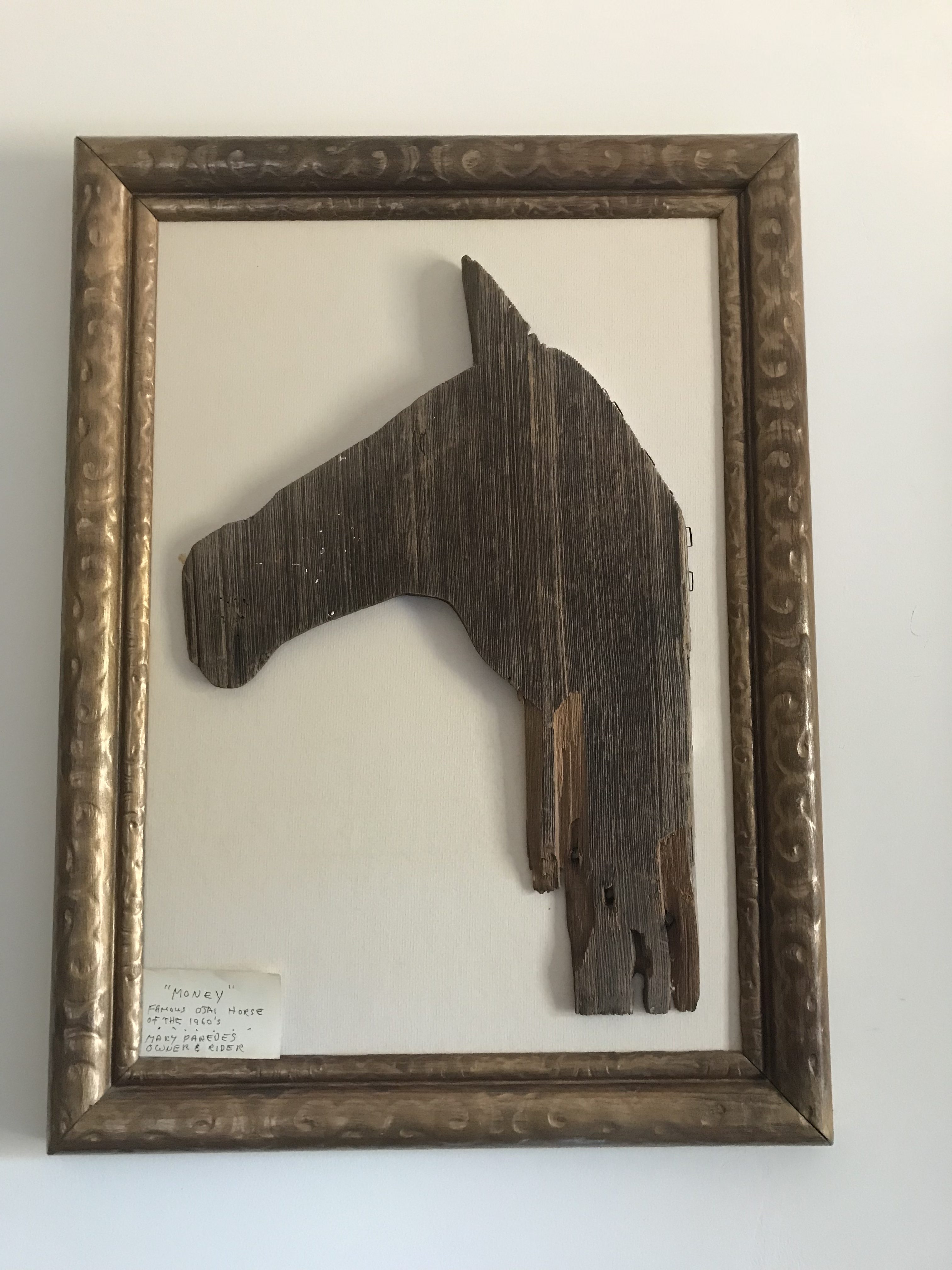 I had the luxury of visiting my parents this past week in California.  I miss them – greatly.  It's easy to look down the road not traveled and think, "What if…"  "What if" we had not left California 31 years ago?  Do I regret it?  I do know I miss my California family – both sides – very much.  But… I also loved being a corporate vagabond.   One thing that wasn't impacted, however, is the relationship my children enjoyed with my parents.  While they moved with us from house to house and state to state – their constant was their room at "Grammie and Gramps' house in California."
I was looking for a jacket of mine left in California.  I couldn't find it in our room, so looked in the girls'.  No jacket.  But the 'girl empty' room gave me pause.  And I laid on one of their beds and just looked around the room.  A lifetime of memories was crammed into a small space.  Memories of their grandparents, Kenny and me, and their own.  Below, the girls' dressers.  These were the first pieces of "real furniture" my parents purchased as a married couple over 60 years ago.  (On the bottom of one drawer, "Maggie" is written in crayon.  She caught it for that!  —KK did it…!!!)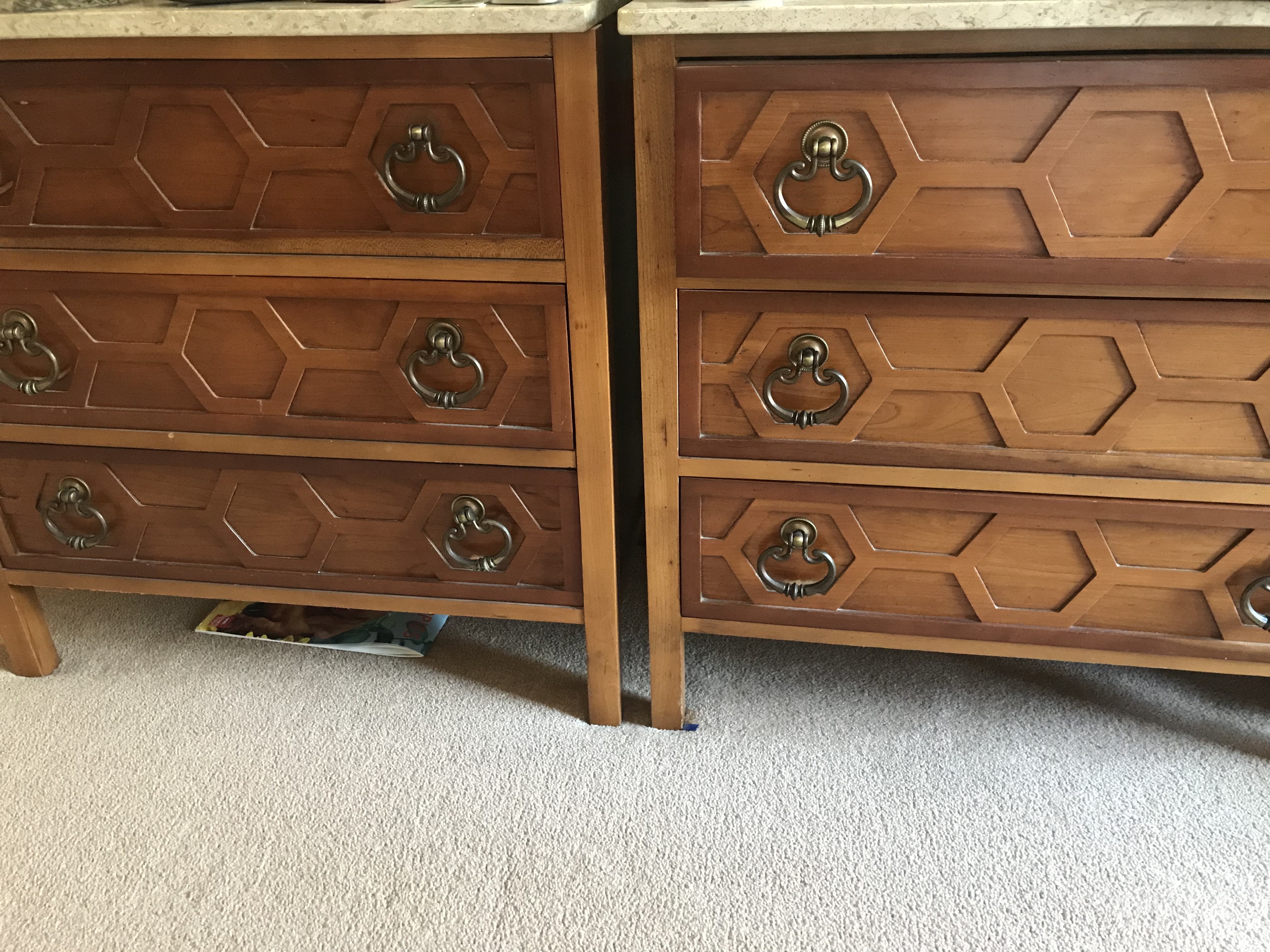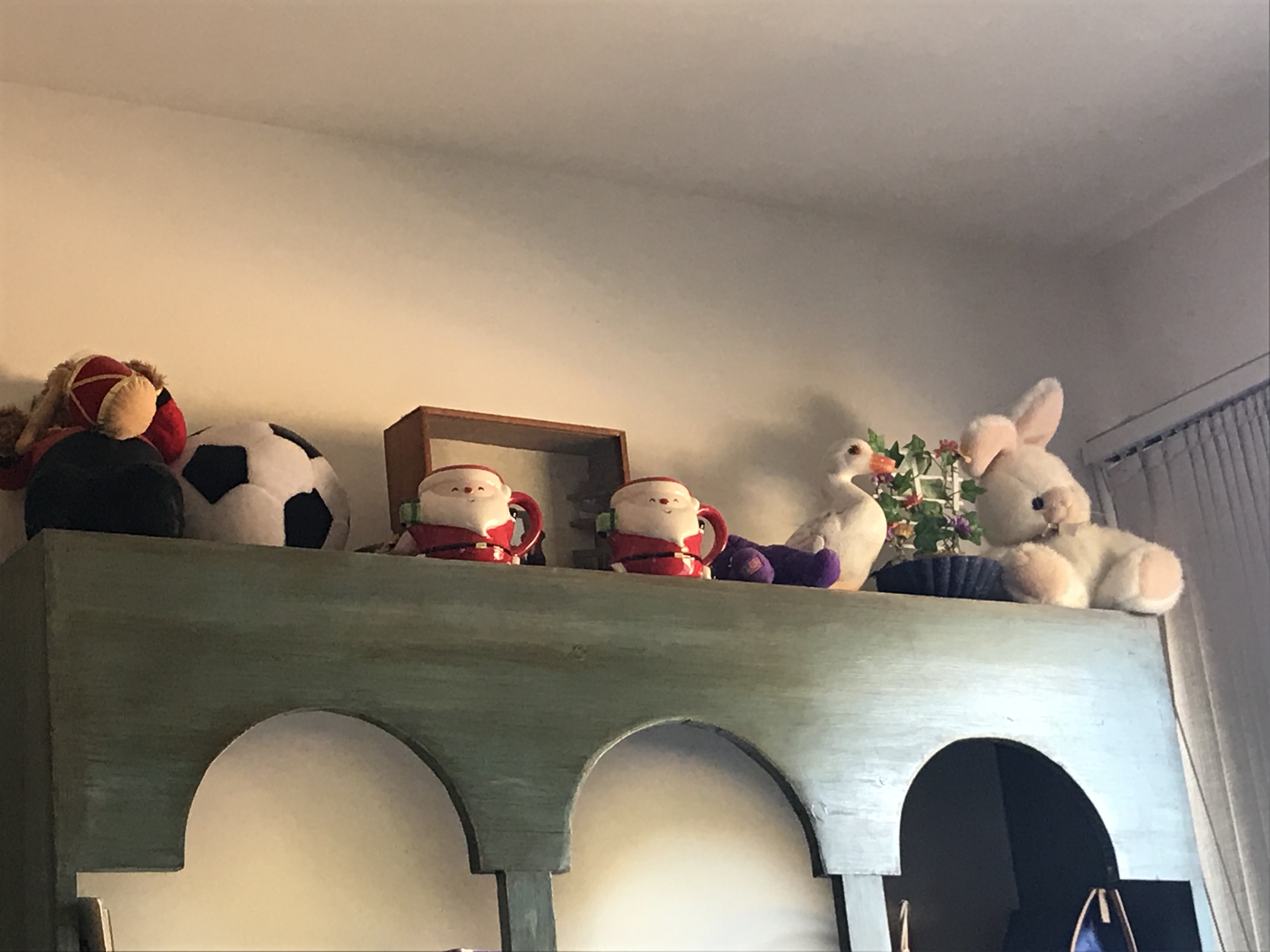 Above is the top of a bookcase my dad built for my own room when I was ten.  The girls have items stuffed into it that would probably give them a chuckle.  Truth be told, they really don't see those items any more.  They're just part of the landscape.
Oh…and the first photo on this post, the one of the horse head?  It's a carving my dad made me when he was building one of our homes.  I asked him to make me a sawhorse "horse" and he dropped everything he was doing…and did just that.  I'm glad I have the beloved tattered thing, and that it became part of my daughters' world.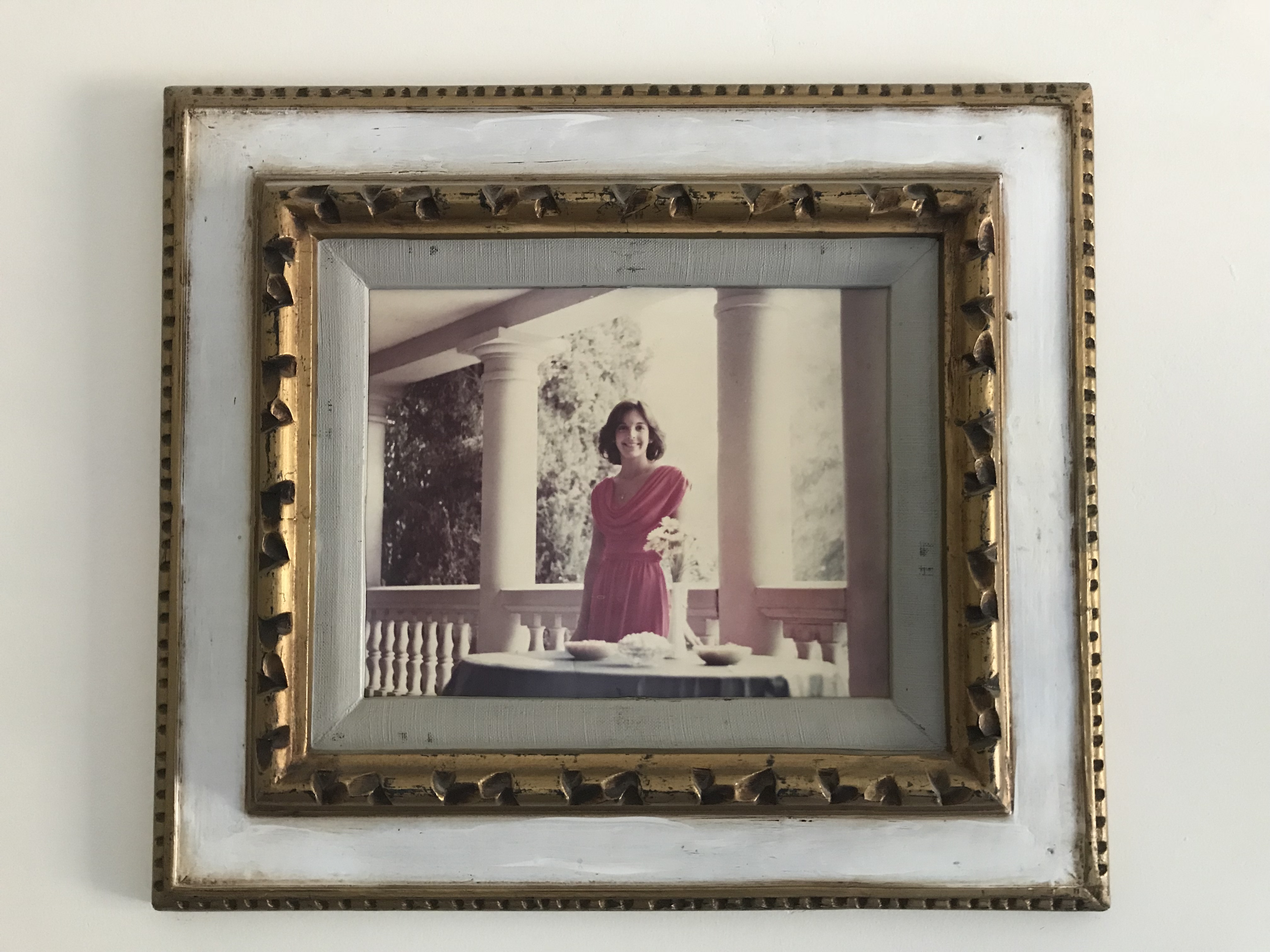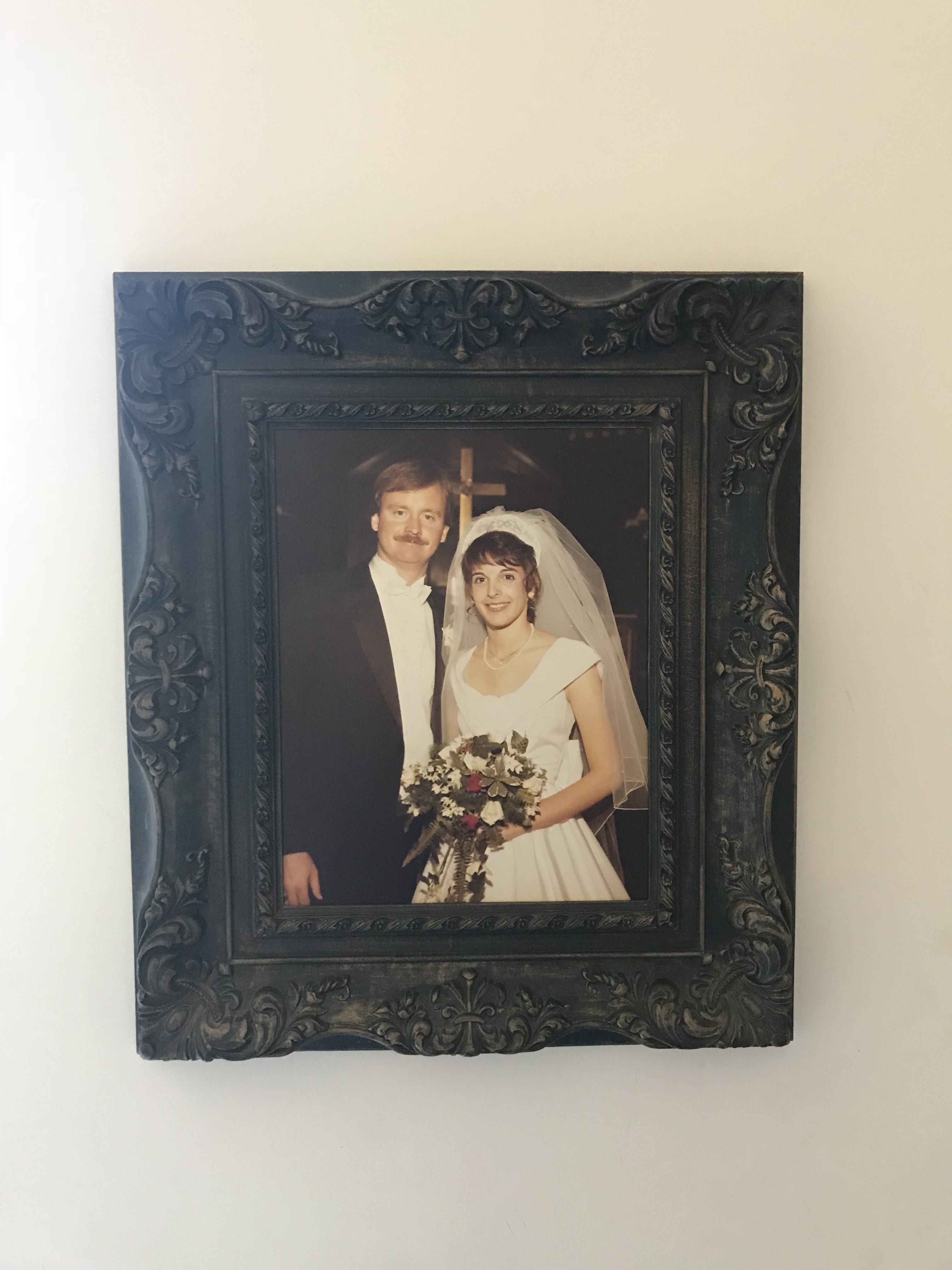 Other memories include photos of their parents (yours truly 🙂  ).  The room seemed to be in a constant state of change. At varying times, there was a crib – for the babies – a sleeper sofa, bunk beds, twin beds.  Mom was always trying to find the best way to make four growing girls comfortable in a small area.  But she needn't have worried.  The roughly 4-5 weeks a year we spent with them was the only time they were all together as equals.  The games they played at night, the secrets they shared!  I can only guess…  At home, we had 5 bedrooms, a game room, a finished basement – heck they didn't have to see each other if they didn't want to.  But not at Grammie and Gramps'.  There, they were the best, tightest team.  And they still are.  That room shaped their relationship in the best possible way.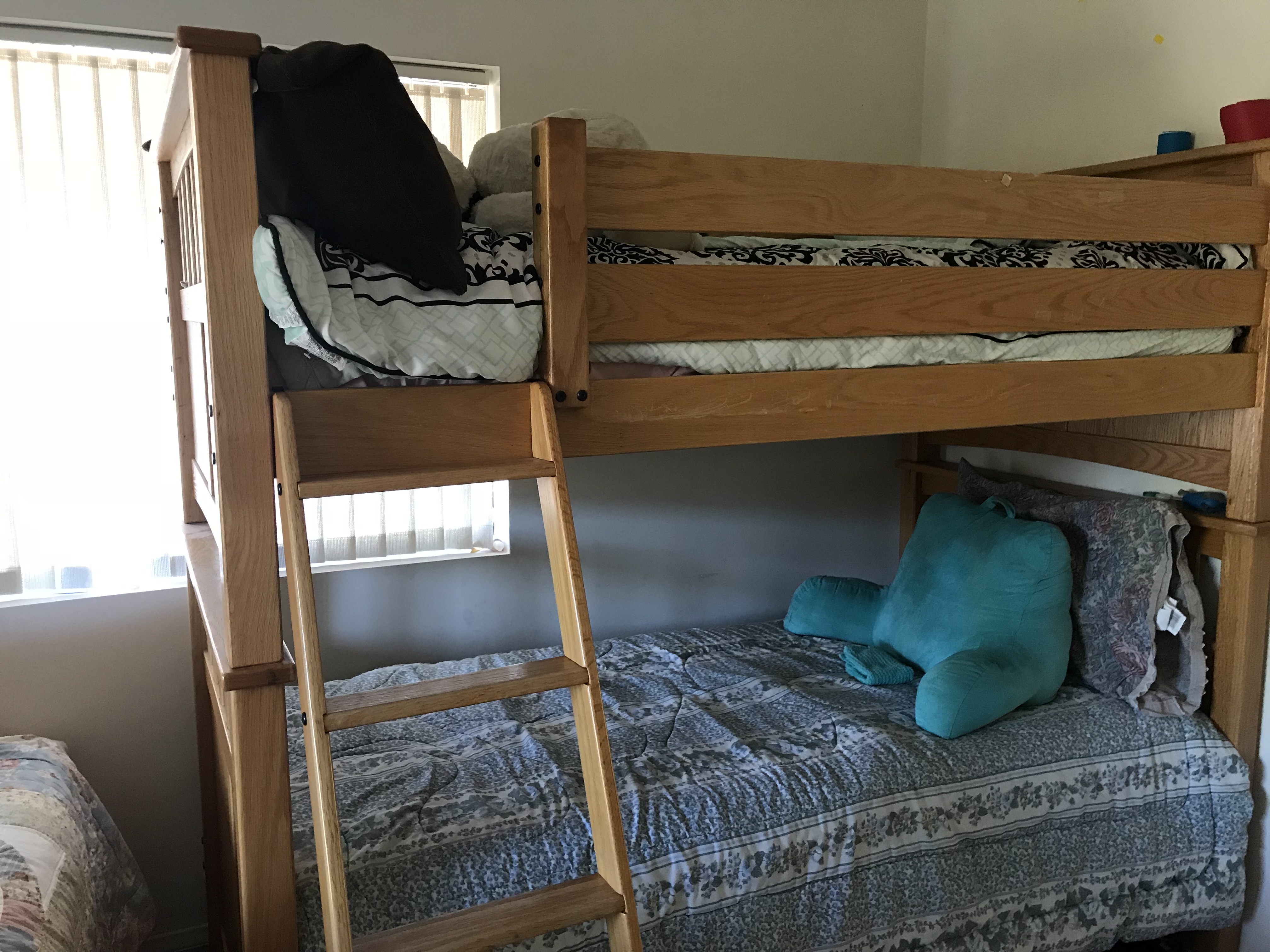 More than one night Kenny and I would lie awake, tired from a long day at the beach, and take turns trying to get them to calm down – to stop the giggles, the occasional tears.  Because is wasn't always happy times.  Four girls do not always get along.  But they learned to work it out, to compromise, to forgive.  What I would give today to have one more such night…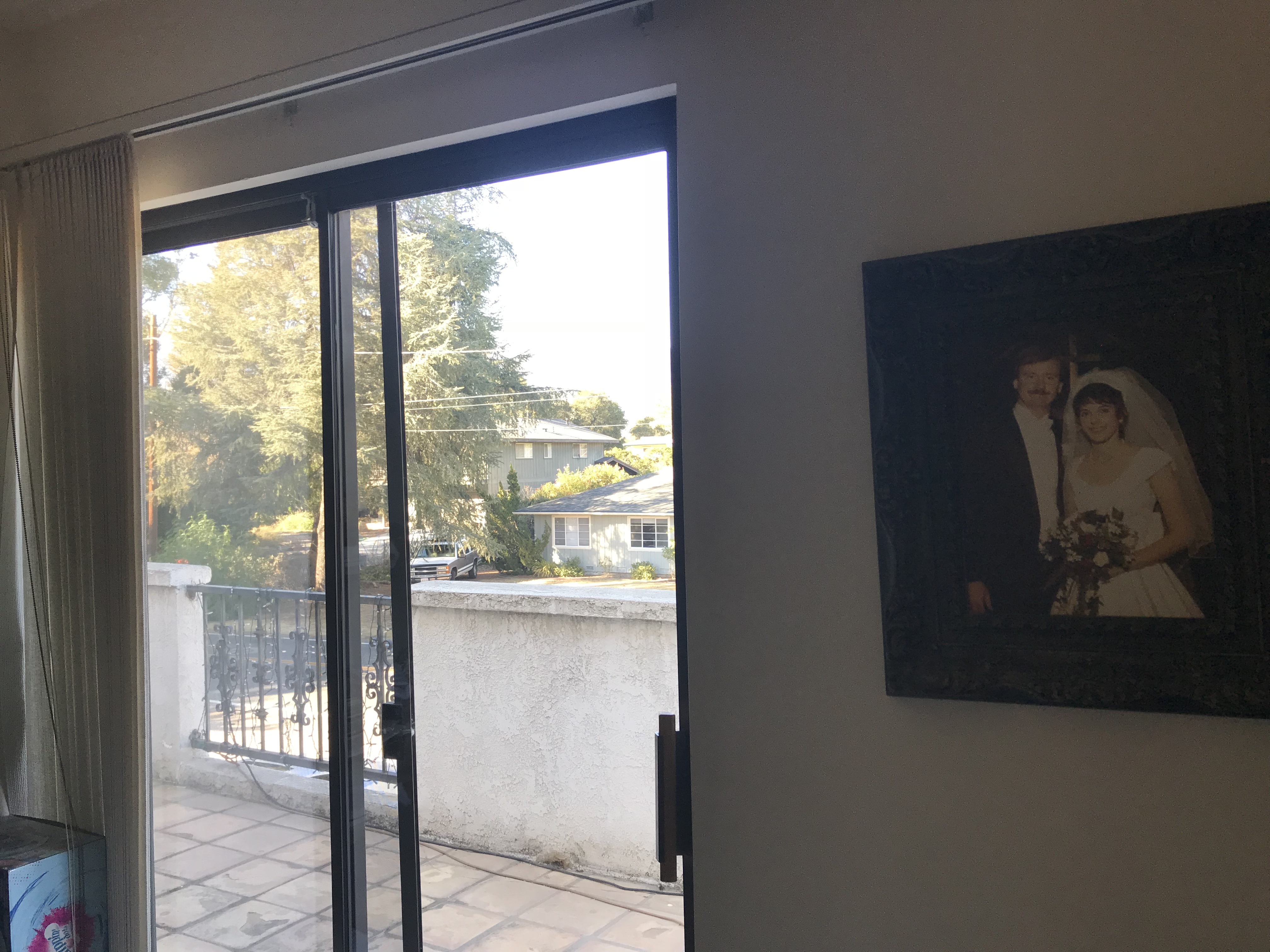 But one must look ahead…I hope to have such lovely days and nights with my own grandchildren… And I will always remember – when playing a "favorites" game", I asked the girls to name their top three "happy places", (one of my picks was Luxembourg Gardens in Paris), they all four said, "Our room at Grammie and Gramps."