My Son-in-Law Robert … Our family first became aware of Robert Stauble when he was 11 years old.  Our driveway in Connecticut was the bus stop for the middle school kids.  Maggie, as the only girl at the stop, would not stand with the boys.  Instead, she would run out when she saw the bus approach.  Fast forward 4 years, and Maggie and Rob became an item.  Visiting back and forth was not difficult, as he and his family lived across the street!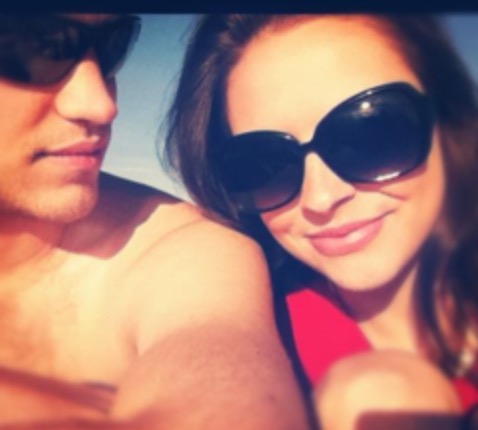 Rob and Maggie at the beach in California
We all loved Rob, and his family thought the world of Maggie, but come on!  How was this going to last?  They were kids.  They would go to separate colleges, for goodness sake.  But the Karnes family enjoyed his friendship, and that of his entire family. Rob would come to all the little girls' hokey school productions, their sporting events, heck, he even helped coach one of the girls' basketball teams with Kenny one season.
I'll never forget the Christmas we came home from California at midnight, exhausted.  To top it off, we had gotten 8 inches of snow the night before.  I warned Kenny, "You'll have to park on the street.  We won't be able to pull in the driveway."  "I know," he replied, the fatigue apparent in his voice.  When we got home, the drive was meticulously shoveled.  Thanks, Rob.  If I ever need a ride for the little girls whom do I call?  Rob.
In July, after their wedding, Rob and Maggie will move to Philadelphia where Robert will attend an honors program to become an optometrist. Maggie will attend school to become a registered nurse (BSN).
He's already like one of the family.  And on June 13, 2014, I will have a son.
I was lucky to marry a man as wonderful as my father.  My heart sings that my daughter will as well.
Not sure why this pose, but it deviates from their usual ones, and I like it
Little Rob