So what to do, but go ahead and enjoy the day, just as Rob said.  And we did.  In the above photo, you see the beautiful Debbie Stauble, mother of the groom, and Bob, father of the groom.  And the next photo, Maggie and Rob cutting their cake (notice the "French Bustle" on Maggie's gown.  Click on the link if you'd like to read my blog post about "Bustles") But…
…where was the passport?  Maggie and Robert had plans for both to attend school in Philly.  Robert, Optometry School, and Maggie an accelerated nursing BS/RN program at the University of Philadelphia.  They had moved their possessions to their new home a few weeks before the wedding.  Guess where the passport was?  Yep – it was stored in Maggie's desk, and the desk moved to Philly…at least that's what they hoped.
So early Saturday morning, the newlyweds came by the house, grabbed a load of possessions they still had to move, (Debbie, Rob's mom, and I were prepping for the "Family and Out-Of-Town Brunch" at our home).  Maggie was distraught.  She felt so guilty for putting their honeymoon plans on hold.
As she headed out the side door of the house with a load "stuff" Bob, Rob's dad, stopped her.  Neither knew I was eavesdropping (I am BAD about that…).  🙂   "Maggie," Bob said, laying a gentle hand on her forearm.  "This is no big deal.  You will face far bigger obstacles than this in your marriage.  It's going to be ok.  It really is."  Maggie nodded. — The kindness—
And guess what?  It was.  The passport WAS in the desk in Philly.  Bob organized all the travel changes, was out a few hundred dollars – expensive – but I guess it could have been worse.  The kids flew out of New York instead of Hartford, and actually had an additional 8 hours of honeymoon time due to non-stop flights.  Below is a photo of Maggie and Rob right before their "get away" from the reception.  Look how happy they are, and in this photo – they still did not know their fate…
The final photo…the newlyweds on their honeymoon in Jamaica.  🙂  Yes, it was a happy ending, and I'm sure will continue to be so.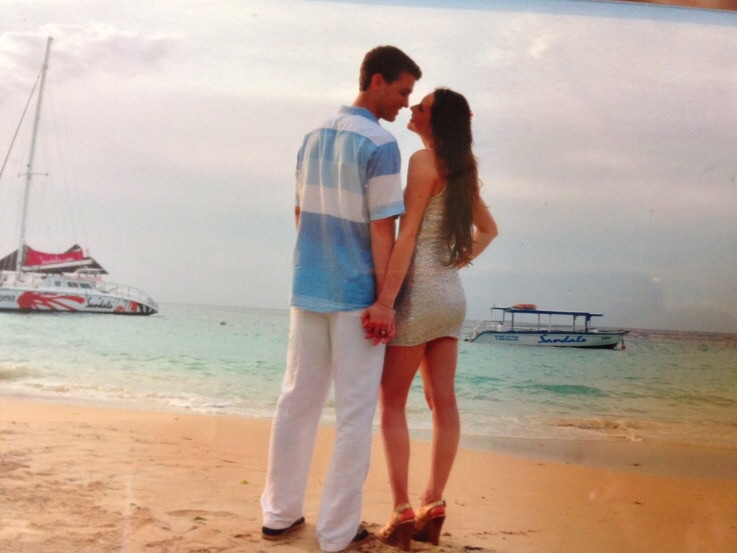 Tomorrow I will get back on track and report all about Tyler and KK's wedding.  I have some fun things to tell…  🙂
Photos: Image #1 and #2, Patty Cloherty
Image # 3 Facebook Friend
Image # 4 ?