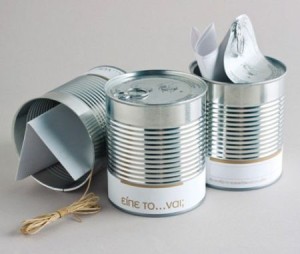 Would you consider one of these innovative wedding invitations? The can above is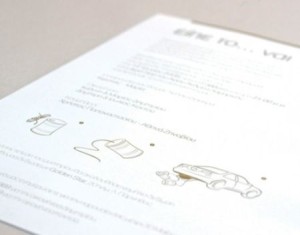 adorable.  It even comes with it's own instructions.  Here's the drill…Select the wording for your invitation, the "can company" inserts the invite and seals the can.  You then mail the can in the box provided to your guests.  They "Pop" it open upon receipt, and save the tin can to attach to your "get away car" after the reception.    Sound like more trouble than it's worth…that's what I was thinking….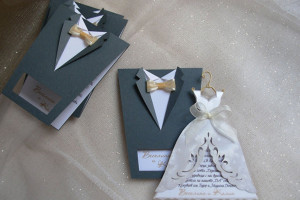 The "bride and groom invite" is my favorite among this group. I think it's cute while still being classic.  Planning a destination wedding with a beach theme?  Then the "Flip Flop" invites are for you!  If your wedding's formal…you may want to reconsider.  Upon receipt the guest realizes immediately your wedding will be a relaxed affair…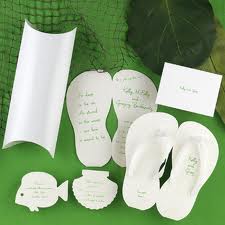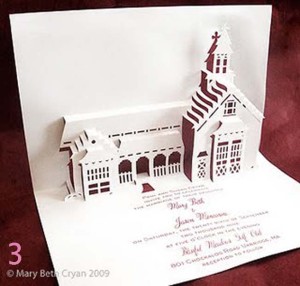 I love, love this "pop up church" wedding invitation.  The only downside, think of the cost per invite.  I'm sure they're not cheap… not to mention the extra postage charge!  Feeling a little playful? What about the "Spinner Invitation" below? While cute, I think it would be more in keeping with a bridal shower or bachelorette party.  Whatever you decide, allow time for shipping, printing, (reprinting for possible misstates!), and the time consuming addressing and stuffing of the envelopes.  If you chose to have a calligrapher address your invitations, his/her time must be factored in as well.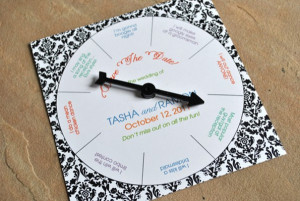 Image #1 www.inewidea.com
Image #2 www.inewidea.com
Image #3 www.numbersjuego.info
Image #4 handmade4art.com
Image #5 www.invit.com
Image #6 myperfectevent.com.au
Image #7 brideandbreakfast.ph
Shop Amazon Gift Cards. Any Occasion. No Expiration.