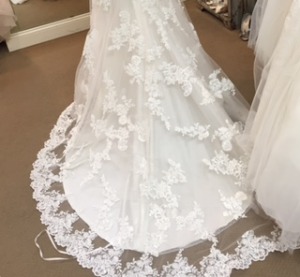 Is this KK's wedding dress?  Maybe yes…maybe no….All I can tell you is that it is KK in the photo…I have to say, I love the "Sweep Train."
From an earlier post, "Wedding Gown Trains!" (click on the link if you want to read the post) I noted that the "Sweep" or "Brush" length train "…is most often less than a foot and a half long.  This train just dusts the ground. It became popular in the 21 st century, and is the perfect compliment to the relaxed rustic type wedding that has become popular in the United States.  It would fit right in a "Barn Wedding" theme."   Which fits in nicely with the outdoor, natural style KK and Tyler have chosen.
Purchasing a wedding gown, I have discovered, is much like buying a car.  OBVIOUSLY, the dress will not be anywhere near the sticker price of a car…but I have learned that wedding gown negotiations are alive and well.  Take for example, Maggie's negotiations with the Grand Dame of all Bridal Salons, Kleinfelds.  Click on the following link, "Kleinfelds, Part II" if you want to read the blog post.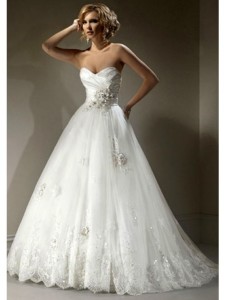 KK found a couple of dresses she liked.  When we got home from the bridal salon, I google them.  The salon was spot on as far as the MSRP was concerned.  But there were a few on-line stores, (which had legitimate store-fronts, I checked!), that offered the sale of the same dresses with perks.  #1, order from an out of state store on your own, and have it mailed to you…no sales tax, and free shipping.  This would be a significant savings…but that's not all!  I ask you, do I sound like an informercial now, or what?!?
#2, If you purchased the gown, (the same exact gown, no knock off, I confirmed…), from the out-of-state store, you would receive a $500.00 credit from their store/website for such things as bridal shoes, undergarments, guest books, champagne flutes, you get the idea.  Sounds like a pretty good deal…but I still have questions, so many that we're not going to take advantage of this GREAT deal…
So…what do you think of the RED wedding dress???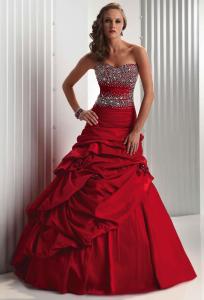 Header: perfectweddinginspirations.info
Image #1 Mary P Karnes photo
Image #2 www.merleshop.com
Image #3 glambistro.com