Can you keep your wedding budget in check? Well, it all depends how much research you do in advance.  You may THINK you've thought of everything, but there many little things you might not have planned for.   This can add up.  I read an article from the huffpost.com recently.  They had some good points to consider…all items that I encountered with my own daughters.
POSTAGE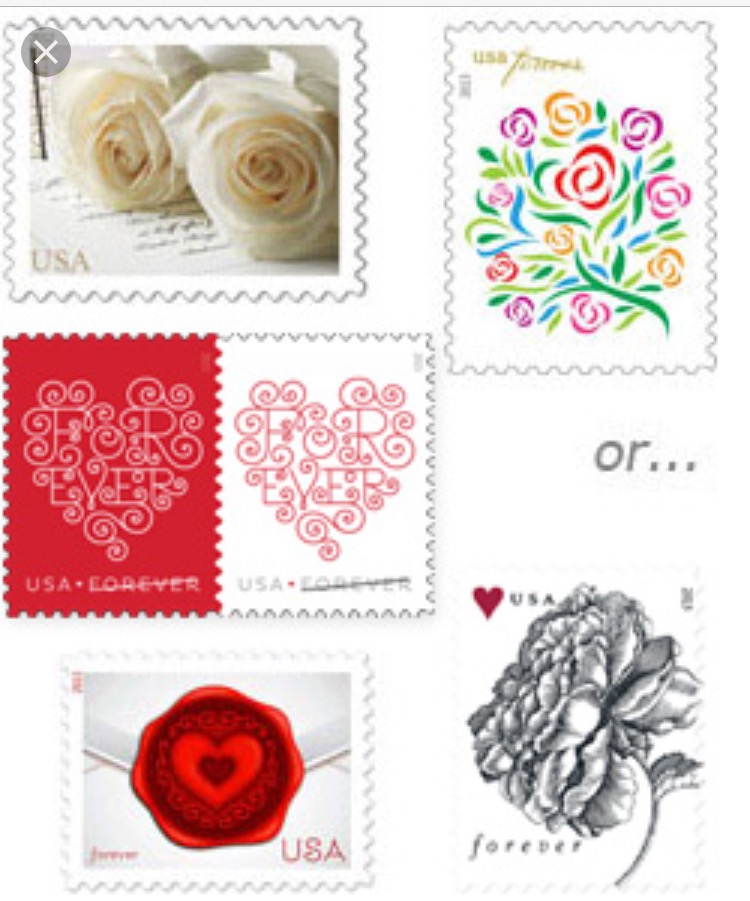 Postage is a not an insignificant charge; especially as your invitations may require more than one stamp. When my girls were planning their weddings, I'd buy a page of wedding stamps every couple of weeks.  I purchased extra, so they also had stamps for their thank you notes.  One of the girls' future mother-in-laws would also surprise her with a book of wedding stamps every now and then as well.  It really helped.
VENDOR MEALS
Vendor meals were not something I thought about until I was placing my final order for my first daughter's meal count.  All of a sudden I was hit with the cost of 8 additional meals. At $ 100.00 a head, not an insignificant cost.  Many caterers have "vendor meal pricing", however, which can be as much as 50 % off the price of guest meals.
LIGHTING
I signed daughter # 2's venue contract and thought I was done.  But no…there were extras to consider…do we want lights, extra decorations, etc., etc.  I wasn't going to go with the light package, but I sure liked it.  (Photo below – of my best friend, and her handsome son, (MY son-in- law!), at the venue WITH the light package).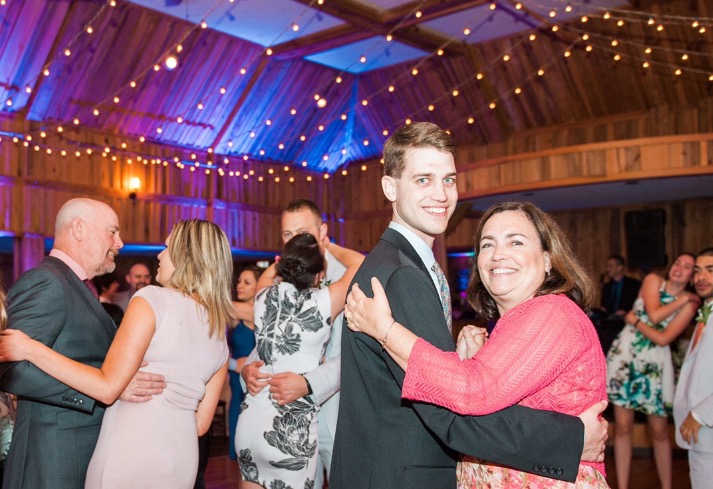 TENTS
Inclement weather…What if it rains?  Well…it did at daughter Maggie's wedding.  We decided to book a tent 4 days out when the weather looked inclement.  It was a good call.  And at only $1,000, a lifesaver…but wait, add a delivery charge, light package, set up package, etc., etc. and it was almost $ 2,000.  This was NOT budgeted in…But in the grand scheme of things, there was no other option.  Below is daughter Maggie dancing with her Dad.– in the tent  🙂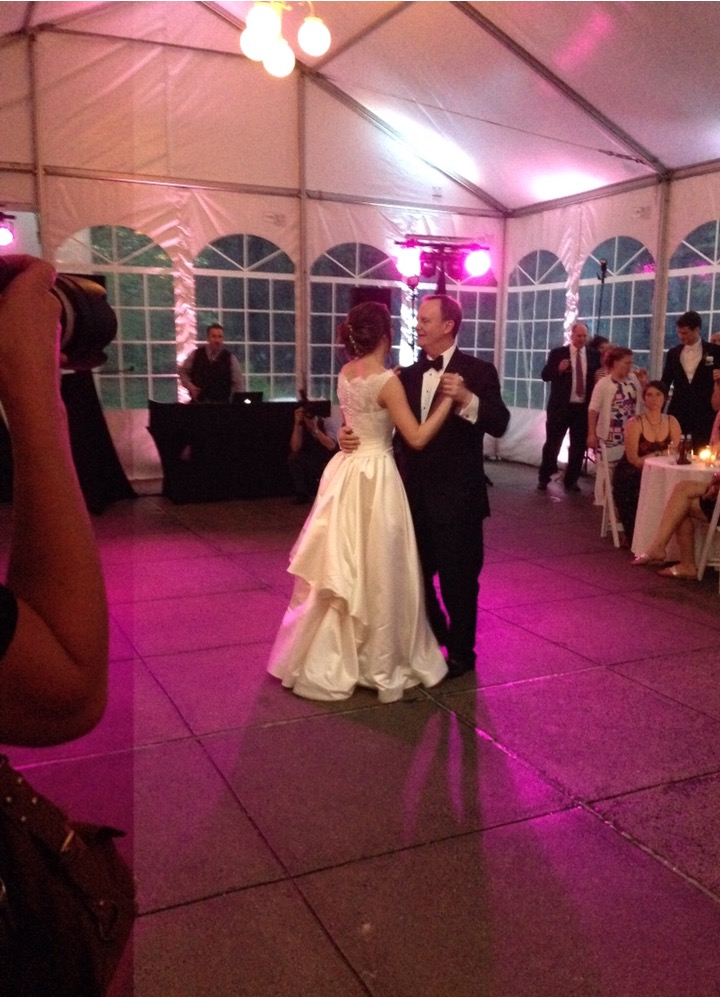 GRATUITIES…don't forget to plan for this. It's a big expense, and one you don't want to scramble to round up the week of the wedding.  Below is a great guideline.
Decide How Much to Tip
For specific suggestions, see this "Tipper's Table," excerpted from event planner Mindy Weiss's The Wedding Book($23, amazon.com):
Bartenders: 10 percent of the total liquor bill (to be split among them)
Bathroom attendants: $1 to $2 per guest
Catering manager: $200+ or a personal gift
Chef: $100+
Coat check attendants: $1 to $2 per guest
Hairstylist: 15 to 20 percent
Hotel chambermaids: $2 to $5 per room; $10 to $15 if you used a suite as your dressing room
Limo or bus drivers: 15 percent
Maitre d'hotel or headwaiter: 1 to 3 percent of food and beverage fees
Makeup artist: 15 to 20 percent
Musicians: 15 percent of fee for ceremony musicians; $25 to $50 per musician for reception
Photographer/videographer: If you're paying a flat fee with no overtime, $100
Valet or parking attendants: $1 to $2 per car; 15 percent for valet parking
Waiters: $20 and up each (distributed by the catering manager or maitre d')
Wedding planner: 15 percent of fee
OVERTIME CHARGES