How much will your wedding REALLY cost? Can you have a wedding for $ 20,000? "TWENTY THOUSAND DOLLARS??" You say. Of course! I could do it for much less! If you really believe that, you haven't planned and paid for a wedding in the last decade. Sure, if you have no dinner, don't need to look into using the services of a Houston wedding rentals company, do not require professional music, flowers, decorations, don't need to rent a venue or banquet hall, take your own pictures, wear an everyday dress, you could even do it for less. But at the end of the day, weddings can be quite pricey, depending on what the bride and groom want for their big day.

But if you want a formal wedding with professionals, $20,000 is a stretch. Above is a chart that is realistic in some areas, others not. The purpose of THIS post to steer you in the right direction, and put a little realism into the process. You have to go into the wedding planning process with realistic expectations.
The above chart gives you a starting point, but if you want to stay on a $20,000 budget, you have to move expenditures around a little in order to cover "costs you might not be prepared for" as outlined in the chart below.
The above chart doesn't mention the most important fact…how many guests you will have. Let's pick a random number of 125 guests. This budget would be a stretch, but it could be done.
I would make several recommendations to achieve your budgetary goals:
Find a venue that doesn't charge a fee, such as a park or a venue that doesn't charge you a rental fee as long as you use their catering. They are out there. One just has to dig a little. That way, you can roll your venue fee over onto the catering bill, (you'll need extra funds if you plan to serve alcohol).
Desserts: the $600 amount would cover a lovely wedding cake, but no other options. At this point, you have to make a choice. Cake, or individual desserts. You can't do both with a $600 budget. What about a "cutting cake" just for ceremonial purposes, and then other desserts for the guests? Look at the lovely cake below.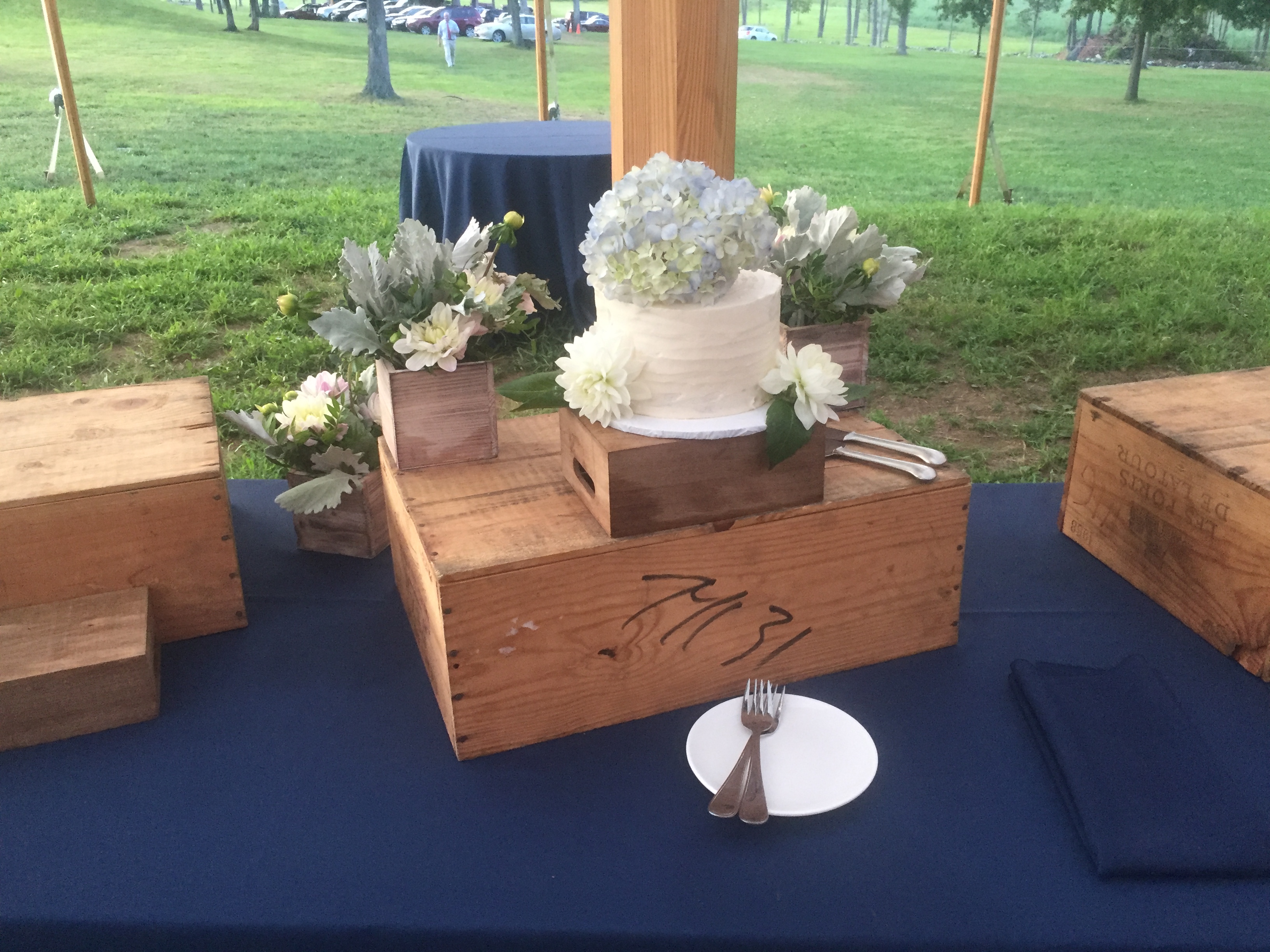 Mary P. Karnes photos
3) As a wedding coordinator, I wouldn't skip on this budgeted amount. If you're going to spend AT LEAST $20,000 on a wedding, do you really want to leave the organization to chance? The budgeted amount is a little low, but I'll let it go. 🙂
4) I hate to say it, but the $2,000 budget for attire is too frugal. Hard to meet this budgeted amount with dress, shoes, veil, headpiece, undergarments, and groom's attire. Use flowers as your centerpieces, (and use the $600.00 centerpiece allotment for your attire).
5) $2,000 each for music, flowers and photography is realistic, although you will have to watch your pennies when ordering. You can go online to find sheet music for your wedding on sites like weddingsheetmusic.com.
6) You don't have to spend $600 on favors. Websites like beau-coup.com have wedding favor options for much less. For one of my daughter's weddings, we purchased $1.00 lottery scratch tickets, shinny new pennies and little bags that read, "For Richer or Poorer". They were a hit. See the photo below. If you'd like other favor ideas, click on the following link to read a former post. Wedding Favor Ideas Roll at least $300 over to the "unplanned for costs" on the chart below. The ring and stationary budget is fair, as long as you DIY. Remember…you have to pay for postage as well.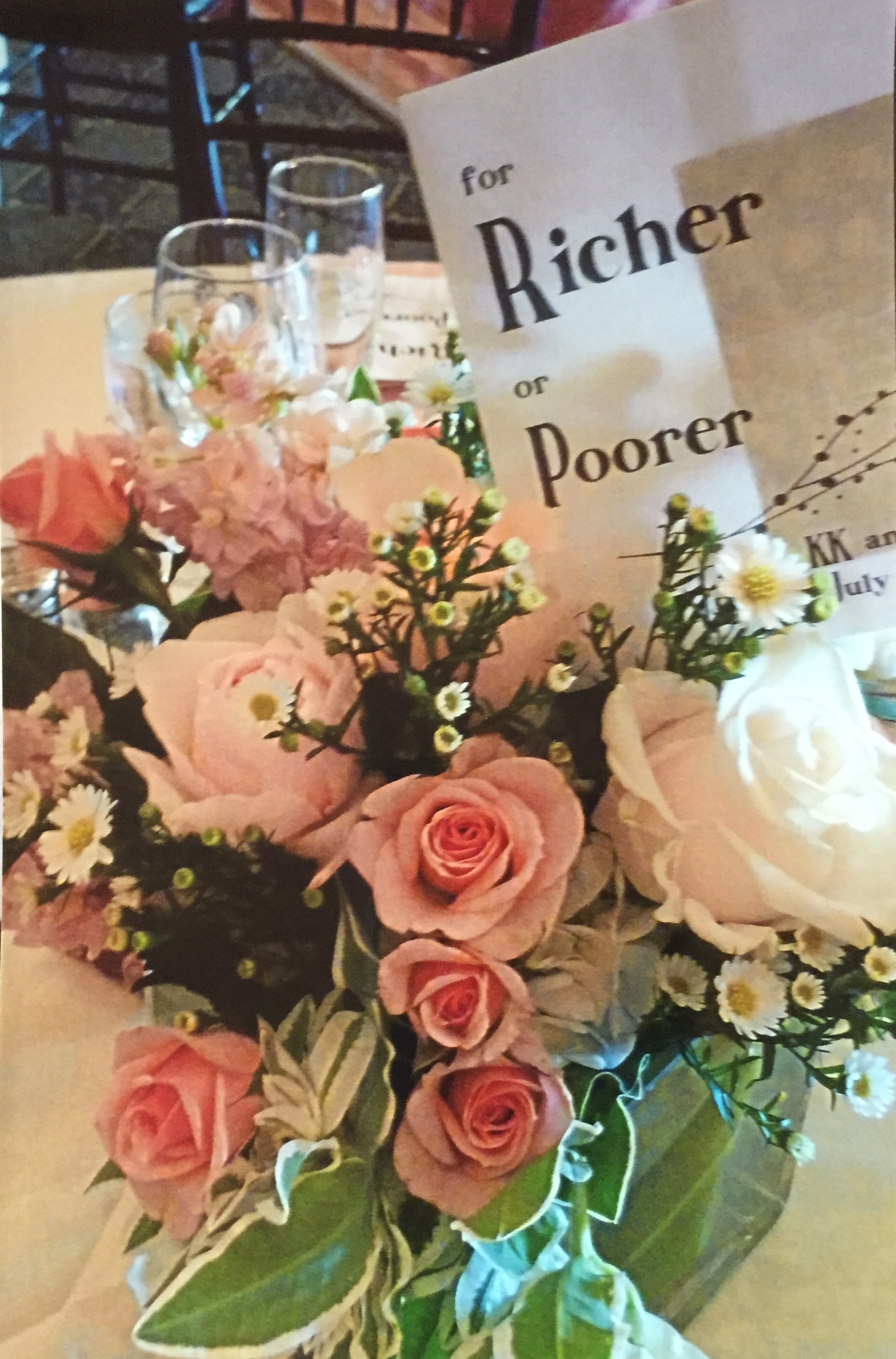 Debbie Stuable photos
7) The Ceremony budgeted amount is probably for a church rental or officiant fees. It should be ample. If you chose to be married at your venue site, you would have funds left over; hopefully more funds to use for the chart below.
8) Both venues my daughters used for their receptions provided chairs and tables. All dinner rentals were included in the careering budget. I think this fee could be rolled over for the uncovered expenses…And if you want a limo…the $200 amount budgeted wouldn't work.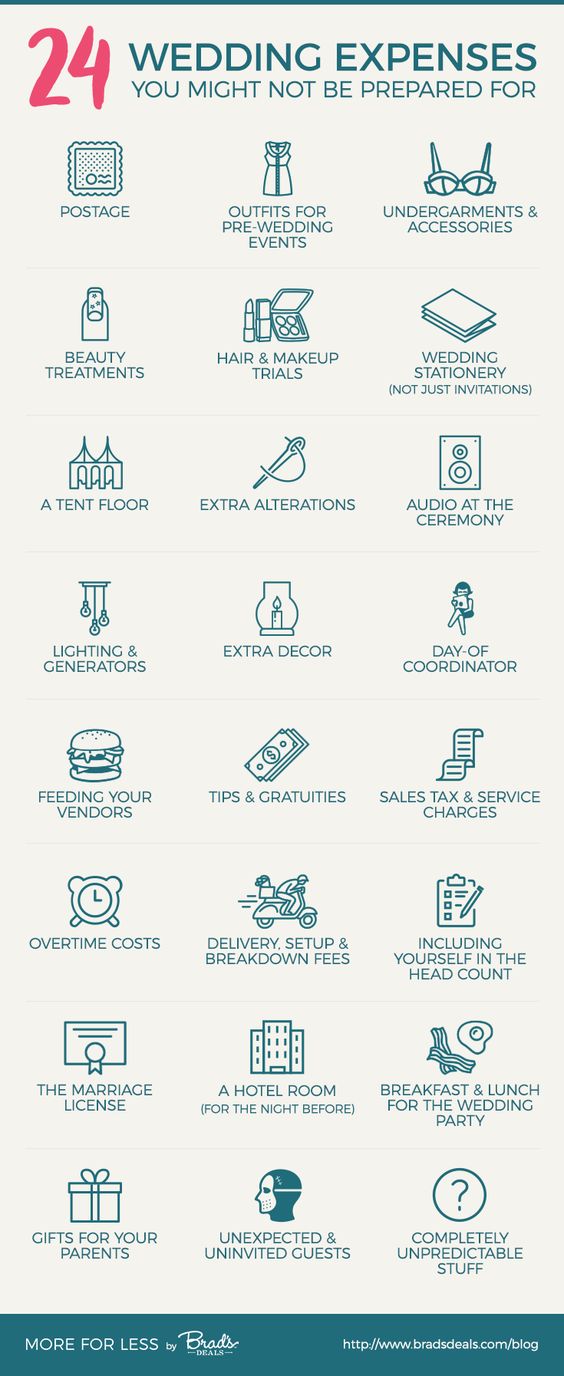 So don't get me started on the actual figure of all the "unplanned expenses" above. Hopefully you have saved funds from the favor, ceremony and rental charges. Good luck! You can do it!