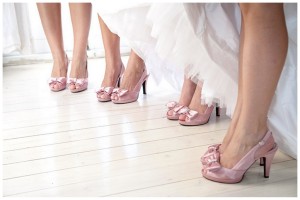 Women… love shoes.  What better way to express that love than pink wedding shoes?  Studies prove that most women's favorite color is pink — sexist I know, but facts don't lie.
Okay, I'll admit it.  I have a little bit of a shoe fetish.  I LOVE SHOES.  I have since I was a little girl.  A bit of background… while I am not a big woman, my feet WERE.  When I was in 4th grade, a mere ten years old, my feet were the same size they are today – an average size 7 – for a woman, that is…My dad always told me how he "loved big feet."  And it wasn't until I was a mother myself, that I realized how gentle and kind he was.  I always felt good about myself — and my big feet! 🙂
If you've noticed, most of my blog's "Header" pictures showcase a bride AND her shoes.  I think shoes make or break an outfit, and there is NO more important attire than a bride's. On KK's wedding day, I'm going to insist her photographer take a few photos like the one below.  I love this style of picture.  We are going to have to purchase some special shoes…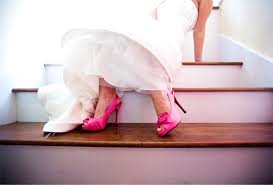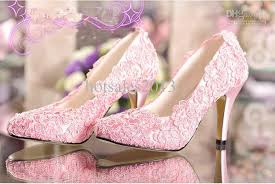 The shoes in the picture above are spectacular.  The look like fairy princess shoes.  I bet they pinch, though.  Although open toe shoes are not always the most flattering, they are much more comfortable that the lace confection above.
Okay…I'd take a little pain to wear the next pair with the roses on the heel.  Gorgeous.  I don't think I've ever seen a more feminine shoe.  And isn't that what a bride's all about?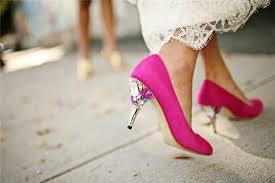 Want a pop and a flash?  Then the hot pink shoes from www.shefinds.com are for you.  A bride could have a simple, tailored dress, but these shoes would make any dress fabulous!
Image #1 capclassique.wordpress.com
Image #2 intheseams.com
Image #3 www.dhgate.com
Image #4 boards.weddingbee.com
Image #5 www.shefinds.com