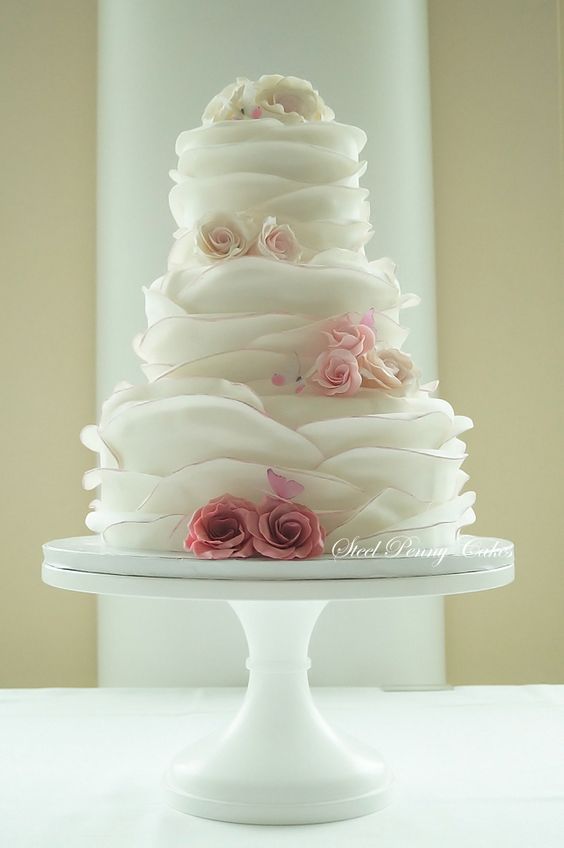 Ah…the wedding cake…how well do you know all the ins and outs of this time honored confection?
It's history is rich.  According to wikipedia,
"The contemporary wedding cake has grown out of several different ethnic traditions. One of the first traditions began in Ancient Romewhere bread was broken over the bride's head to bring good fortune to the couple.[3] In Medieval England cakes were stacked as high as possible for the bride and groom to kiss over. A successful kiss meant they were guaranteed a prosperous life together.[3] From this the Croquembouche was created. The myth behind this cake tells of a Pastry chef, visiting Medieval England who witnessed their tradition of piling sweet rolls between the bride and groom, which they attempted to kiss over without knocking them all down. The pastry chef then went back to France and piled sweet rolls up into a tower to make the first Croquembouche. The modern croquembouche is still very popular in France, where it is now common to place the croquembouche tower on a bed of cake and make it a top tier. This traditional French wedding cake is built from Profiteroles and given a halo of spun sugar.[4]
In 1703, Thomas Rich, a baker's apprentice from Ludgate Hill, fell in love with his employer's daughter and asked her to marry him. He wanted to make an extravagant cake, so he drew on St Bride's Church, on Fleet Street in London for inspiration.[5]"

Be advised, wedding cake serving sizes are about a quarter of what you would receive as a piece of cake in a restaurant.  Wedding cake is for show, for tradition.  And one, frankly, I would not do away with.  But many brides are.

If you want to keep the cake current and fun, maybe you could employ a topper like one of the choices above, or order a novelty cake like the treat below.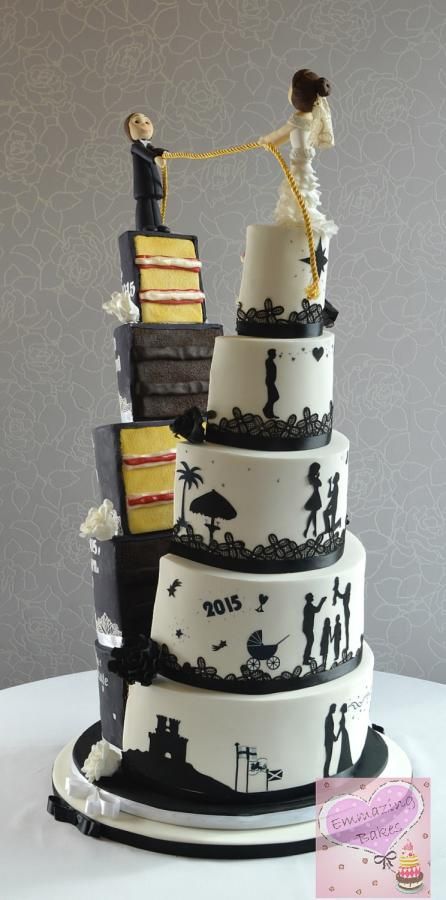 I think today, guests expect an additional dessert along with the wedding cake, and most brides are stepping up to offer it.  A perfect way to meet that need and add a little pizzaz, is something like the adorable "mini" cakes below.  Love, LOVE this…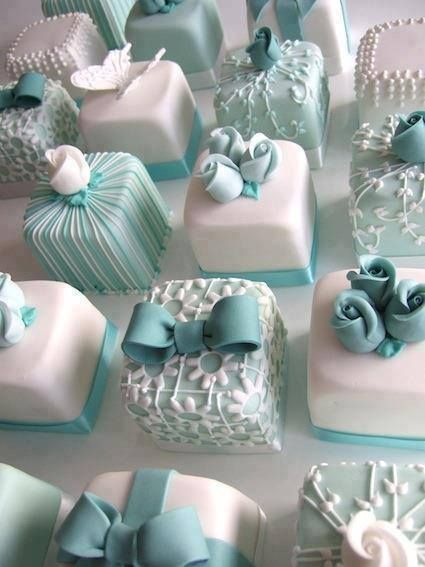 Uncertain how to cut a wedding cake?  Click on the link and read my post on how to do it!  How to Cut a Wedding Cake.  You may never need to know, but if you do…