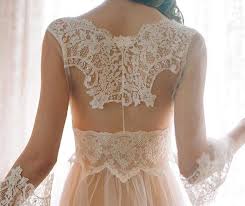 Wedding Lingerie.  Not only do you want to look lovely in your wedding dress…you want to look lovely underneath it.  This can be a challenge, because pretty is not always practical.  And on your wedding day, of all days, your lingerie must get the job done.  Look at the beautiful dress above.  How can you wear a bra with it?  I know, I know…it almost looks like a negligé – but it's not. Dresses with a sheer back necessitate strapless, backless, or even sideless bras.  Now you're thinking, what's the point?  But believe it or not, you have choices.  Two options: 1) cups sewn into the dress, or 2) self adhesive cups – which can be purchased from such vendors as Victoria's Secret.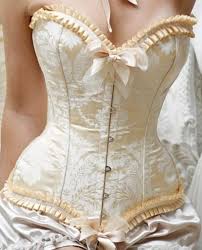 The corset/bustier above is gorgeous.  A bride would have to wear the right dress to sport a foundation of this sort- but it's appeal is great.  Not only is it pretty, a combination shaper and bra… but it's also modest.  Because, think about it, you will need help changing from your wedding dress to your 'going away' dress.  Do you really want your mother, bridesmaids, and maybe even your new mother-in-law seeing you in your all together?  And it's vital to leave your wedding gown with a trusted family member before  you say good-bye for the night.  Your gown must be professionally cleaned and preserved as soon as humanly possible.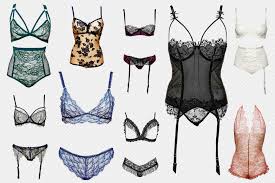 I'm a big fan of a bridal garter belt. I think silk stockings, (versus panty hose), is a romantic, old fashioned look.  There are some lacy sets above… and who says they have to be white??
Satin Robe, Five Color Choices, Sizes (S, M, L, XL, 2X), Up2date Fashion Style#Gwn11 (Small, Black)
$11.99 Satin Robe at amazon!

And if you want your "Something Blue" to be lingerie…you couldn't go wrong with the set below.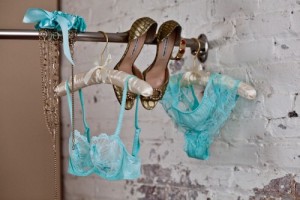 bliss Fatgirlsixpack, 4.9 fl. oz.

Image #1 wedbook.com
Image #2 weddbook.com
Image #3 nymag.com
Image #4 www.elizabethannedesigns.com