I had the good fortune to read the delightful new installment in the 'Two Sisters Pet Valet Mystery' series, Cat's Meow. Please read below for a quick synopsis from amazon:
Gwen's calendar has been filling up ever since she was hounded by her best friend, Nora, into starting 2 Sisters Pet Valet Services. Now they've been invited to attend the annual Clear the Shelter event, hosted by Portland's very own blonde bombshell newscaster, Babs Prescott. Babs is convinced she's top dog among local celebrities, but it's clear that someone disagrees when Babs' body is found following a downtown press conference.
A story this juicy would be headline news at any time, but especially once local crime reporter Shelby Tucker is arrested for the murder. Gwen was Shelby's high school teacher, and she's sure her former pupil is innocent. But in that case, who was itching to take Babs out of the spotlight for good? As Nora and Gwen investigate, they find personal mysteries at odds with Babs' public persona, all leading to a killer who's not pussyfooting around . . .
If you like a good mystery, who doesn't?, you're going to LOVE this book. The way McCaslin goes from clue to clue is impressive. She gives the reader just enough to figure out 'who dunnit,' while still keeping a card up her sleeve. I admit, I didn't figure out who was responsible the for dastardly deed, but all the clues were there…
I can't wait for the next in the series. There's nothing like a light read that will keep you guessing and hold your attention long into the night. Write faster, Dane -I can't wait for book number four!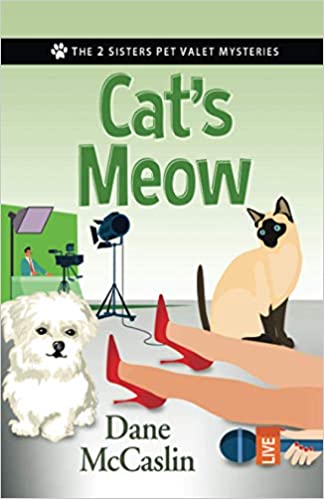 If you'd like your own copy of this 'must read' just click on the link above!
Above, the beautiful author, Dane McCaslin.