Everyone wants to make their wedding stand out. Usually, this means splurging on extravagant flowers, securing a fabulous venue, or having a one-of-a-kind dress. With over four years of experience planning and coordinating weddings, I've seen some truly unique weddings. Just when I think I've seen it all, I'm surprised over and over again by the creativity of some of our clients.
A ceremony in the round is a unique way to spruce up your ceremony (with no additional cost) and provides a better view for all of your guests. This is also convenient for small venues or an untraditional space that might not accommodate a traditional set up.
https://www.pinterest.com/pin/287315651197381950/?lp=true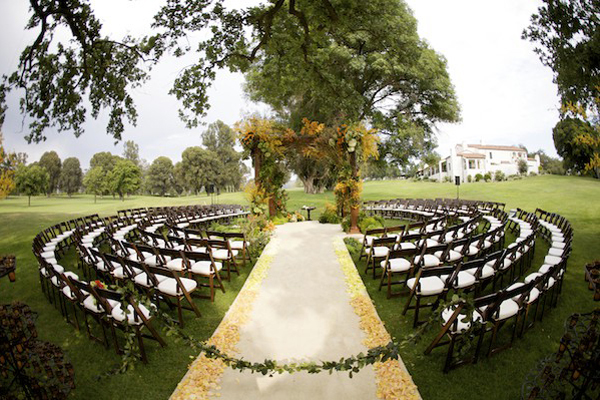 https://www.elizabethannedesigns.com/blog/2012/03/06/weddings-in-the-round/
I love the intimacy of a ceremony in the round, and the way it photographs. If you're having an outdoor wedding, this is definitely something to consider! This set-up is also perfect for highlighting a special part of your venue. Maybe it's an old oak tree, or a small gazebo. With a ceremony in the round, you can incorporate that special spot into your ceremony seamlessly.
If you want to create your own "centerpiece" for your ceremony, you can DIY a simple arch with some old wood, or order one from Amazon.
A ceremony in the round is the perfect way to enhance your ceremony, and also make sure everyone (no matter how big your guest list is) gets to feel close to you and your spouse on your special day.