Things I've learned…
I attend a lot of weddings.  Not only are my children of an age when their friends are getting married and we're invited, but obviously I attend as a planner.  Here are three things I've learned:
One – consider heavy apps instead of a stuffy sit down dinner.  Guests love the novelty of uber fancy apps, and the freedom of roaming around visiting with other wedding guests.  And often, with a traditional wedding dinner, much is left untouched.  Your guests have already eaten too much during 'Cocktail Hour'.  If you go this route, I would highly suggest having assigned tables so all your guests have a 'home base' to keep their belongings, and rest from dancing.
Two: Your wedding dress.  I would go one of two ways.  I would suggest purchasing either a very inexpensive dress, (you are going to wear it just once anyway!), or do a complete 180 and have a bespoke gown made for you.  This is more reasonable than you would imagine.  Click on the following link if you'd like more information on this exciting option.  Nova McLaren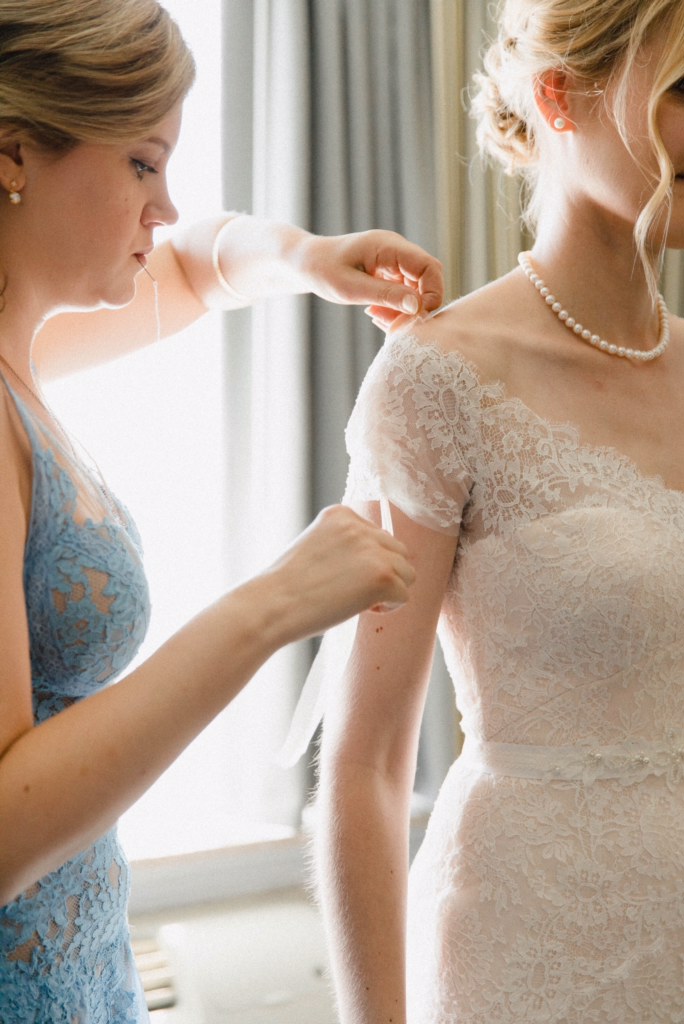 Above the lovely Olivia Humphreys, the creative genius behind the Nova McLaren label, makes final touches to the dress she created for the bride.   A bespoke, or made to order gown, could become a family heirloom!
Three:  Remember to thank your guests for taking the time to be part of your special day.  Some have taken a vacation day from work, others may have traveled a great distance.  All have made certain sacrifices to give to you, a gift of their time, a gift of themselves.  Thank them.  You can do this by making a speech, or toasting your guests, or by going to each guest-table and addressing them personally.  Either is lovely.