"Back Stabbers" A Book Review!  One of my favorite book series is the 'Country Club Mystery Series' by the talented Julie Mulhern.
If you've yet to read any of Mulhern's books, you're doing yourself a disservice.  "Back Stabbers" is the eighth book in the series, and my favorite.  I don't know how Mulhern does it, but each book gets just a little bit better, a little bit more interesting, a little bit funnier.  Yes, funnier.  Because even though the series is about a 1970's socialite/mother/painter, she is incredibly funny; laugh out loud funny.  I think Ellison and I would be great friends.  I'd enjoy solving a mystery or two with her, and laughing.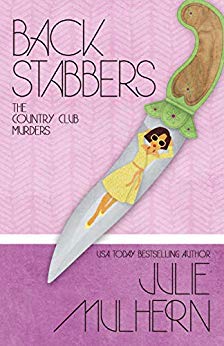 If you're interested in pre-ordering, you can click on either link below.  You won't have to wait long for your book to arrive!  The book debuts Tuesday October 23, 2018.  If you order an e-book, it will arrive automatically to your device on that date.
So what is this book about?  You may ask.  Well, just take a look at Barnes and Noble's website description:
"All Ellison Russell wanted was an update on her stock portfolio. Instead, she found her broker dead.
With an unexpected out-of-town guest at her house, Ellison is too busy for a murder investigation. Only this time, Detective Anarchy Jones wants her help, and she can't deny the handsome detective. Can Mr. Coffee supply her with enough caffeine to keep her brain sharp and everyone else happy?
Juggling bodies (one, two, three, four), two-faced friends, her social calendar, and a cat (yes, a cat) is taxing but Mother might be the biggest challenge of all.
With a killer drawing closer, can Ellison put together the pieces or will she be the one getting stabbed in the back?"
Below, the beautiful author Julie Mulhern.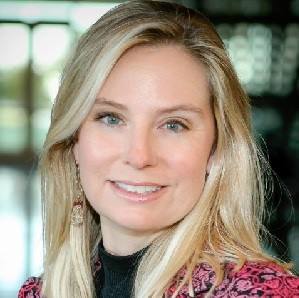 And what would my wedding blog be without a wedding photo of the lovely Julie and her new husband many moons ago?  🙂   Love her dress and hair!