A baby shower?  My first grandchild…
I had a friend recently suggest that I share a new phase of my life with my readers…that of …GRANDMOTHER!  (Thank you, Cindy!)  Yes, my oldest daughter is expecting our first grandchild in December.  She and her husband live in Vermont, so I won't get to see the little darling as much as I'd like; but I will make the most of every chance I get!
This weekend, I will have all my children home – all six; four daughters and two sons-in-law!  They are traveling from California, Philadelphia, Vermont, and Southern Connecticut for Kathleen's baby shower. Is that a supportive family, or what?
But this creates a problem. What DOES a mother give to her daughter upon the occasion of her first child's birth?  I thought, and I thought…and I THOUGHT. I considered buying her and her husband a new king size mattress, as from what I know theirs is getting old now, and they are going to need all the sleep they can get! The nicer the mattress they have, the more likely she is to be comfortable in the night, before and after having the baby. However, I then realised I didn't even know what type of mattress to get – there are SO many different brands out there, where on earth was I supposed to start?!  After more and more time spent thinking of ideas, I finally decided to give gifts from the heart.  Our Kathleen is very family centered, very sentimental.  I think she will be pleased.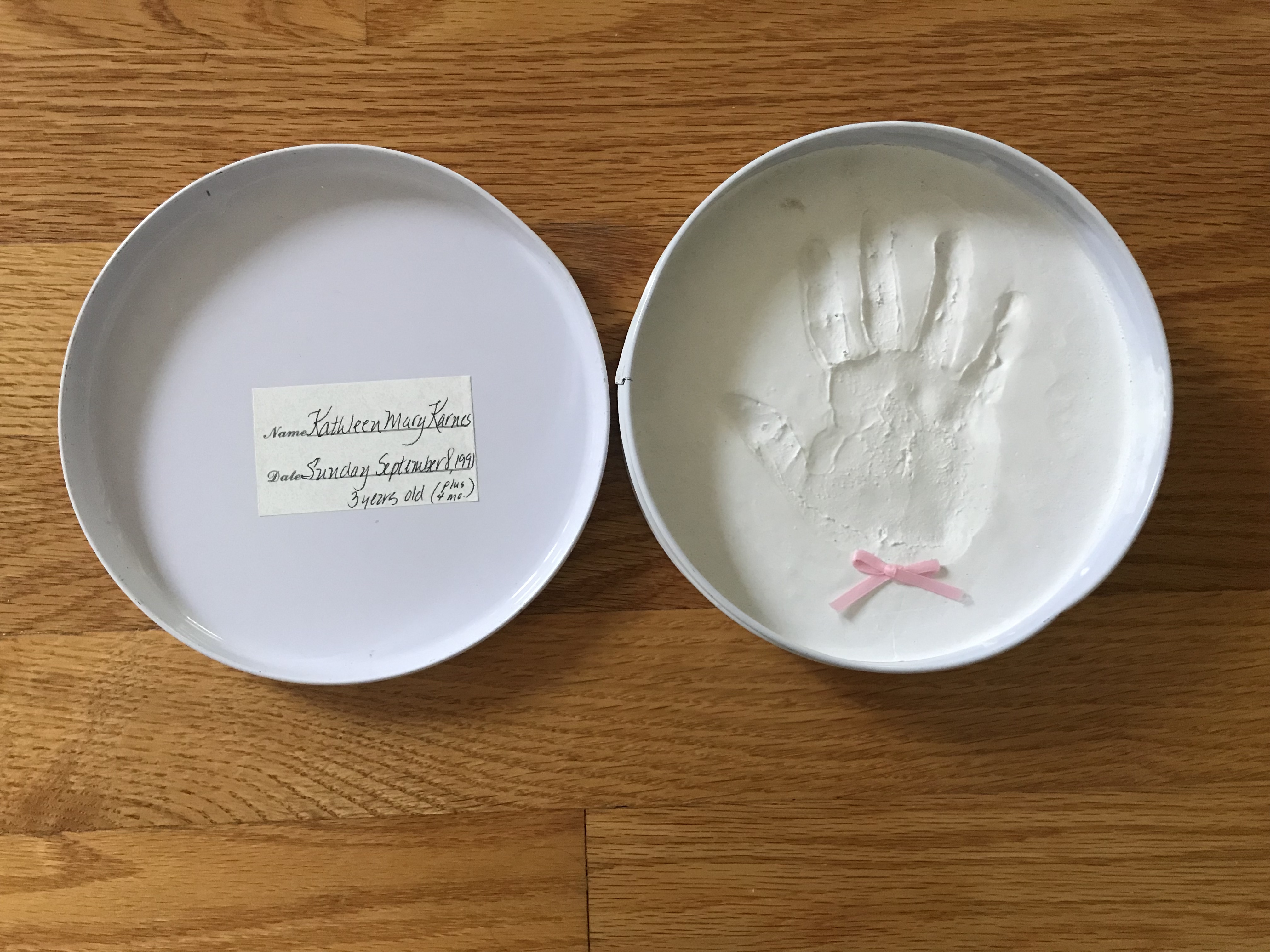 Above is a cast I made of three year old KK's hand.  I have saved it all these years, and it has survived through many corporate moves.  It is time for her to have it.  And…it's time to make a cast of her own little girl's hand… (photo of her kit below).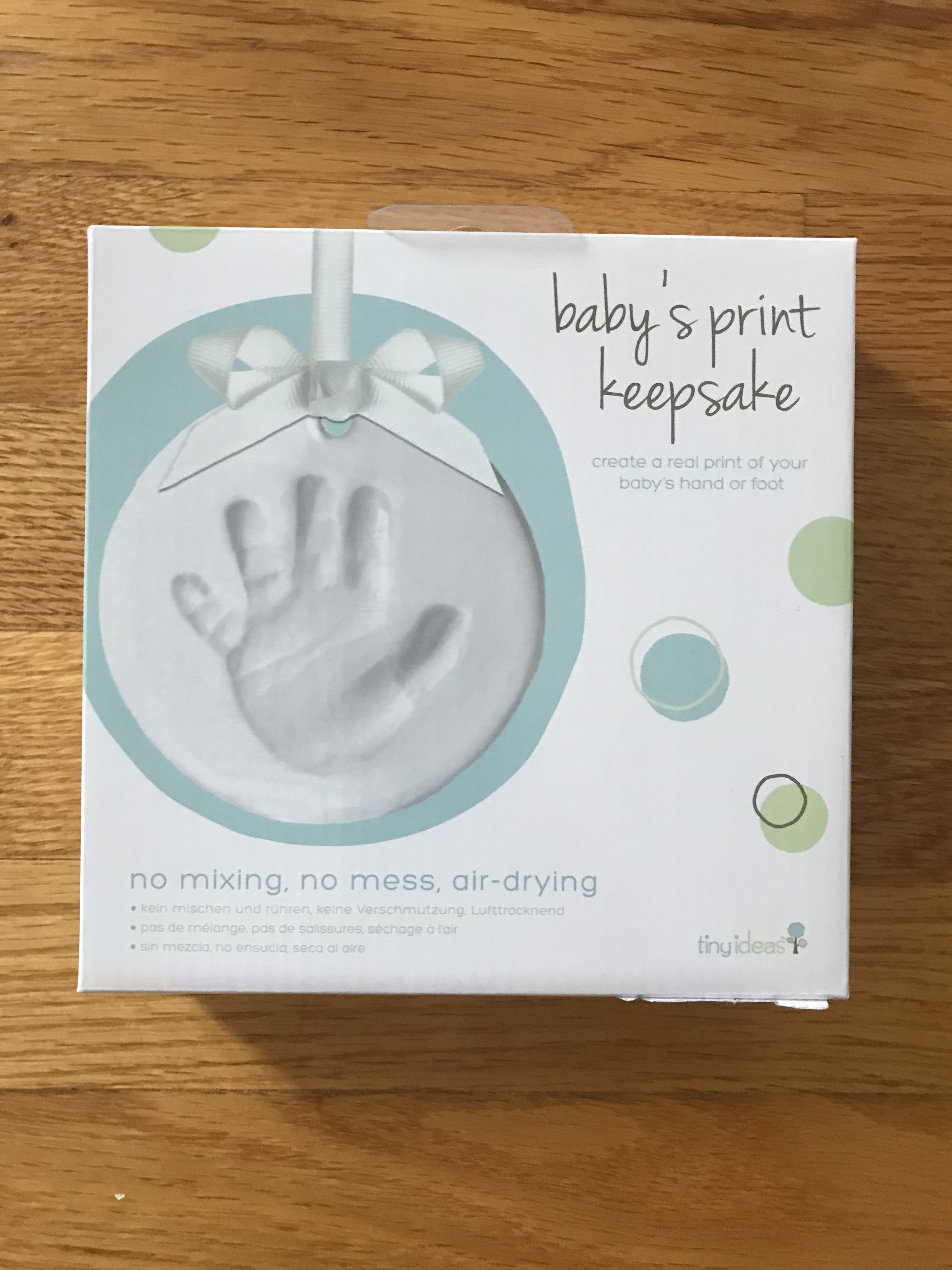 Below is the baby blanket I crocheted for the baby.  Are the colors traditional?  No. They are bold and sassy, just like Kathleen.  I have a feeling her baby girl will follow suit…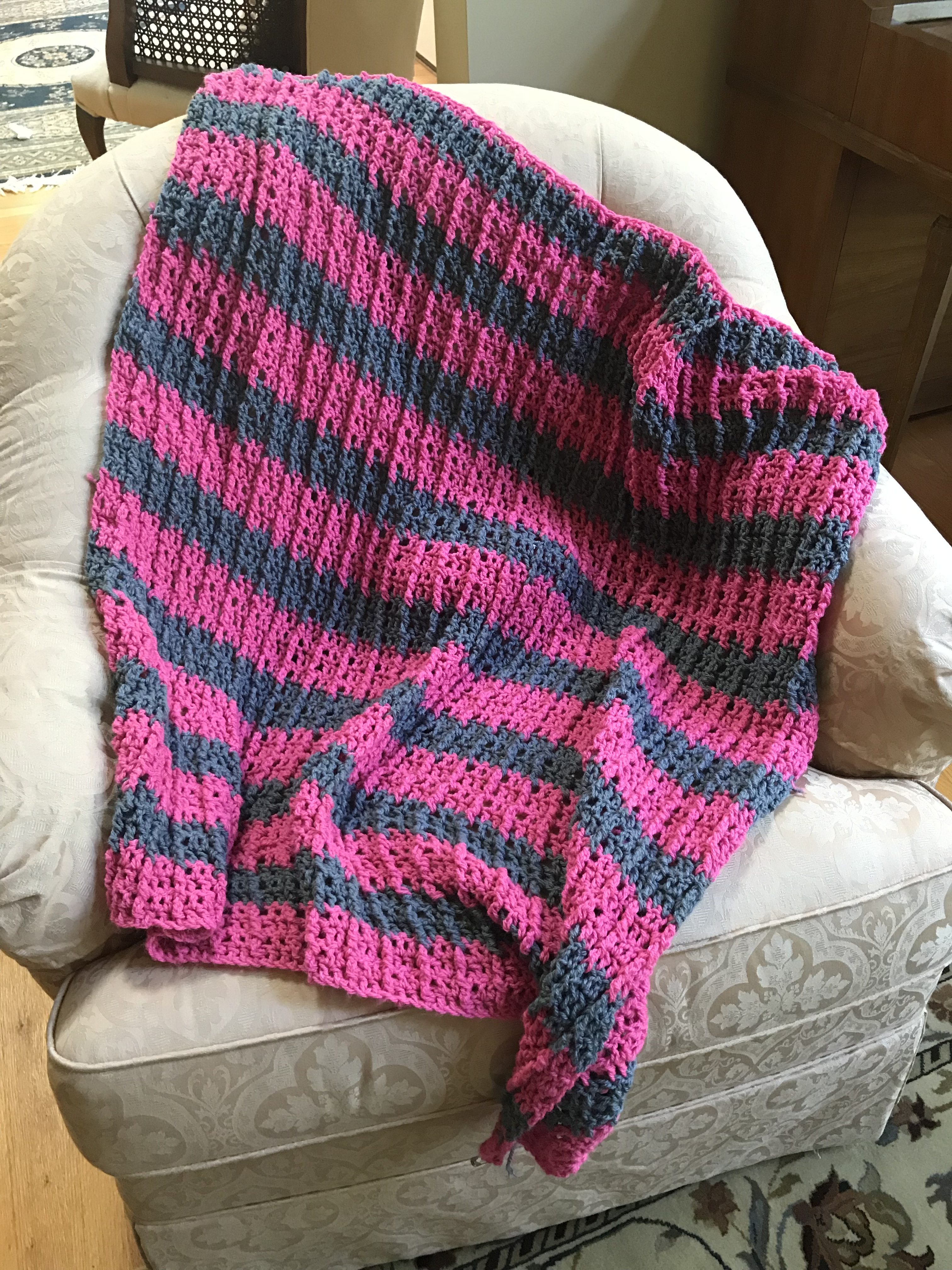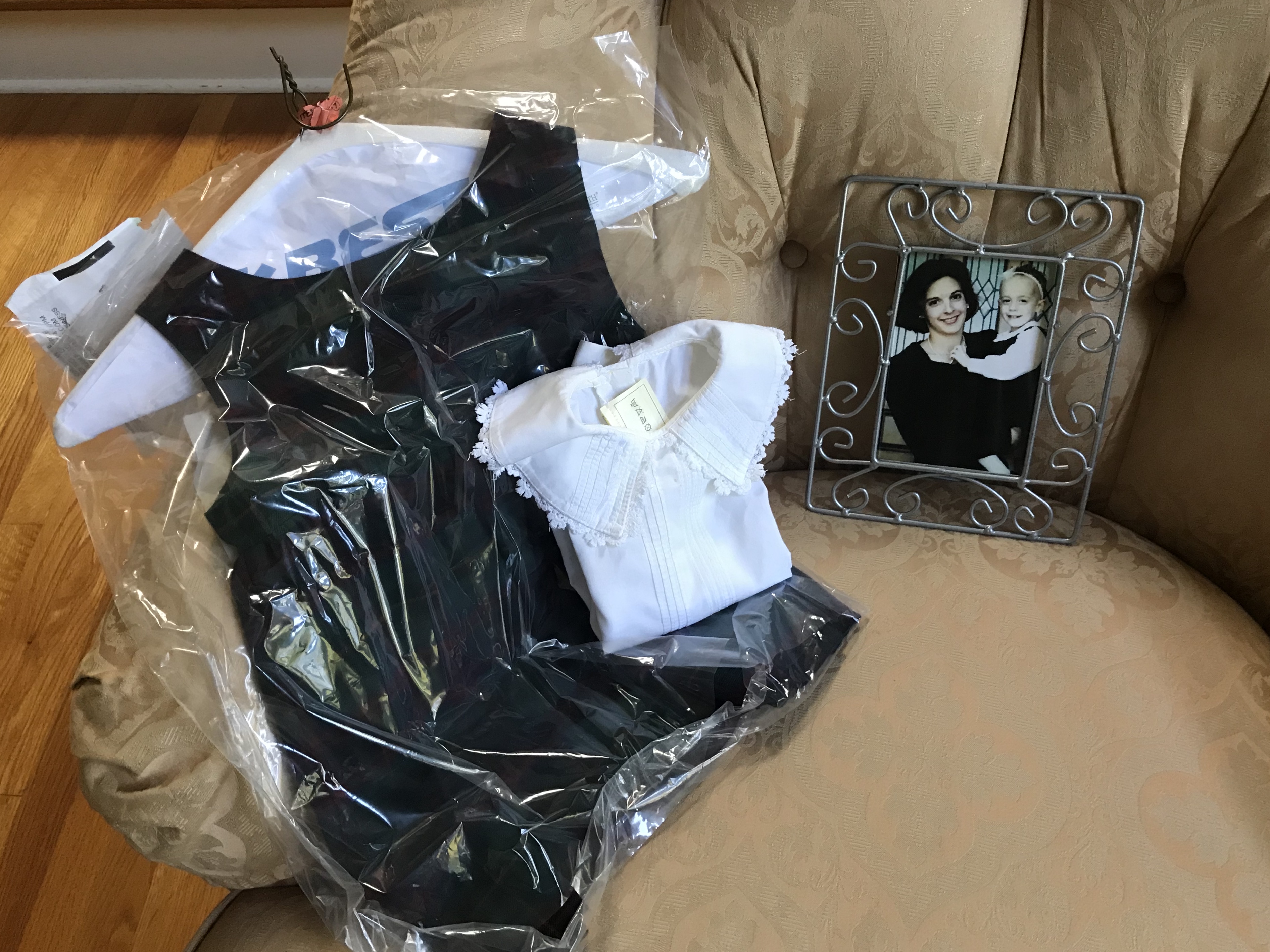 I think my favorite gift is the one above.  I saved the "Mother/Daughter" outfits we are wearing in the photo above for 27 years.  I recently had KK's little outfit dry-cleaned, and lovingly washed and starched the little white blouse.  Then I had a photo made of the two of us in the outfits.  This photo, by the way, is my favorite picture of myself.  We all have our favorites, and this is mine.  In it, I am expecting daughter number two, Maggie, making it doubly meaningful.  I also have a new pair of little black patent leather "mary jane" shoes, tights and a cute headband to go with the outfit, but didn't photo them.  I guess you'll just have to use your imagination!  🙂
When I look at the blanket above, I tear up.  It was made by my wonderful grandmother, Julia, (whom our youngest is named after), and my precious Aunt Billie.  Both have passed.  This blanket was used by all four of my girls; but there is not a stain on it.  It has soft flannel on one side, (made by Aunt Billie), and crochet work on the other, made by my grandmother.  I have included "Dreft" baby soap and stain remover.  Babies' skin is so delicate, you must use nothing else than a baby "soap".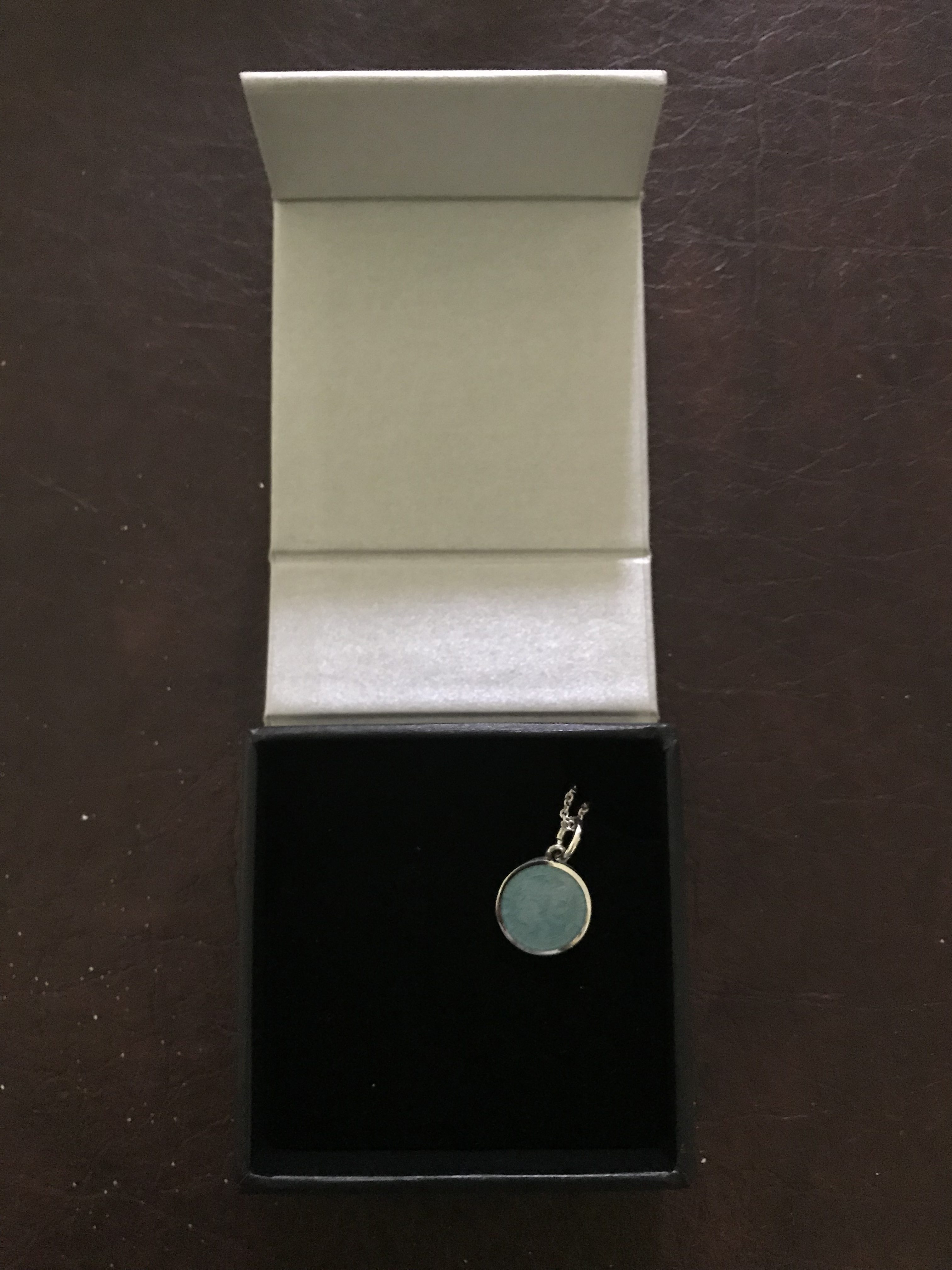 What is the photo above?  It's a tiny enamel St. Christopher metal.  I know, I know.  Little baby girl will have to be much older when she can wear it, but it will be waiting for the day.  All my daughters and I wear these metals.  St. Christopher is the patron saint of travelers, and we all do a lot of that!  But – I think they are so pretty.  We all have them in varying sizes and colors.  I own 5 myself.  I often gift the girls with a new one upon a special occasion.  Do you think KK will receive one in December?  This metal is engraved with "December, 2017".  We are unsure of baby's name, and of course don't know her birth date yet…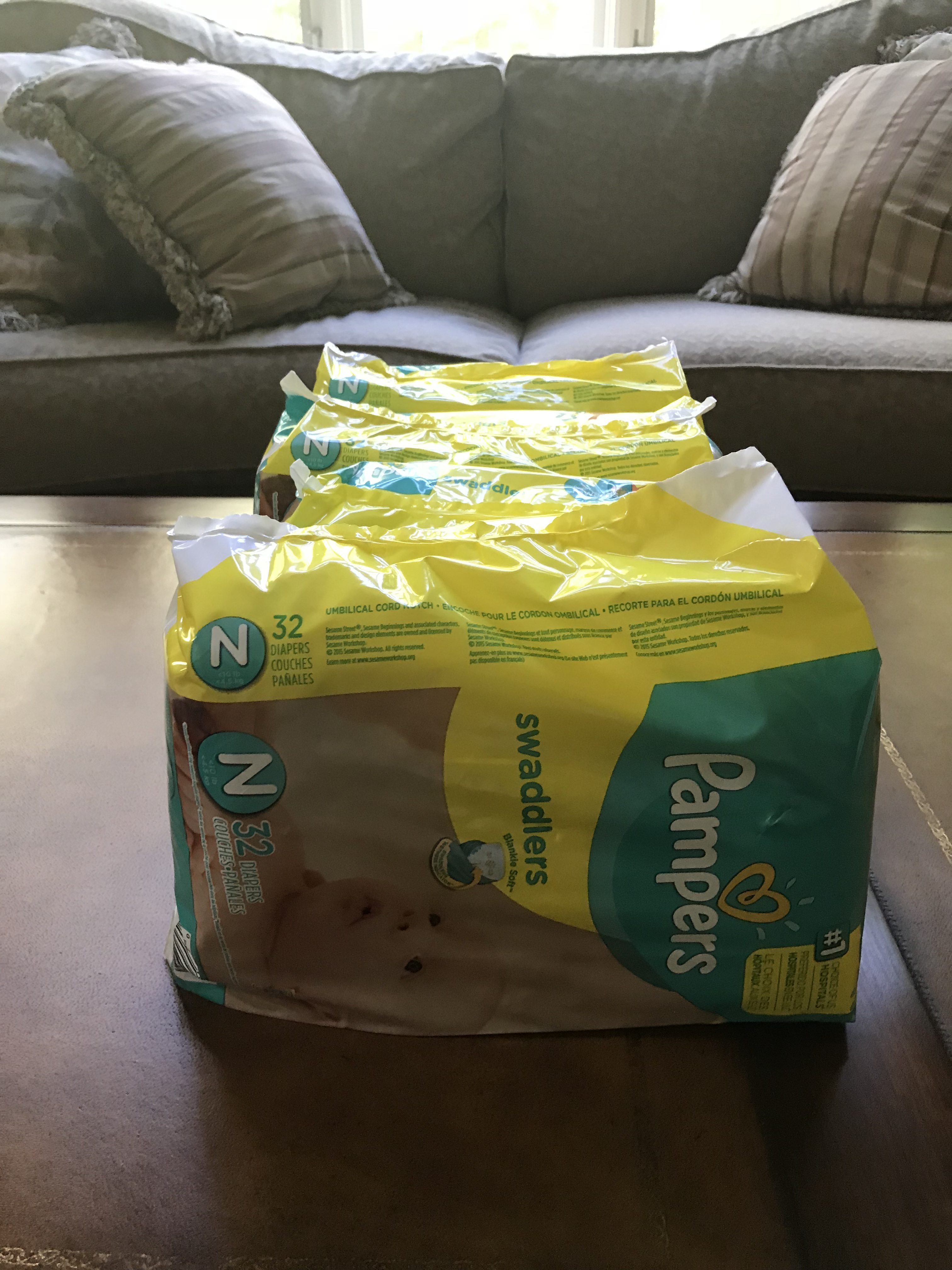 Diapers…enough said…  😉
Perhaps this will not be my last grand baby post.  Know this…I will share a picture when she comes…