You have a wedding DIY decorating item just sitting around in your home.  "I DO?"  You say. Yes, it's the timeless teapot.  Most people have at least one, many have more.  I myself collect them, and have more than I should.  They can be used in so many capacities.  And teapots remind us of warm and cozy times – think little girl tea parties or a hot comforting beverage.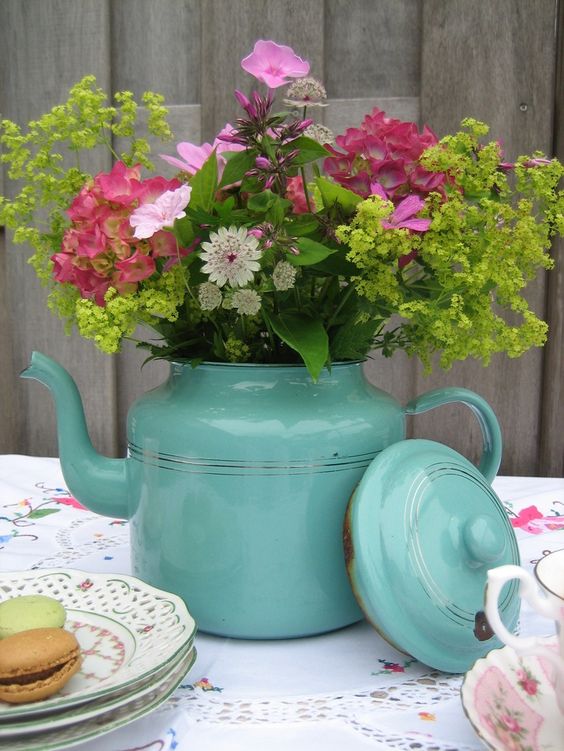 The most common use of a teapot is that of a floral vessel. It's the perfect touch for a "Tea Party" themed pre-wedding event.  Some lovely examples are the photos above and below.  The lower photo is from my daughter's bridal shower.  All you need to create a similar item is florist's foam, a pair of scissors, blooms, and a little water.  Oh…and some talent.  This pretty creation was made by my uber talented friend, Debbie.
I love the tea set below with all the violets.  Violets, that most fragile flower, is my favorite.  I had a gorgeous little "Going Away" posey to wear on my going away suit at my wedding.  The posey had to be pinned onto my suit lapel with it's own water reservoir. The flowers are very delicate and need to be hydrated.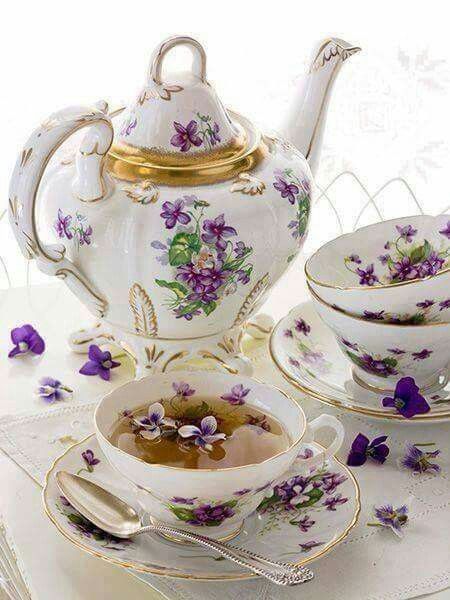 One can even rent teacups like the ones below from a party supplier for a "tea thememed" event.  I love the eclectic look of the one-of-a-kind cups below.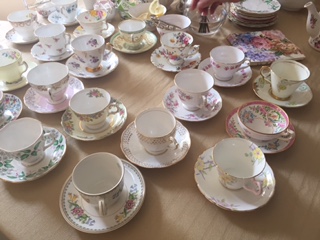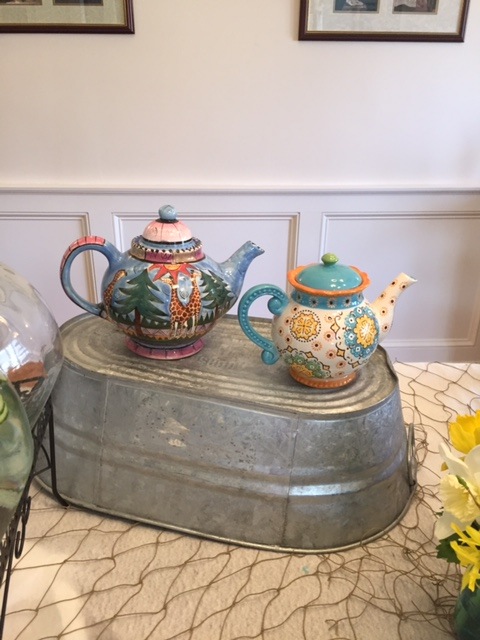 Above is a display of a couple of my personal teapots from the "tea themed" Bridal Shower my daughter hosted for her sister (my oldest).  They hold no flowers, but they are works of art as stand alones.
One can carry the "tea party" theme even further, by assembling guest favors such as the one below.  The pink package is a tea bag personalized with my daughter's name and the date of her shower.  The straw is honey, and the mini teapot is a kitchen measuring tape.  The chocolates…well, they just go well with tea!  🙂