A LOCKET FOR THE MOTHER OF THE BRIDE – A Guest Blogger today…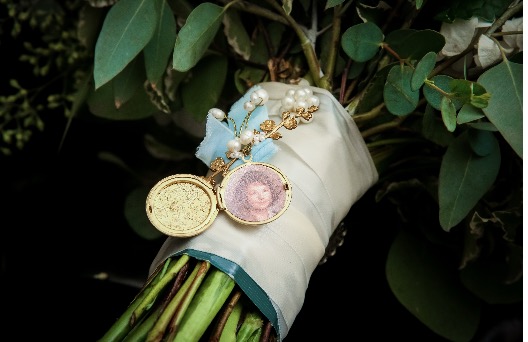 A good love story is multi-faceted, and this one has a twist. To be sure, my son and his new wife Sally are a beautiful tale of romance, but her mother and I share our own sweet ode to love.
Forging the turbulent twenties without a mother's comfort just a phone call away would be difficult, and planning a wedding without a mother of the bride could be bittersweet. But my lovely, resilient daughter-in-law faced both challenges with grace, efficiency, and joie de vivre. Sally's mother armed her daughter well before succumbing to breast cancer during Sally's senior year of college. Nevertheless, when my son asked Sally to marry him just shy of her 32nd birthday, I became not only the mother of the groom but a mother figure for the bride as well.
Jackie was a nurturing mother, a beloved college professor, and the witty heart of their big Irish Catholic family. Although I never met Jackie, it seems I know her through stories and accolades, and I feel a kindred spirit with this sublime angel. I would never presume to take her place, so it was essential for me to find a way to link ethereal arms with Jackie and walk together through that glorious time in Sally's life as a bride.
After expressing ebullient joy over their engagement, one of my first assurances to Sally was that I would be there for her during the wedding planning… as much or as little as she needed and wanted. I was sensitive to finding the balance of involvement that this self-sufficient woman would be comfortable with, especially considering that we live 2,000 miles apart. To my great delight, my daughter-in-law-to-be pulled me into her bridal adventure with both arms and an open heart, exchanging countless emails and phone calls on top of my numerous trips to Chicago during their eight-month engagement.
My husband, two daughters and I were on a plane to Chicago within 12 days of their announcement to celebrate and begin the planning. The wedding date was already set in stone for Saturday, January 21st – the mother of the bride's birthday – so now it was a matter of securing all the vendors for that unequivocal date. What could have been a daunting task was easily achieved with an off-season wedding. The bride and groom had their heart set on an historic 1920's mansion in their Chicago neighborhood, so it was swell that we were all able to check it out together, agree that it was the perfect venue for them to begin their married life, and secure it for the chosen day.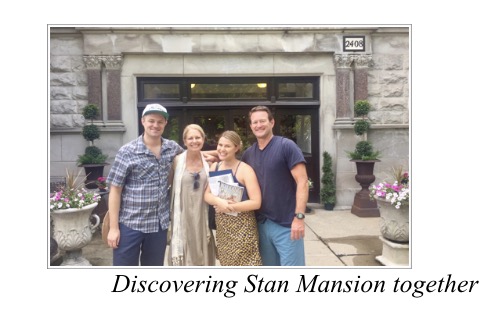 Sal and I are can-do gals with experience in event planning, so we felt that the venue's wedding coordinator would be enough for us. With a large wedding, we knew it was vital to have someone directing the show on the big day, allowing us to fully enjoy the merriment – especially with only one mother to juggle the quirky situations that invariably pop up. But we needed a streamlined system to keep us on track throughout the process of planning, so when a friend told me about aisleplanner.com, Sally had us up and running on it within a couple of hours. Most modern day weddings veer from traditional etiquette in all sorts of ways and for a variety of reasons. Our motherly duties couldn't be divvied up according to tradition, so I took a load off Sally and happily shouldered the tasks that would have been pulled off with Jackie's flair. The bride and I logged onto that website almost every day of the engagement, obsessively enough to make up for one less planning partner.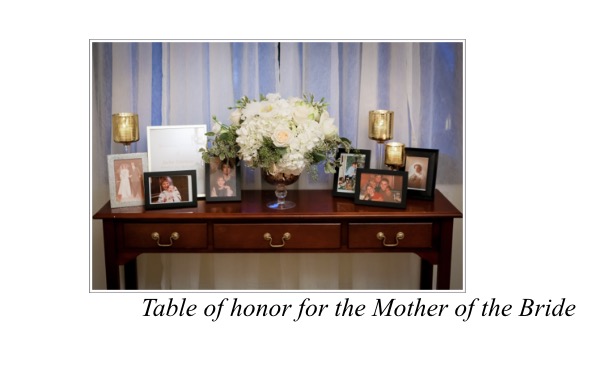 The only task that was simplified by missing our mother of the bride was selecting my mother of the groom dress. In keeping with tradition, my attire would have been based on her dress of choice, but in this case I had carte blanche. Yet I felt a certain sense of motherly camaraderie and wanted to find just the right gown that would reflect us both. Setting a theme for the wedding makes every aspect of planning more defined. From the moment we set foot in the mansion, the Great Gatsby was whispering to us. The first mother dress I found was a beaded sage-green number inspired by the Roaring Twenties, and I suspect that when I showed it to Sally, she too became inspired. In fact, her love-at-first-sight wedding dress was a perfect nod to the theme, which prompted me to search for a different dress that gave the beaded spotlight to our blushing bride. After 13 attempts, I think Jackie would have adored the mother dress I opted for. Incidentally, the bride originally envisioned a wintery sage green-plum-ivory color scheme, but once we hit upon the Gatsby theme, I acquiesced to her black-gold-white palette. If nothing else, motherhood teaches us to be flexible.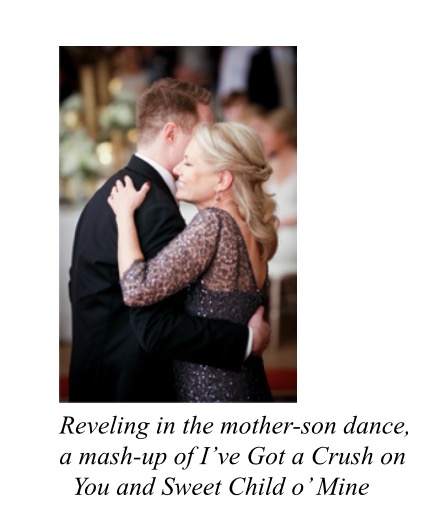 Playing the duel mother roles, I felt a deeper desire to bestow meaningful gifts upon the couple, perhaps to fill a longing that I imagined the bride might be feeling. For one of Sally's bridal showers, I gave her their set of pots along with Haertl Family Keepers, a cookbook of our family's favorite recipes including many from my son's childhood. At another shower I gave the set of knives that I feared their guests would shy away from – superstitiously wrapping it up with a personalized cutting board and a shiny copper penny. And with the collection of photos, mementos, and schoolwork that I'd been saving for years, I finally made a scrapbook of Mac's boyhood for Sally as a way to share that part of his life with her. My final bridal gift to them was his-n-her monogrammed handkerchiefs… partly as a way to grab a precious sliver of time with my son on his wedding day in the midst of all the nervous excitement. As mothers, it's far easier to get caught up in the female frenzy than it is to find moments of nostalgia with our boys.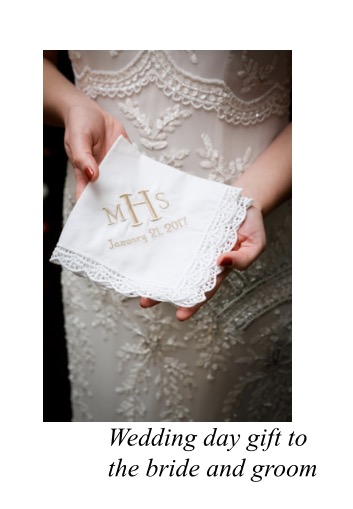 My most emotional mother duty took me by joyous surprise. Sally had spent a few weeks wedding dress shopping with some of her friends and bridesmaids in Chicago, keeping me in the loop by texting photos and giddy updates. But one day she called me saying that she really wanted to spend a day with me to try on all her favorites and share the final decision together. With happy tears in my eyes, I quickly booked a flight to Chicago. Knowing full well that this is one of the most sacred mother-daughter moments of an engagement, I wanted it to be as special as possible for my darling daughter-to-be. She made appointments at several shops, and we flitted around town playing dress-up with the favorites she had set aside. But the last stop was truly the charm. As we walked up to the second floor, we both gasped at the just-arrived gown on the mannequin. And when she slipped it on, we were misty-eyed with the magic of it all. To find her fantasy gown together was pure bliss. A friend of my daughters recommended that we look into getting a luxurious watch to compliment her elegance on her wedding day. She goes on to say that WatchShopping (https://www.watchshopping.com/ladies.html) have a great range of high end watches that would boost any outfit. She got one to go with her wedding dress and it really tied the whole look together.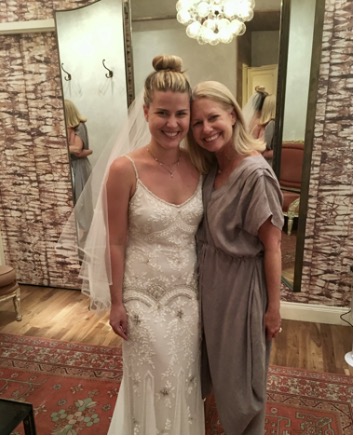 As we toasted our wonderful shopping excursion over mimosas, it felt natural to include her mother in our cheers and acknowledge how much we missed her physical presence. It also felt slightly dreamlike to give Sally my most sentimental gift on that day. I had found a vintage locket attached to a pearl-laden brooch tied with a baby blue velvet ribbon and put a tiny picture of her beautiful mother in the locket. I thought it would be just the right touch for her bridal bouquet, perhaps a tenderly symbolic way to carry her mother's spirit with her as she embarked upon marriage to the man of her dreams – my son. A tinge of survivor's guilt stirred my heart in a delicate sort of way, but by then I had fallen in love with our mother of the bride for gifting her daughter and this extraordinary piece of her life to me – the mother of the groom.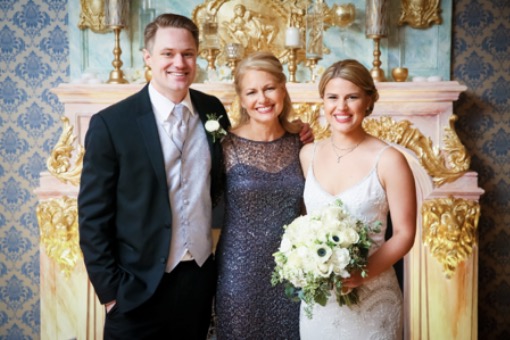 Wedding day photos courtesy of Colin Lyons Photography
 You can read more about this wedding at
Wrirren by; Jana Haertl
https://janahaertl.wordpress.com/2017/02/21/regrets-i-have-but-few/