Our discussion of more Hotel Del wedding venues will have to wait until tomorrow…I am just too excited to share some unique services to the resort!
It's happened to many of us…we are enjoying a delicious picnic lunch on the beach, or an early dinner on a resort patio…and in dives a seagull to steal our meal.  Urrrg!  Or perhaps worse…we are  bombed with a "seagull surprise."  Well, that doesn't have to be the case at the Hotel Del where a falconer is employed.  Enter Jorge Herrera, as seen below.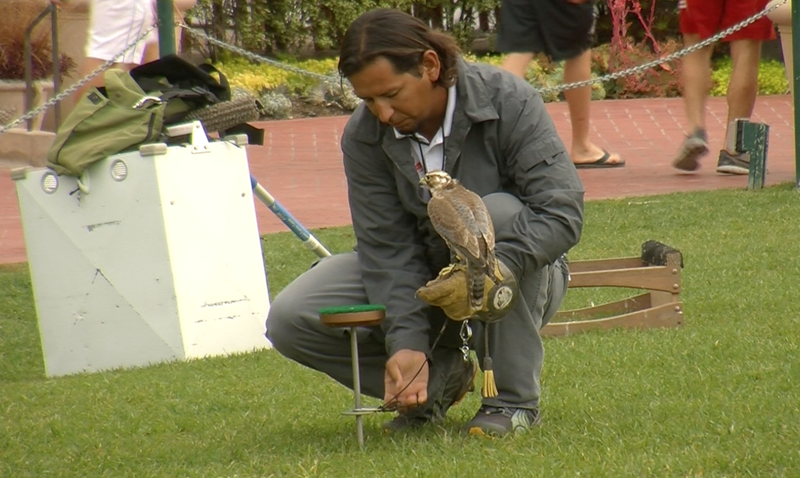 According to a hotel source "…Herrera doesn't have to do much more than show up to scare the gulls. The simple tactic of walking around with his hawk on a perch or doing short flights is enough to flush the pesky birds away. It's an easy job for the predators….What George does is he brings in his birds sets them up here on our Windsor Lawn then he will walk around the property… The birds of prey… frighten the other smaller birds and the seagulls."
Think this would be a good idea for your wedding at the Hotel Del?  It is advisable to contact hotel staff and see if this is a routine thing, or if there is an up-charge for your event.  During my stay, I saw a falconer walking the perimeter of the "Windsor Lawn".  It was fascinating, and the hawk so majestic.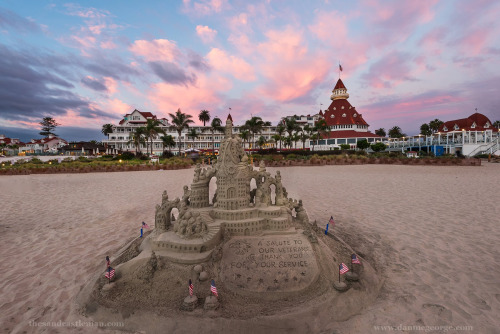 Hey, guys, want to surprise your bride with a "little something extra" on her wedding day?  How about a sand castle on the beach of the Hotel Del?  The Sandcastle Man, Bill Pavlacka, shares his talent with the Hotel Del – for a fee of course.  While, yes, it will eventually wash away, photos will last forever!  I just love this idea.
Just can't get enough of the Hotel Del Coronado, and want to return after your Destination Wedding?  Another novel approach "The Del" has taken is the creation of it's "Club At the Del" Details follow below from their own website hoteldel.com
"This private beach and social club membership provides VIP access to the legendary resort and the luxuries of Beach Village on a daily basis. Members experience the best of what Hotel del Coronado and Beach Village at The Del have to offer, whether it's a beach party, wine dinner, sunrise yoga, surf lesson or holiday celebration. Enjoy secluded pools, private full-service beach cabanas, an executive locker room with whirlpool and steam room, fitness center and classes, along with fireside dining and sunset libations in the glamorous Windsor Cottage clubhouse.
Members also receive preferred rates on resort services and amenities like fine dining at 1500 OCEAN and relaxing treatments at the spa. Entertainment includes a full social calendar of events from comedy nights and beach barbecues to live music and holiday galas. Club Adventures take members to sporting events, horse races and more.
Experience the iconic Hotel del Coronado as your own private club.
Member Access
The Del's state-of-the-art Fitness Center
Executive-style member's only locker room
The Beach Village pool (only Beach Village owners and guests also have access)
The Main pool and Boardwalk (adult-only) pool
The Windsor Club Cottage (a member's ocean-view cottage/social area)
Private, full-service beach area"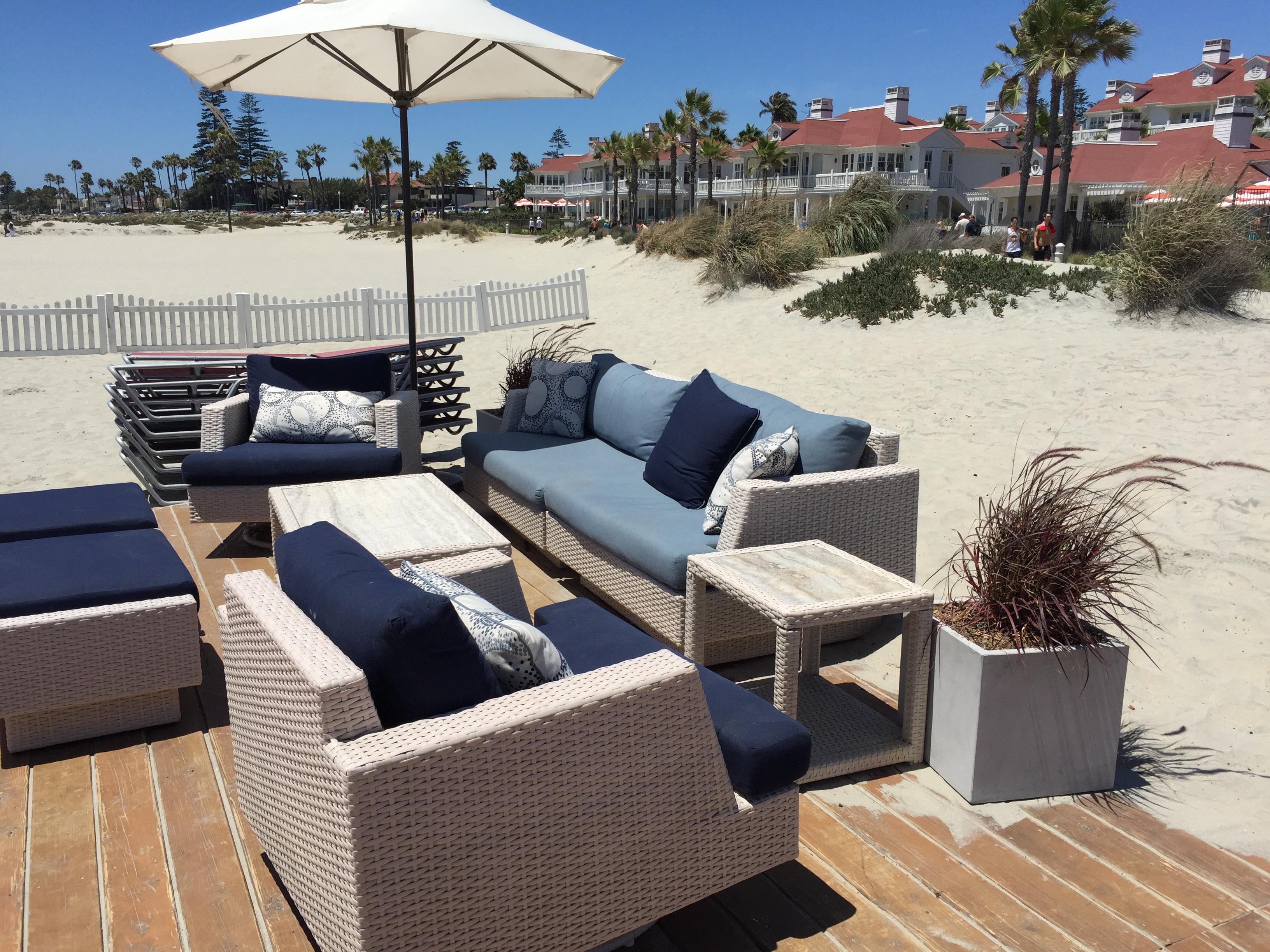 My photo above…One seating area for the private club members.  Love having sofas right on the sand.
Tomorrow, I'll share with you about more ceremony/reception options at the resort.  And then…about the unique lighting fixtures, created by a very famous man…