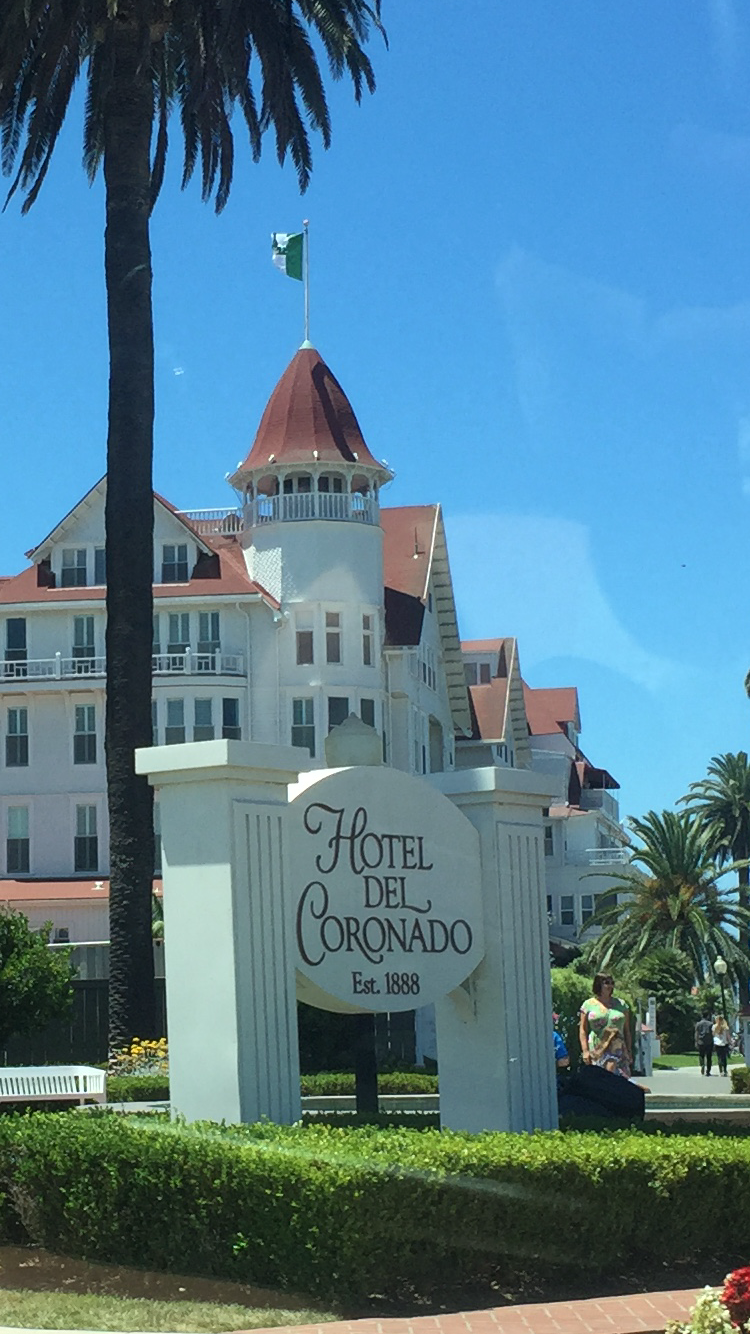 Come on…we've all thought about it… inviting only your nearest and dearest, and taking off for an exotic local for your wedding. Could it be more romantic? Probably not. Maybe you see yourself having your ceremony in a lodge with beautiful snowy mountains in the background, or maybe you would like the complete opposite of that and want a wedding in Australia? I've got a few friends that love a destination wedding and they've probably looked at all the central coast wedding photography businesses, looking for the one that can shoot their big day when it comes. Today I begin a series on destination weddings. Now, it is not a discussion on the "Pros and Cons" of destination weddings, but just the beauty of the option.
I recently had the opportunity to spend a few days at the incomparable Hotel Del Coronado, Coronado, California. (The photo above is the iconic main building of the resort). What and where is Coronado, you may ask?
Well, according to Wikepdia, "Coronado, also mistakenly known since the 1980's as Coronado Island, is a resort city located in San Diego County, California, across and around San Diego Bay from downtown San Diego.[8] Its population was 24,697 at the 2010 census,[5][6] up from 24,100 at the 2000 census. It is part of the San Diego-Carlsbad, CA Metropolitan Statistical Area. Coronado lies on the geographic combination of an island and a tombolo connected to the mainland called the Silver Strand. Coronado is a tied island, connected by a tombolo. In 2012, Dr. Stephen Leatherman, Director of the Laboratory for Coastal Research, ranked Coronado Beach as the best beach in the United States.[9]æ
Now that the facts are stated…just let me say, it's a magical place. A land of fairy tales.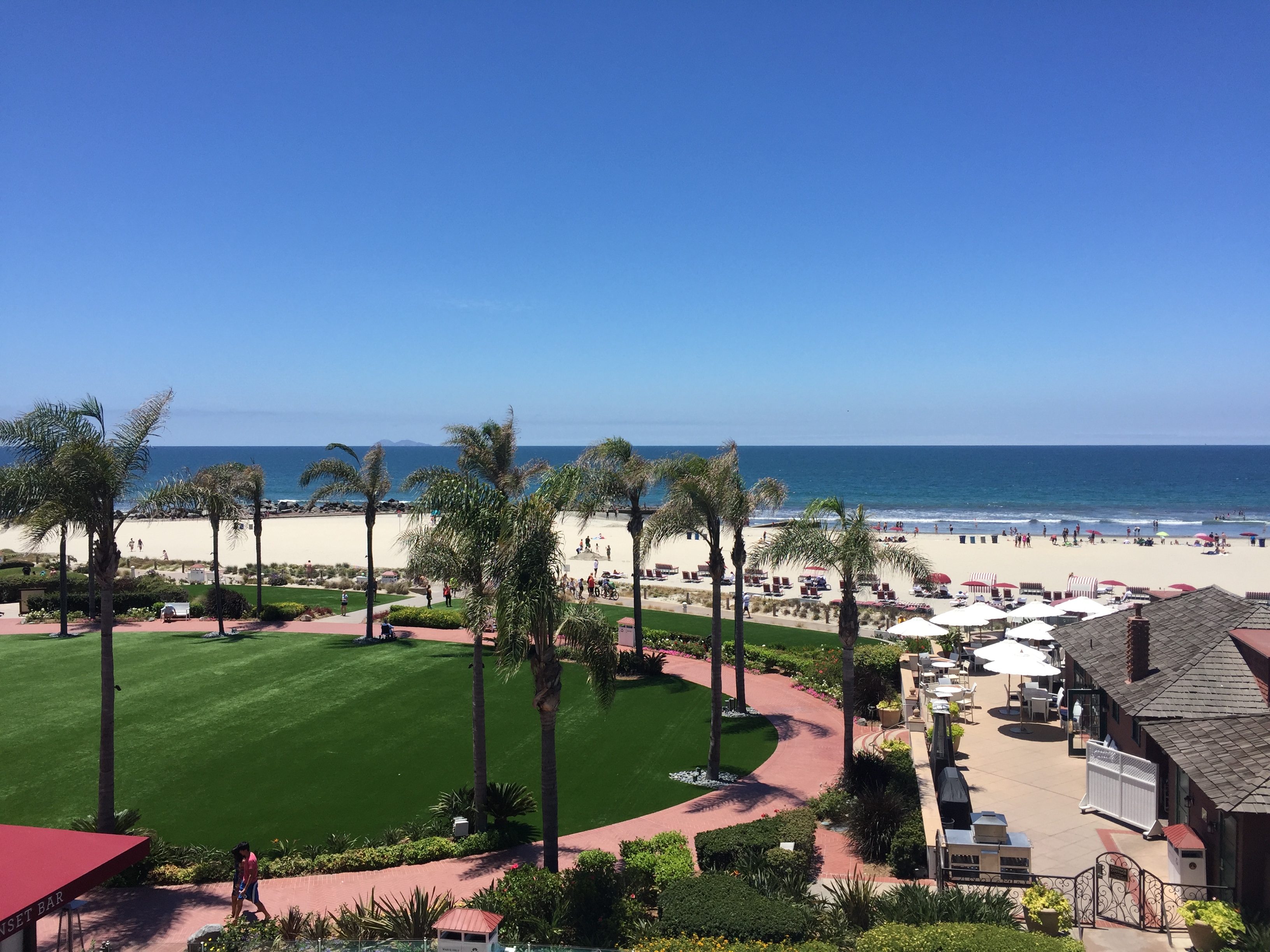 Above is the view from our room. Truly, one couldn't ask for more. Not only is Hotel Del, as it is affectionally called, beautiful, it is filled with history. Notice the black roofed building to the very right of the photo. That is the summer home Wallis Warfield Simpson shared with her second husband Ernest Simpson. (Remember, the English King Edward XIII gave up his throne to marry this twice divorced lady?). It was a few miles down the road, but the Hotel Del recognized it's great historical value and had it moved to it's current, coveted location. It is presently a part of a private club on the resort.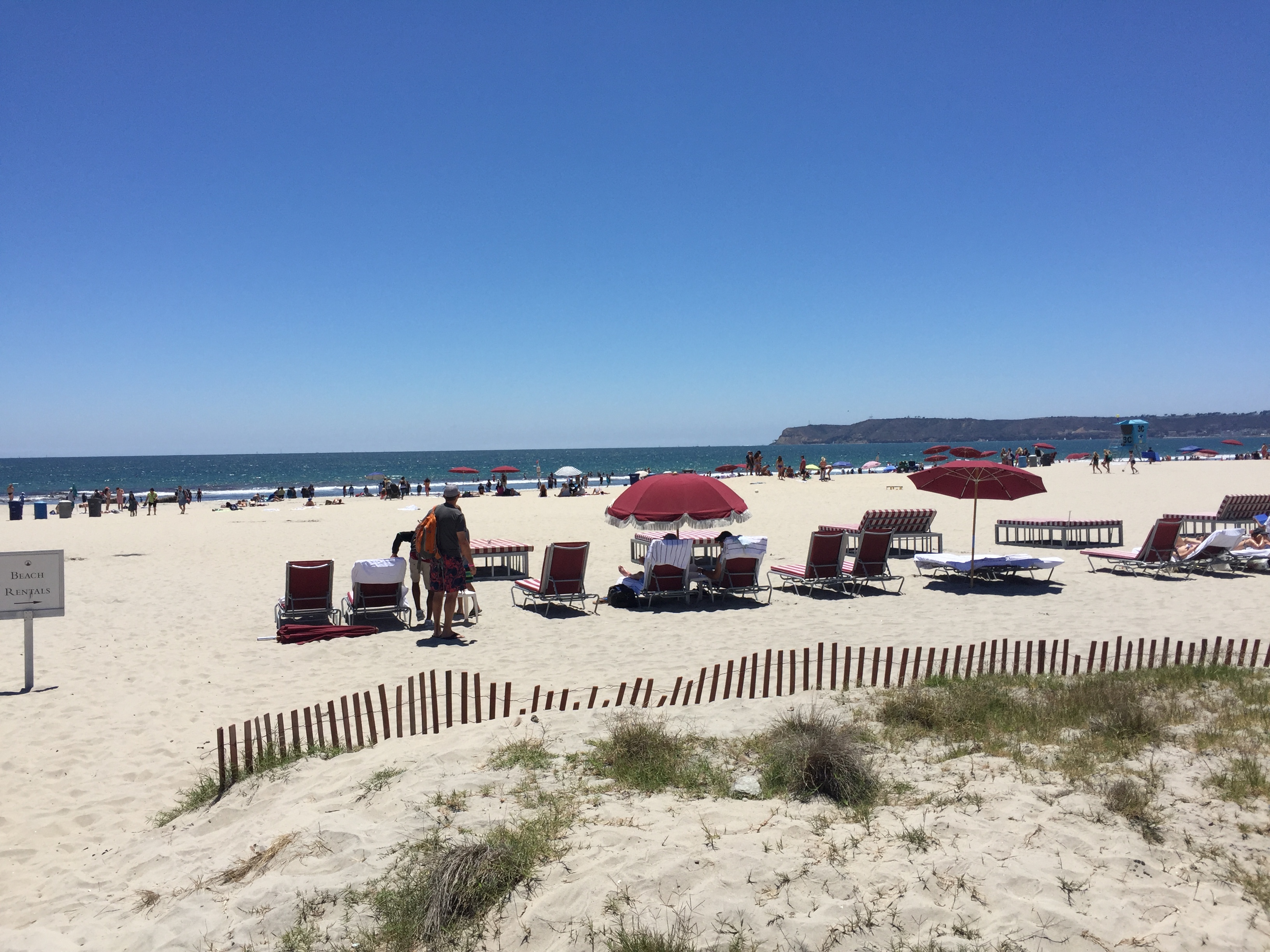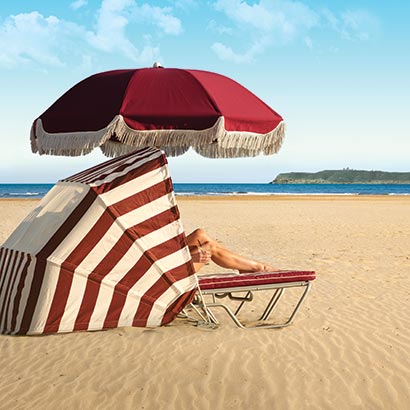 While the beaches are pristine and luxurious, much can be enjoyed from a room's balcony, (if you're lucky enough to have an ocean view!), – as evidenced by my two lovely models.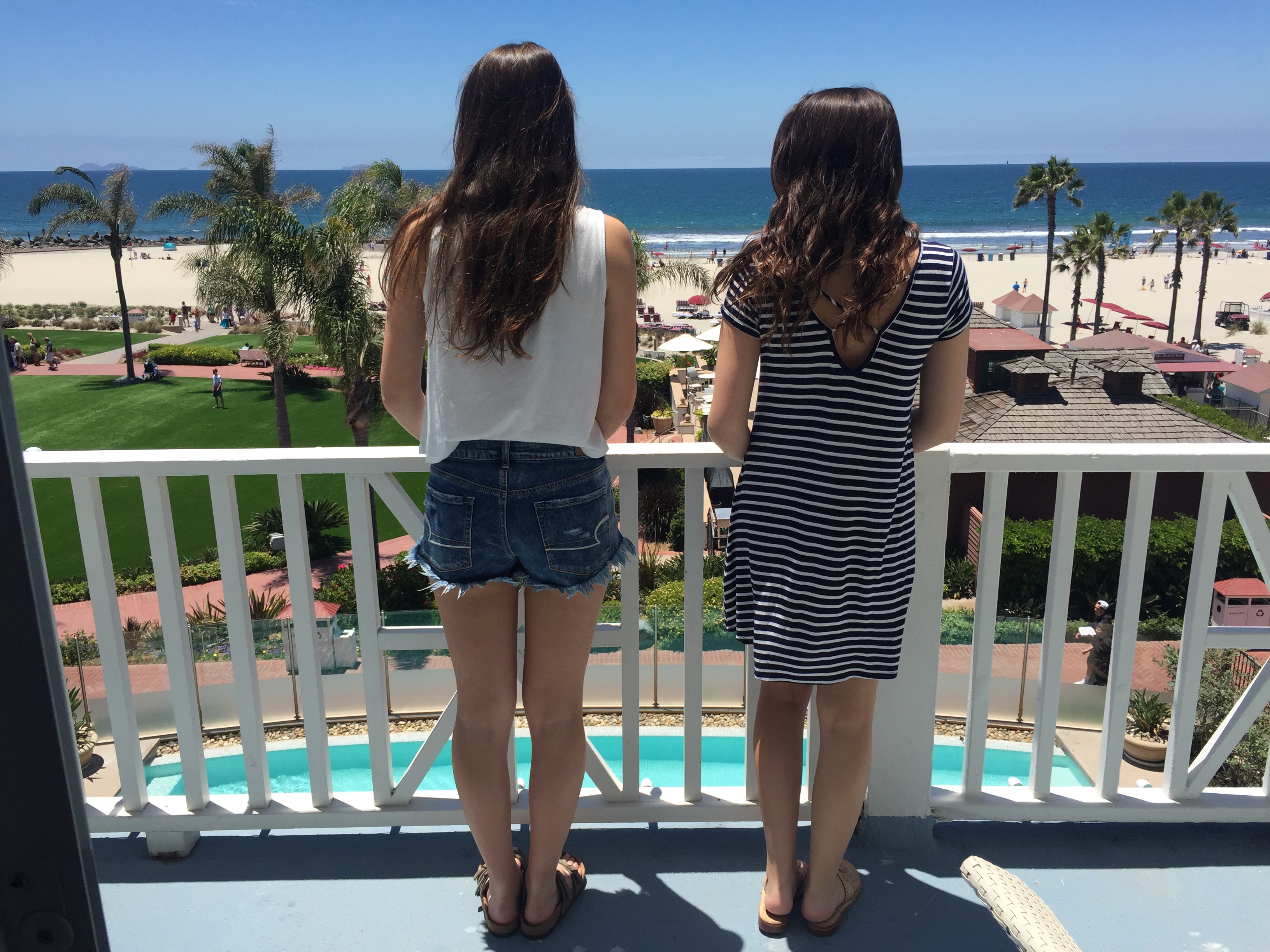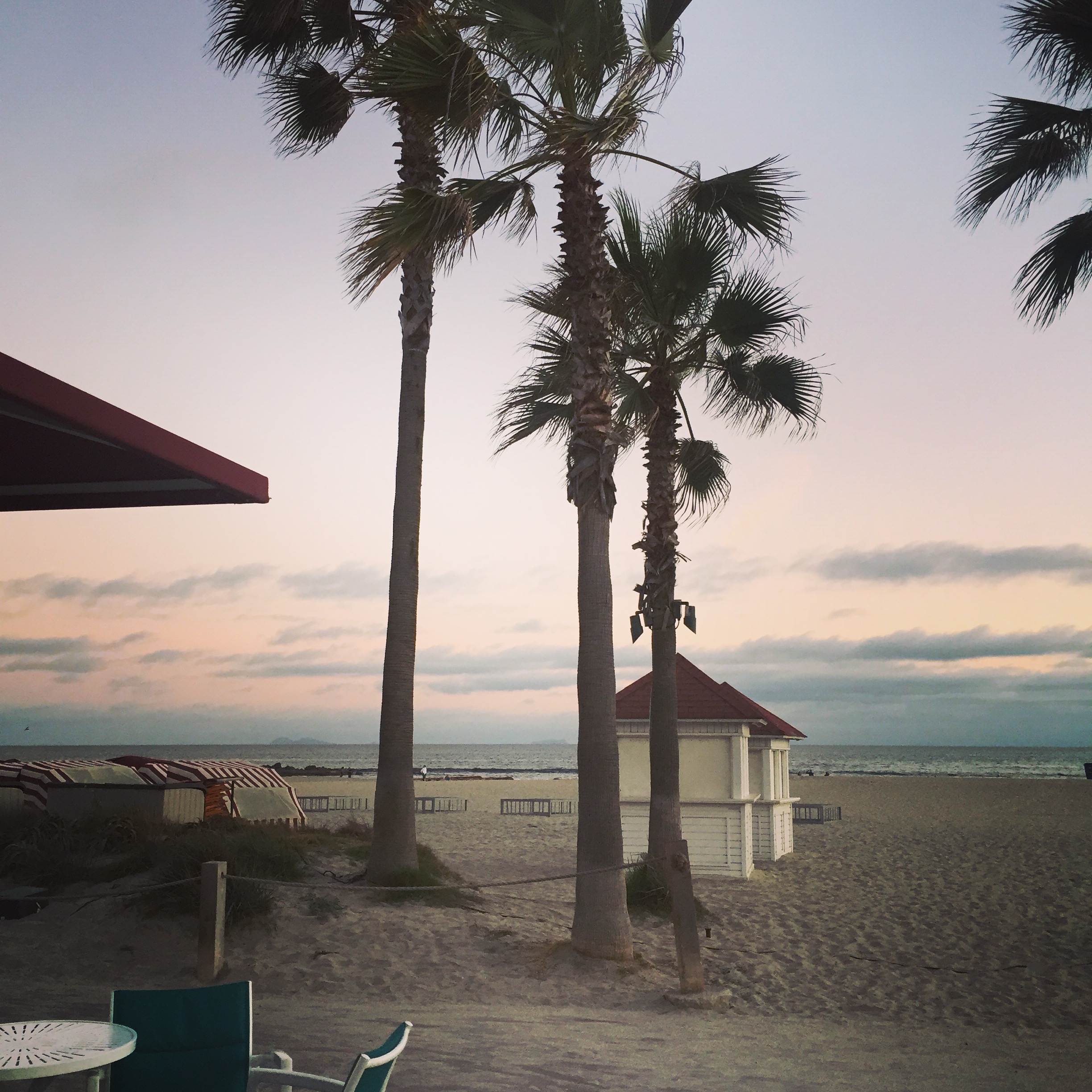 No time of day is less than perfect at the Hotel Del. After dinner one evening, we took a stroll, and snapped this breath-taking scene.
Ok, I'll admit it. I can't write about all I wish in just one post. My "Destination Wedding Series" will have to follow the "Hotel Del" series! So much to share. Tomorrow, I'll fill you in on the benign ghost that legend says haunts the resort…
With the exception of the iconic "personal stripped beach cabana" photograph, all photos are mine. You can see the magic and beauty are true 🙂 It's not the product of photo enhancement.