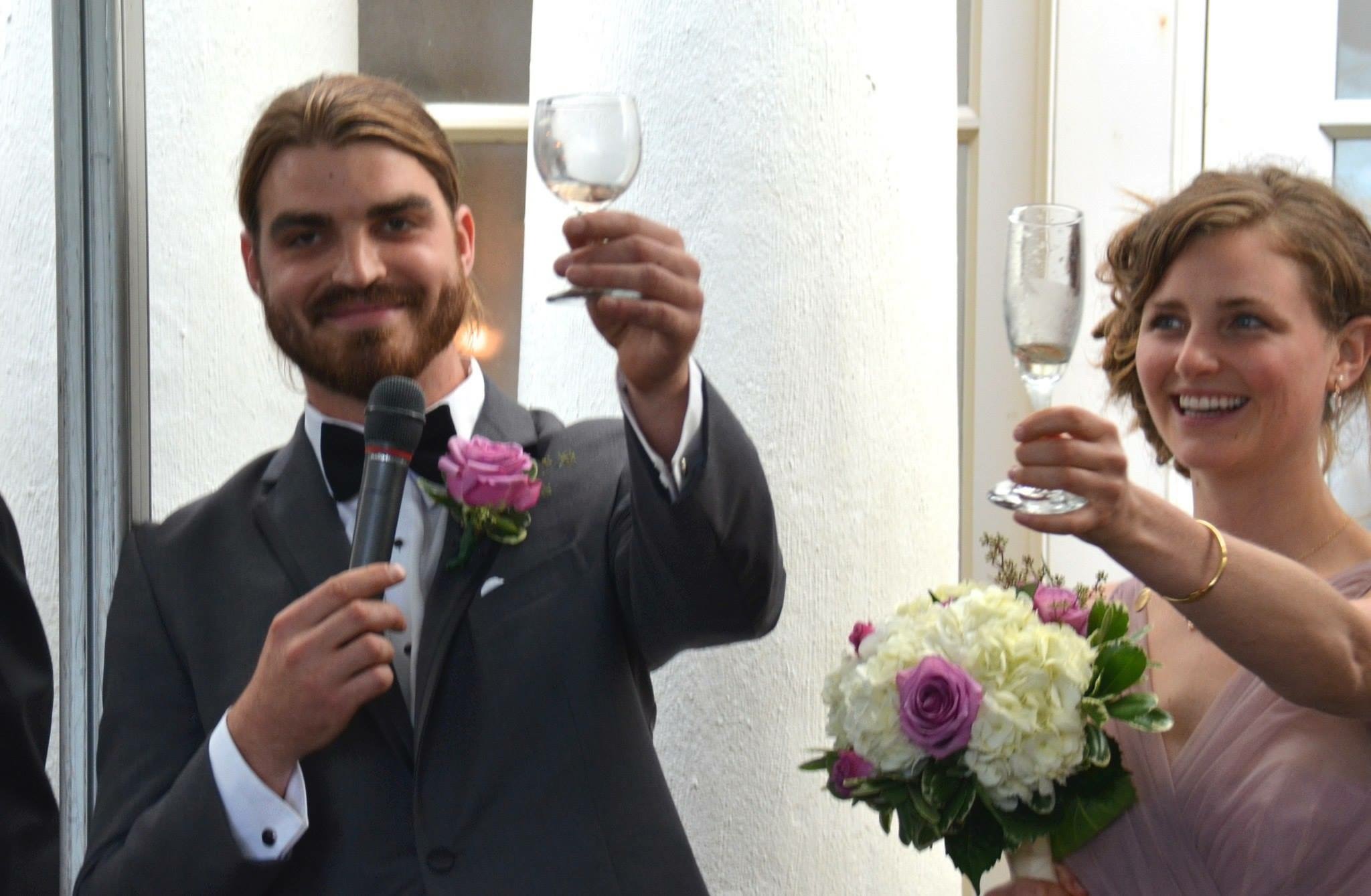 There is a time in our lives when everyone around us is getting married.  It is usually in one's mid-twenties.  If you have multiple weddings where you are tapped to be an attendant…missteps can happen.  Wedding Bloopers.  During a Thanksgiving week family dinner, Matt, (pictured above with his beautiful sister, Amanda), told me a cute story.  It was cute as all ended well…but it easily could have ended in disaster and lends a word of caution to all groomsmen.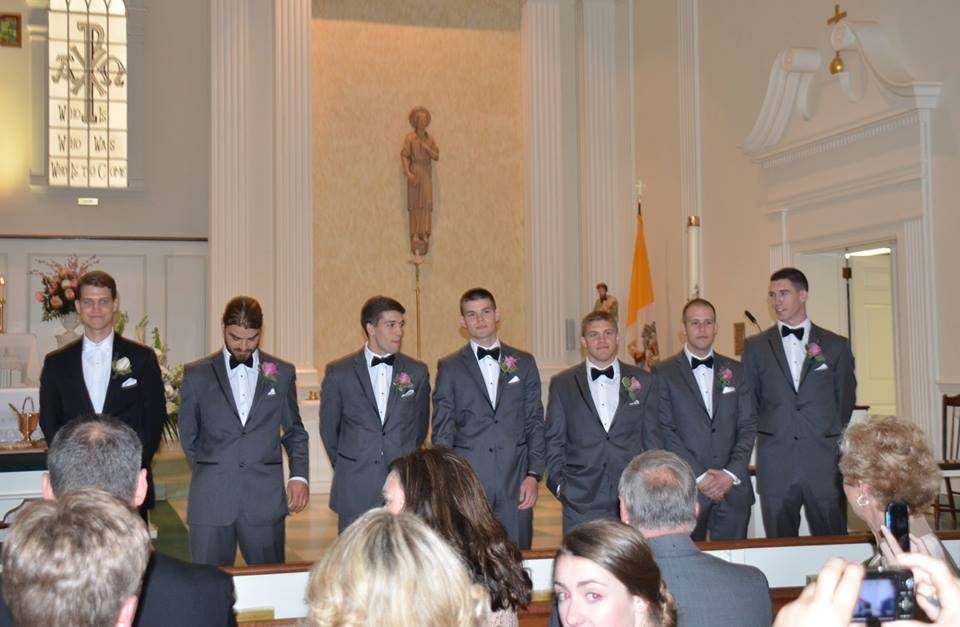 Matt is my son-in-law, Robert's, brother.  He is handsome, charismatic, a great friend, and in his mid-20's.  Thus, he's asked to be in A LOT OF WEDDINGS!  The new trend seems to be for groomsmen to buy their suits (unless a tux is chosen). Above photo showcases Robert and his groomsmen.  Matt, as best man, is next to his brother.
Notice how all the men all match?  But what if they didn't? Which brings us to the wedding blooper of this post.  Matt most kindly offered to allow me to share his little "slip".  He was asked to be in two weddings this year, both close in timeframe.  It was time to travel to wedding number one, so he, in a rush, grabbed his wedding suite and ran to catch his flight.  The rehearsal went off without a hitch.  A good time was had by all all the rehearsal dinner.  The morning of the wedding arrived.  The groom checked in with each groomsman.  He even…checked on their suits.  Guess what?  Matt had, in his haste to depart for the wedding, brought the wrong suit.  Both were gray, but different enough that he wouldn't match the other men.  DISASTER!  But no…they found a local Men's Warehouse, the exact suit and size.  The tailor on duty said, "Let me measure you, and I'll have it done in time."  He did. Kudos, Men's Warehouse!
Advice to grooms everywhere, and brides as well.  Good idea to check in with your attendants.  Whatever is supposed to match, check to see if your attendants have the item with them.  But check in before the wedding day…   🙂
The photos above and below are of me with Matt at daughter Maggie and Robert's wedding. I had the honor of Matt escorting me down the isle.
And the final photo…daughter KK's wedding.  I love the suits Tyler chose for his groomsmen.  I think there is a fine line between asking young men to pay a little more so they can own their suits versus renting, and requesting that your male attendants pay an exorbitant price for suits they may OR MAY NOT wear again…Please be considerate of attendant attire cost for both the gents and the ladies.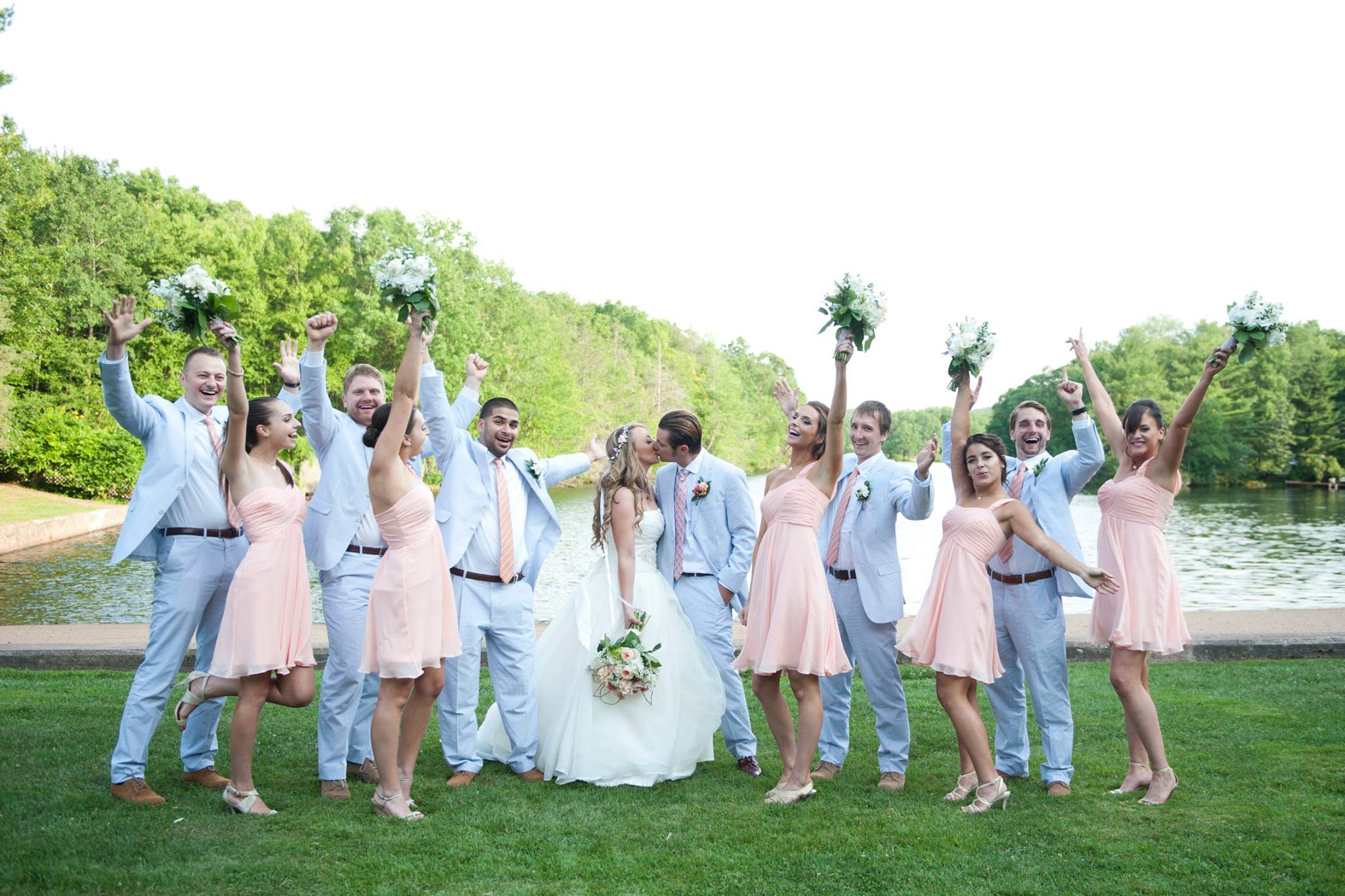 Photo Creds:  Patty Cloherty # 1-4, Mary P Karnes #5