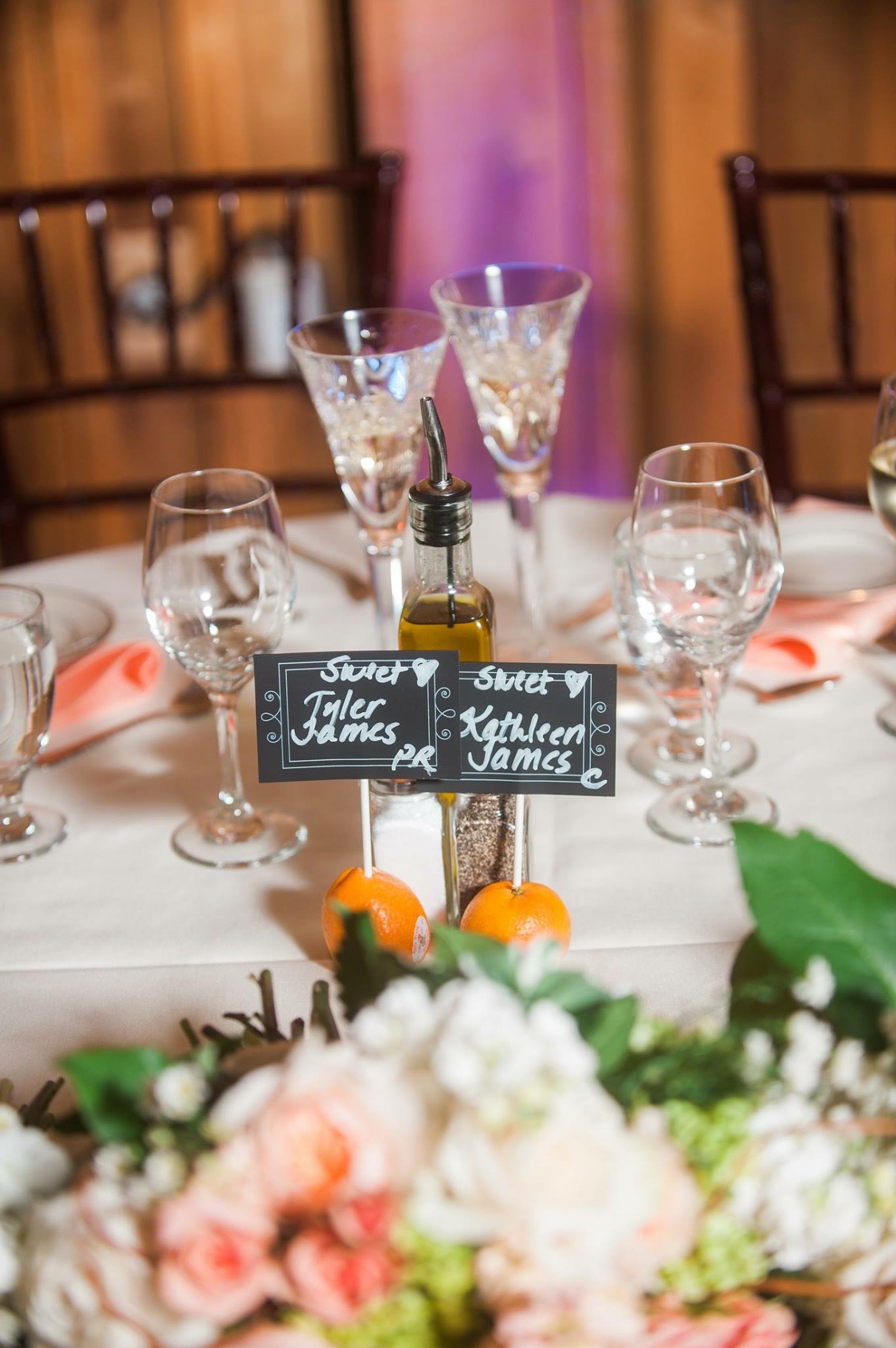 It's past time for an update on KK and Tyler's reception!  The professional pictures are rolling in.  All photos are from the most talented Hannah Colt, unless otherwise noted.  A brief word on Hannah.  She was fantastic.  She was professional, creative, prepared, came early, stayed late, and was kind — even to me, a pain of a 'Mother of the Bride'!  🙂
The top photo and the one below are of Tyler and KK's "Sweetheart Table" – of special note – the champagne flutes are family crystal I hope each of my daughters will use for their toasts…  I have discussed "Sweetheart Tables" in other blog posts.   If you'd like to read about them, just click on the link!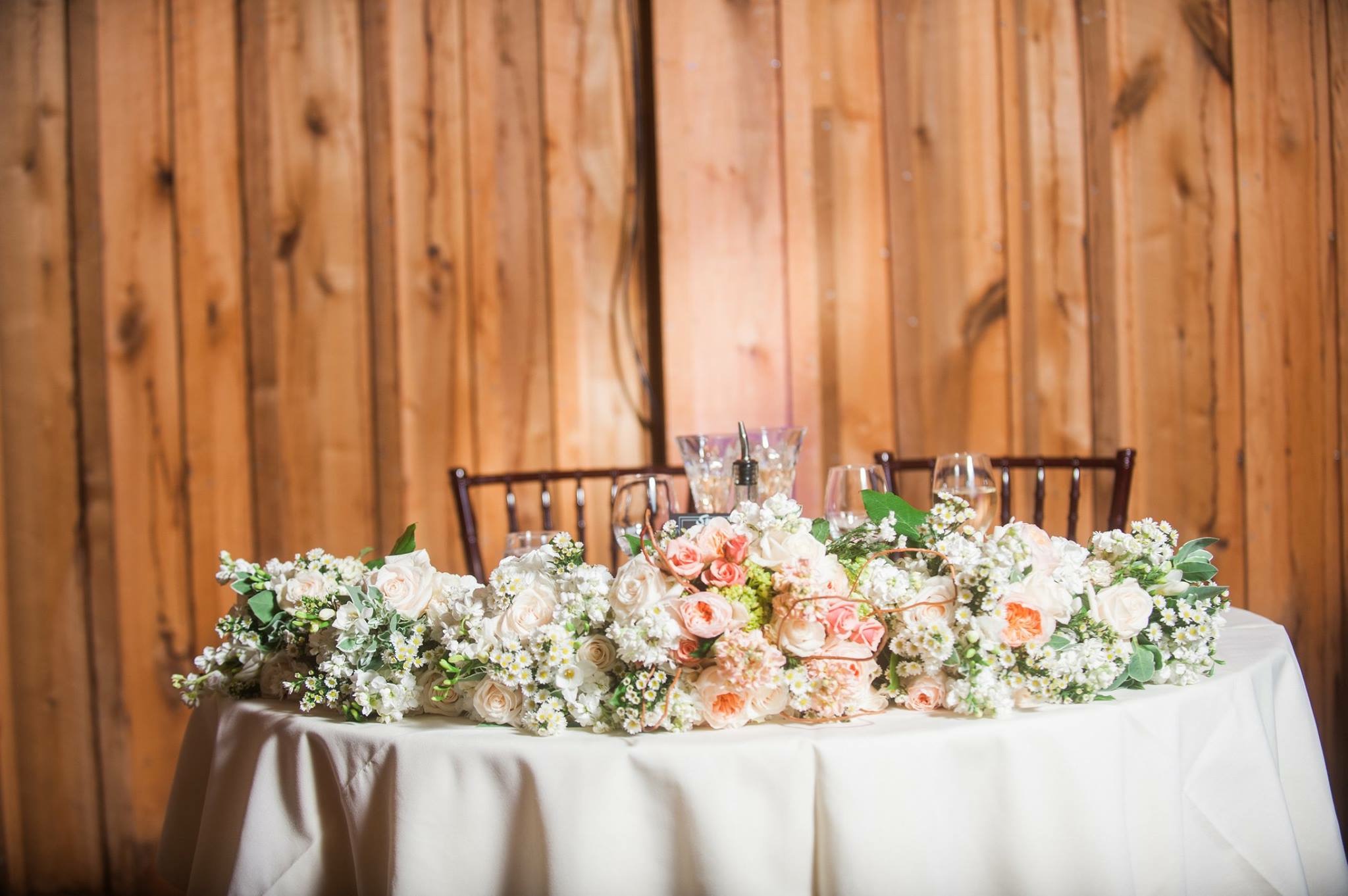 The third photo highlights the table centerpieces.  I wish I could take credit for the beautiful flowers, but Janice, the lovely mother of the groom, is responsible – with a little help from KK.  🙂  It was a real treat for me to walk into the church and then the reception and see the gorgeous creations.  It was one area of the wedding that was a surprise for ME!  I loved it.  Thank you again, Janice.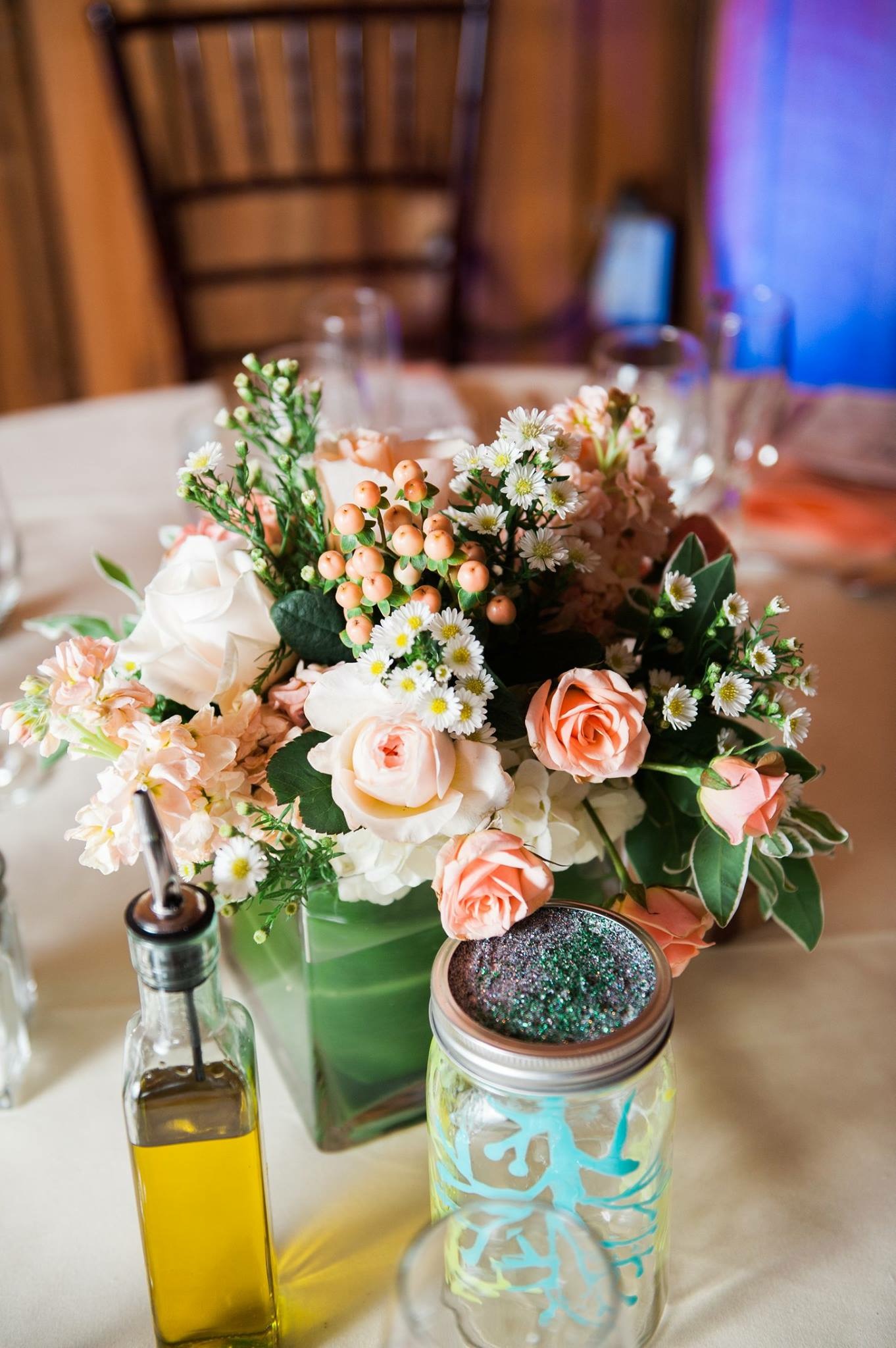 And the jar next to the oil on the table?  They are "Glow Jars", a DIY project KK and Tyler made for the "After Dark" part of the reception.  Very, very pretty.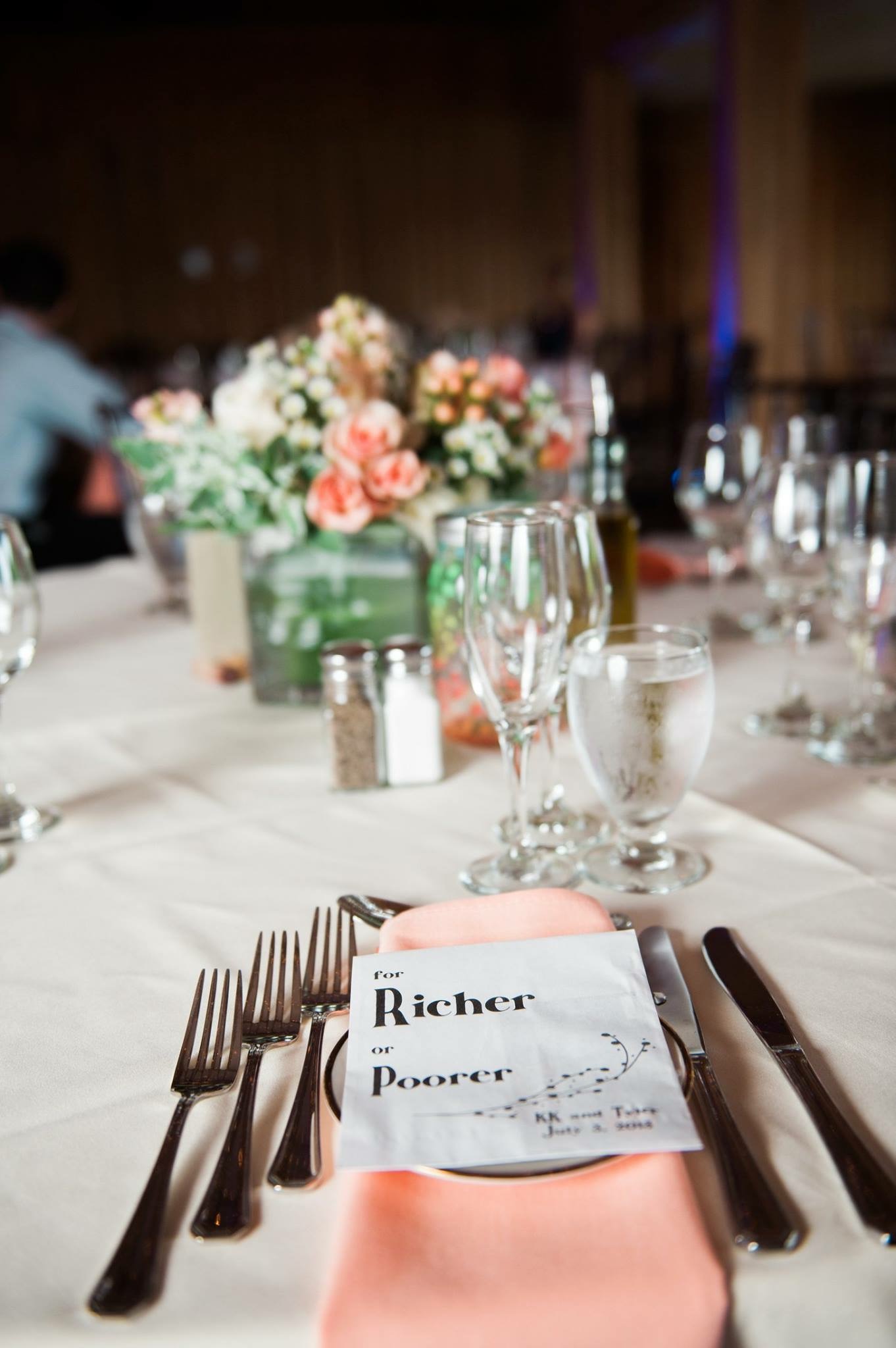 The next picture showcases a guest favor.  The "For Richer or Poorer" envelope, embossed with KK and Tyler's names and wedding date, contains a lottery ticket and a shiny penny.  There were quite a few winners, and no one left their favor behind, as I've heard sometimes happens at weddings…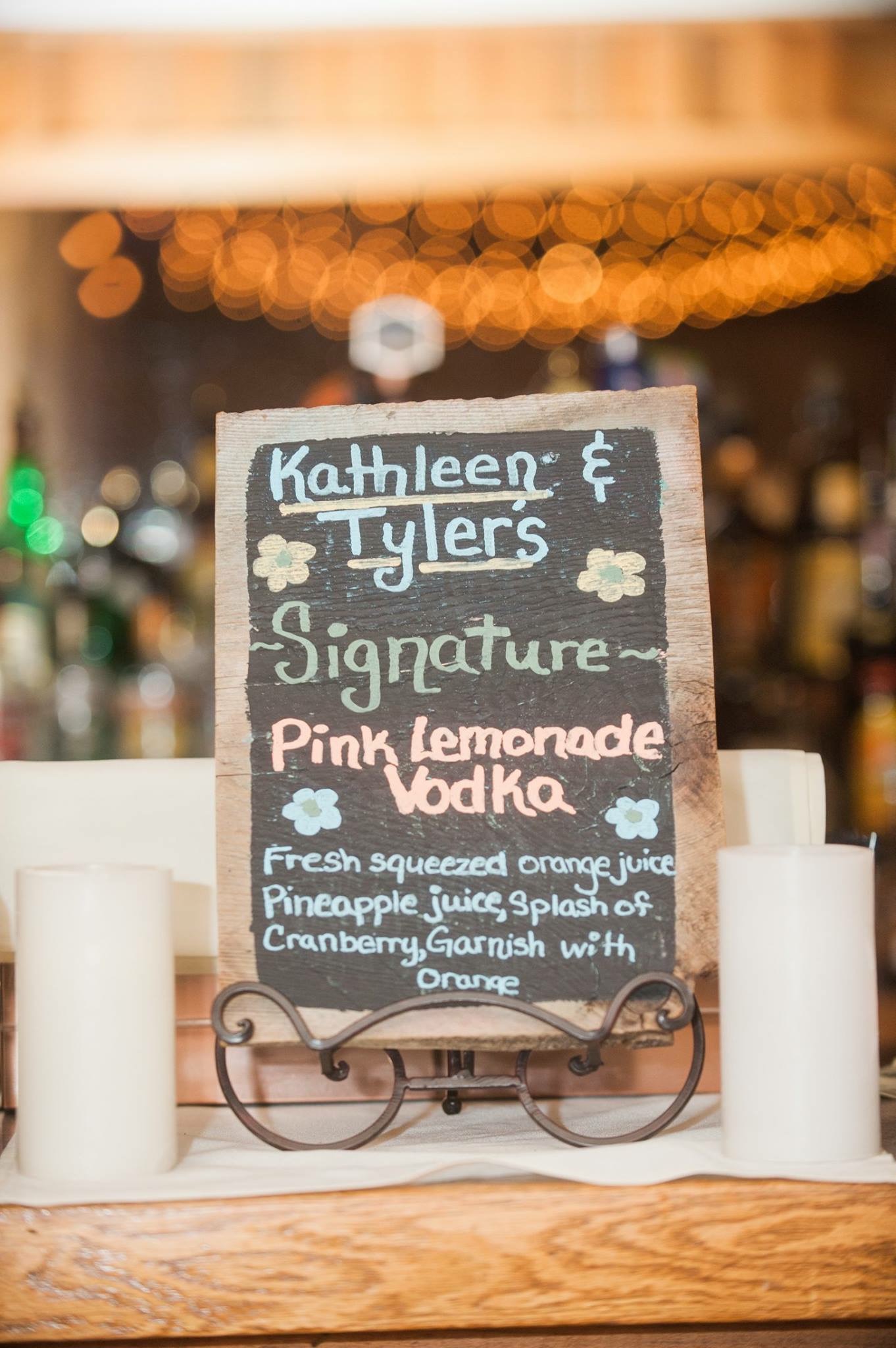 Although we had a fully stocked open bar, the bride and groom also had a "Signature Cocktail", although not for the usual reasons.  The most common reason is to have drinks readily available for guests – but the Pavilion on Crystal Lake had an amble supply of bartenders.  They chose to have the special cocktail to incorporate the juice from the oranges my parents sent from California.  Which brings us to the next two pictures…  I believe I've mentioned the guest place cards before.  (If you missed that blog post just click on the following link: Place Cards.) They were made from Dad's oranges.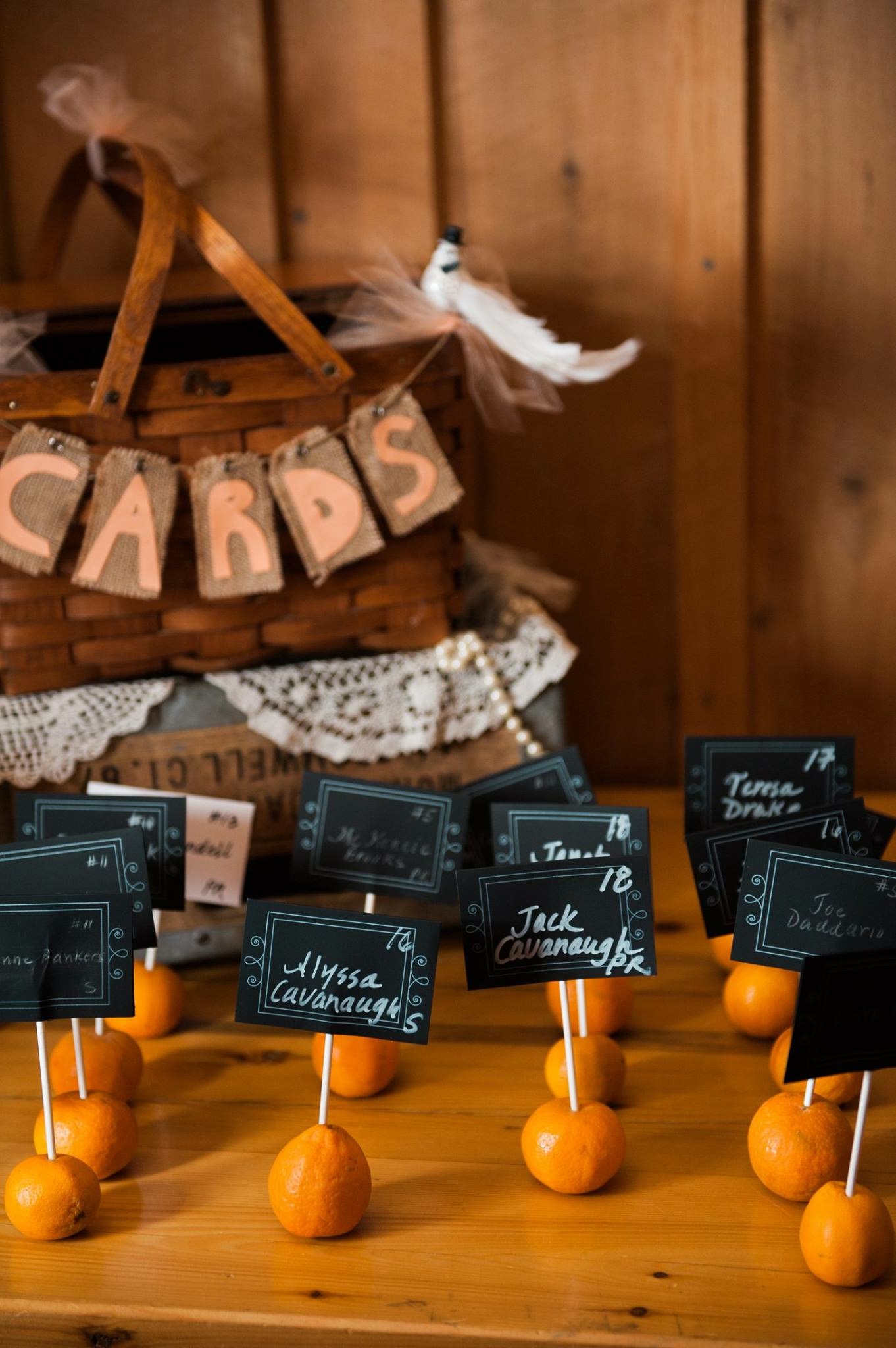 And tucked in the upper left of these photos?   The gorgeous "Card Basket" which Janice decorated.  It's an antique picnic basket on loan from Tyler's Aunt Janet.  Perfect for their wedding vibe!