Must your centerpieces match?  I always thought so, being more or a "Matchy-Match typer of person" (limited originality from me!), …but then when we attended Jennifer and Fred's wedding last Sunday, it became apparent to me that, no they don't.  Look at all the variety of arrangements in the following photos.  Yes, they color scheme was the same, shades of blue, and the flowers all hydrangeas, but they were all different.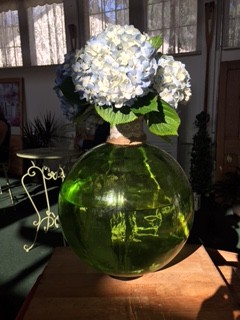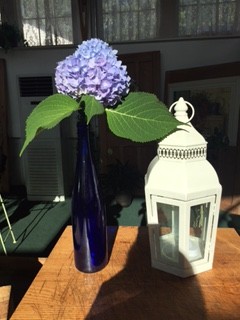 Look at the photo on the right.  This display was on one of the food station tables.  It's so eclectic.  I would have never thought of putting these two items together, but it works.  And do you know what the  green "Vase" is in the picture above?  I didn't, and when I commented on it, a friend told me – was told it's an ocean buoy!  Beautiful!  And it fit in perfect with the wedding's nautical theme.
The guest tables all had centerpieces like the following photos below.  The were similar, but different – sometimes subtlety.  Some sported just blue hydrangeas, some blue and white.  The all had the beautiful blue vases, but not all the shapes were the same.  And while all had a "Starfish" somewhere on the table, the location varied of that too.  One centerpiece even had the sea creature in the blooms.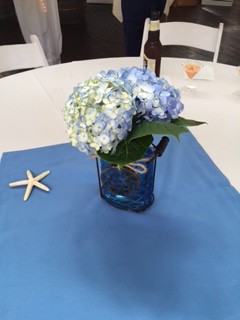 Some vases were dressed with twine, others, a wire cage housed the arrangement.  The blue and white theme was always upheld, however.  And the bridesmaid dresses…well let's just say they were my favorite shade of blue.  Next post will return to daughter KK and Tyler's day, but I'm not done with this wedding.  Too many lovely ideas to share!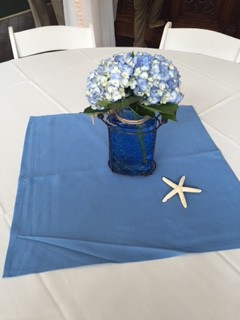 All photos: Mary P Karnes