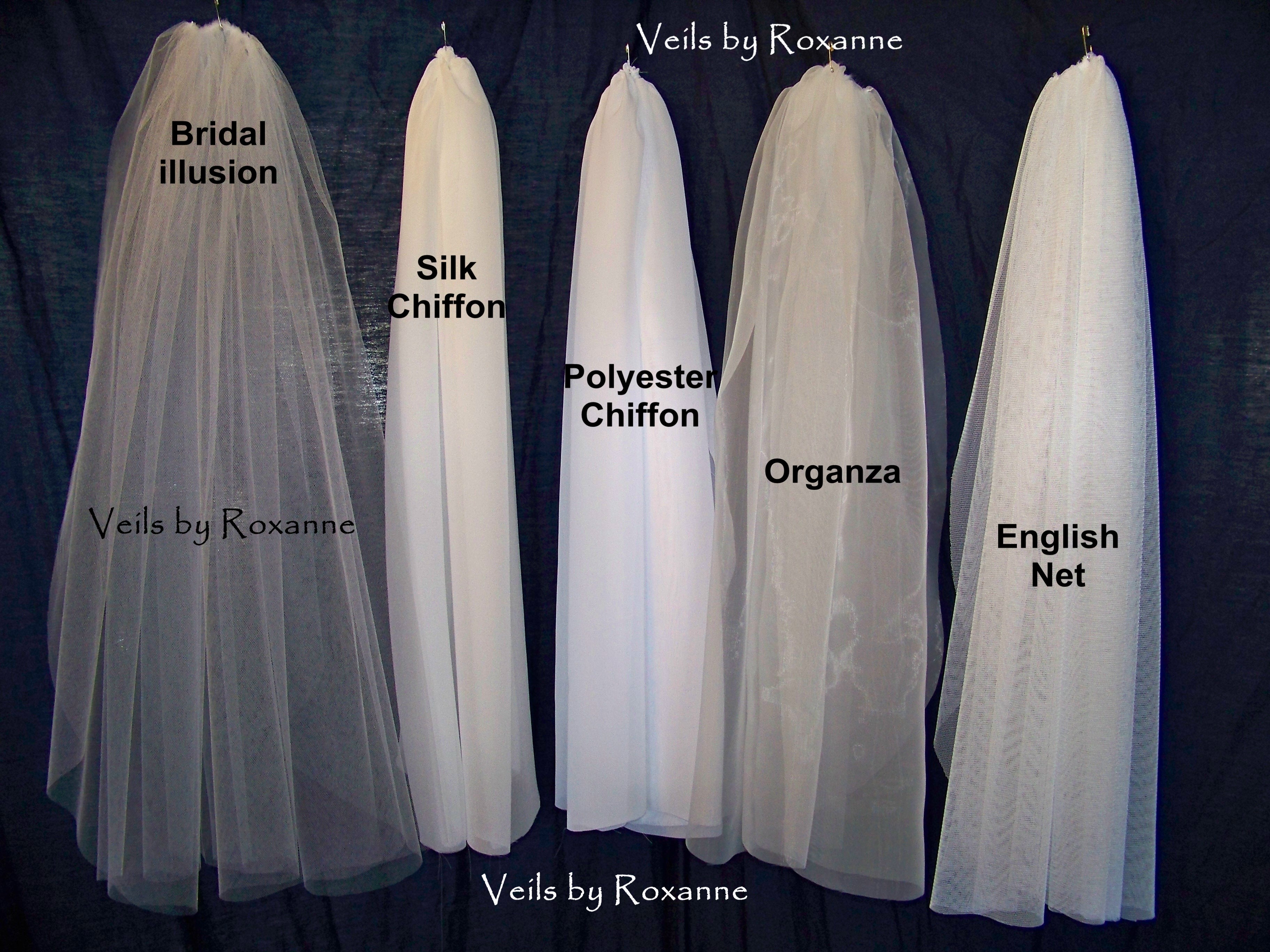 Wedding Veil Fabrics  —  Did you know you actually had options?  If you have read my last blog post: "If you Choose to Wear a Veil" you may remember that I said my own veil 31 years ago was rather thick and hard to see through.  My daughter, Maggie's veil, however, was sheer and delicate.  It had a glossamer effect.  You almost couldn't see it – but you did… There is also a picture of Maggie in her veil in that post as well… veil post…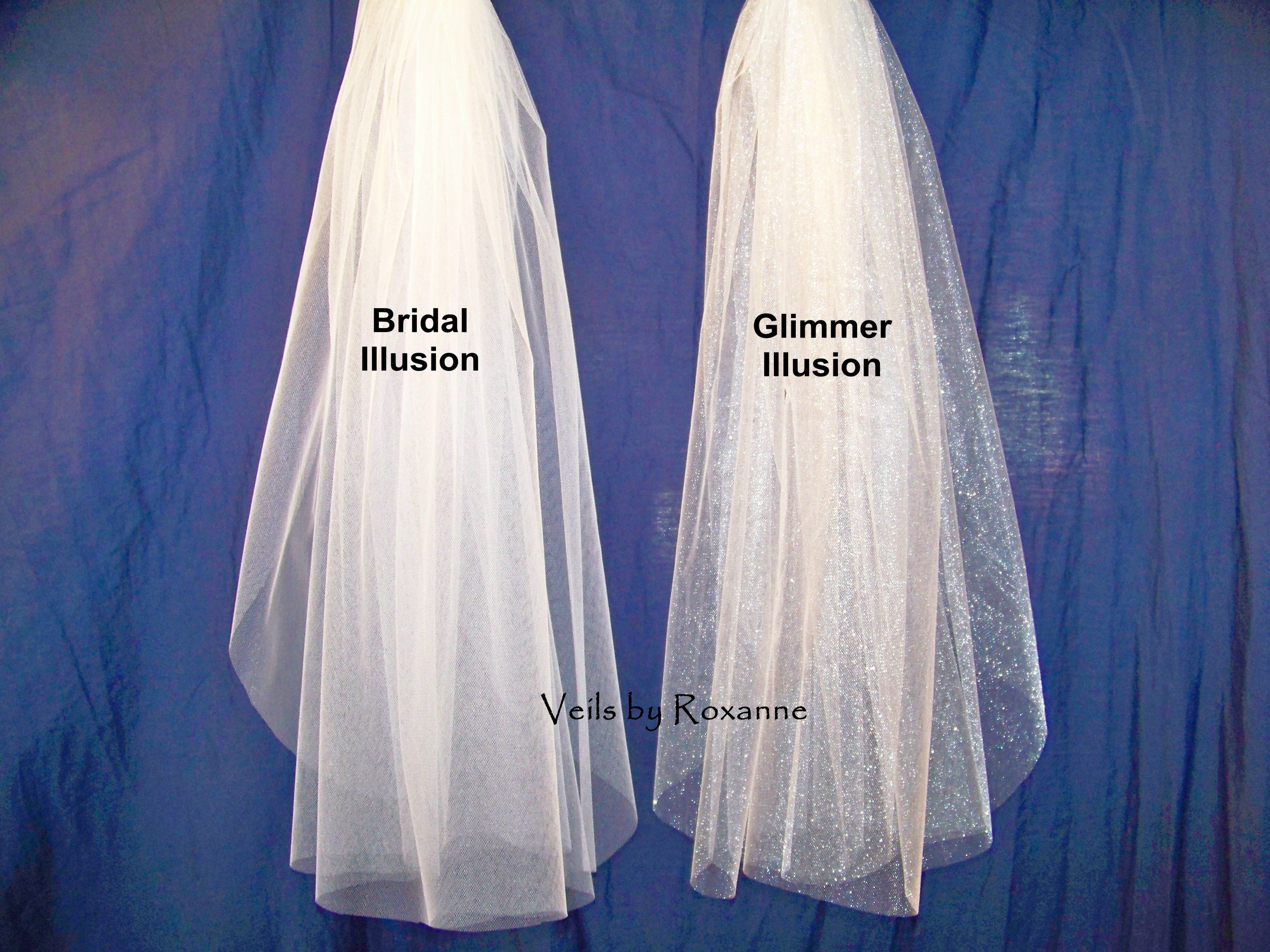 So it turns out, after much research…that there's a REASON my veil was so thick and heavy, and Maggie's so airy and light!  There are several different fabric weights and styles for bridal netting.  Who knew?!?  Maggie's veil was Bridal Illusion, so light and delicate, it was akin to a cobweb.  My veil, on the other hand, was "English Net."  While pure white and beautiful, it was heavy, hard to see through, and HOT!  The only other fabric I would consider using on a veil would be the "Glimmer Illusion".  Light like the "Bridal Illusion", it has an additional shimmer to give a little extra "pizzazz" to the bride's ensemble.  I'm not really sure why a bride would choose one of the other fabrics listed on the first photo.  While "Silk Chiffon", "Polyster Chiffon" (yuck!), and "Organza" are options, I'm not sure why.  Unless…the bride wanted a more structured, heavier fabric.  You still ask, "Why?"  Well, maybe her wedding ceremony is outside, on a beach, perhaps.  Maybe she wants the veil hanging down her back only with no blusher covering her face, and she doesn't want the veil blowing in the wind.  Maybe she likes the patterned effect of the organza, or choses to have pearl or beading sewn onto the veil.  Maybe…she wants a short veil, and desires more structure than the "Bridal Illusion" offers.  Who knows?  But someone MUST be purchasing these fabrics…  Below is a very useful chart on "Veil Length".  You can click on the following link if you'd like to read my blog post about corresponding "Wedding Dress Trains".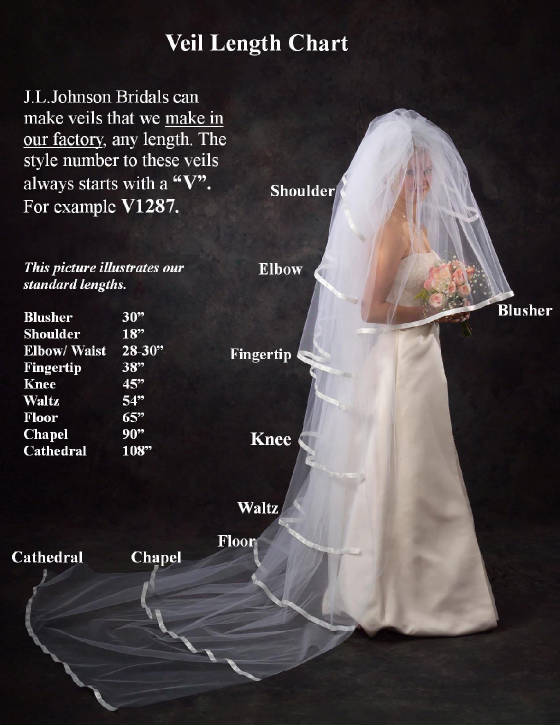 hstrial-jwilson554.homestead.com
Please visit my cousin, Kim Davises blog, wedding cocktails, and read all about yummy wedding cocktail choices! You'll also find other extravagant recipes, which are delicious, yet not too hard to make!  Check it out, you'll enjoy it!