The all important "toast."  Let's face it, as long as your dad, best man and maid of honor say a few nice words and don't  embarrass you TOO much, it's not a wedding event breaker.  The Dad's toast may make the bride cry, though…
But what the bride CAN do, is search for the perfect wedding toasting glasses for her groom and herself. The picture above is of the saucer type champagne glasses that Kenny and I used to toast our wedding (styles have changed!). Our names are engraved on the front of the glasses, our wedding date on the back… No excuses, husband of mine, for forgetting our anniversary. Just go retrieve one of these babies and read!
But are you worried about the toasts?  Well, you can gently point your parent, best man, maid of honor, etc., in the right direction by visiting a site such as weddingslovetoknow.com   It offers a full list of example toasts from anyone who may possibly think of toasting you.  🙂  Below is an example from their site, and picture of my family when my husband toasted our Maggie and Rob.  The next photo, Rob's brother and sister toasting the couple.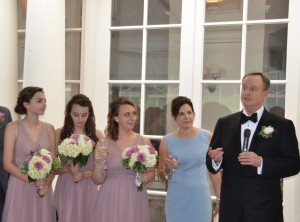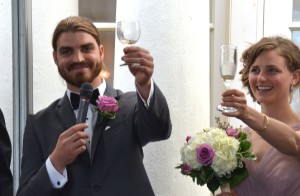 From a Parent
"The father of the bride and father of the groom may also wish to give a toast at the reception, or the fathers and mothers may wish to give one together.
Sample Toast
"Today, I am honored to count Bride/Groom as a member of my family. I have watched Bride/Groom grow from a small baby to making his/her way into the world.
Talk about a couple memories from childhood of the bride or groom.
Of course, I realized that Bride/Groom was no longer a child when she/he met the person seated next to him/her at the table.Bride/Groom came into my son/daughter's life and has not only loved my child as I did, but helped him/her become the person s/he is today.
Incorporate a few specific traits of the couple's relationship that stand out.
Your love is obvious to anyone who looks at you. We all have faith renewed in love as we gazed upon you two tonight. Your mother and I/We love you both forever. Congratulations!"
The glasses below are "new" Waterford " toasting flutes sold in the year 2000 as a tribute to our "New Millennium". They feature: Happiness, Health, Love, Peace, and Prosperity. Perfect for a wedding toast, I thought.  So I bought a pair, and decided that they would be available for my daughters' weddings as a family tradition, if they so desire. But if they have other ideas, that's ok too. Weddings are compromises, just like marriages.
Images #1 and #4 Mary P Karnes photos
Images #2 and #3 Patty Cloherty Photos