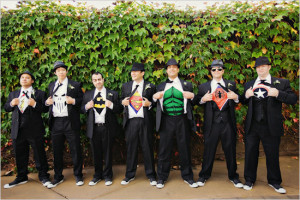 Yesterday was all about the bridesmaid…so be fair, let's talk about the groomsmen.  Ok…Let's face it…the men take this whole wedding thing a little less seriously than we women.  But if you are tapped to be a groomsman, you DO have responsibilities, and they ARE important.  You do not want "Bridezilla" after you… So what are the duties of the groomsmen?  Check it out below….directly from the knot.com
"Like the bridesmaids, you'll have to pay for your wedding gear. Luckily, you can usually rent a tux for quite a bit less than what the bridesmaid dresses will cost. Be sure to get fitted at the specified store with time to spare — you don't want to walk down the aisle in floods!
Attending all prewedding festivities (engagement party, couple shower, bachelor party, rehearsal dinner). Perks: Free vittles and drinks.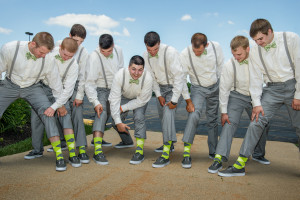 Helping the best man plan the groom's bachelor party. Perks: Good food, drinks, and perhaps some insights into female anatomy.
You'll conspire with the best man — and the bridesmaids — to decorate the honeymoon getaway car in style.
Before the ceremony, you may be asked to usher guests to their seats. At traditional Christian ceremonies, guests of the bride's family sit on the left, and guests of the groom's family sit on the right. At Jewish ceremonies, it's the opposite. When a couple arrives, take the woman's arm and escort her to her seat; her escort will follow you. Always seat the oldest woman first if several guests arrive together. You should arrive at the ceremony site at least 45 minutes early to review special seating requirements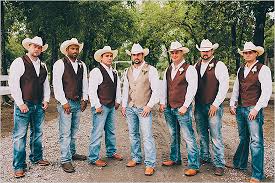 Be prepared to serve as information central and direct guests to restroom facilities and the reception site.
Purchase a wedding present, perhaps with one of the other groomsmen. You'll have more buying power, and two heads are often better than one when it comes to gift ideas. Sometimes the entire groomsmen gang pitches in for one knock-them-off-their-feet wedding gift.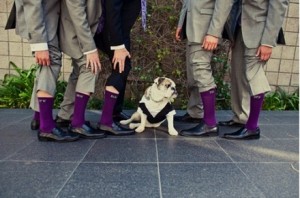 At the reception, you may be introduced with the bridesmaid you escorted during the recessional. You may also be asked to dance with bridesmaids or single female guests during the evening. Wow, how easy is this?"
Work, yes, but have fun, boys.  It's a good time…
Below, the handsome groomsmen at my own Maggie and Rob's wedding this past June.
Image #5 Patty Cloherty Photos