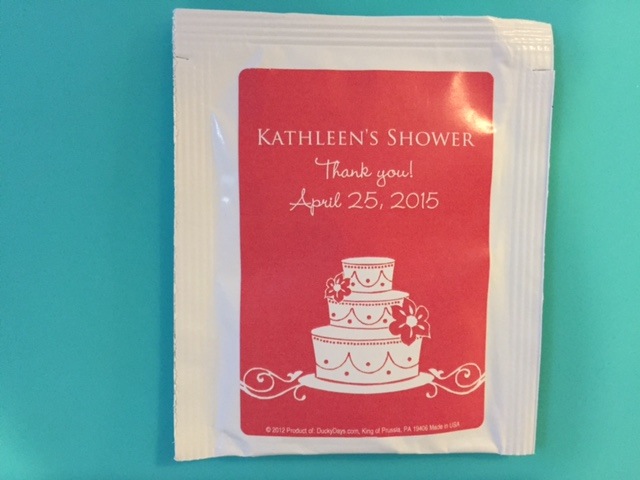 Bridal shower favors …the little thank you to your guests for attending your party, and gifting you with much needed items to start your new life.  Don't discount these presents that may range from crystal frames to placemats.   I still have mixing bowls, tupperware, and linens from my showers thirty-one years ago.  So…what to give your guests when they graciously attend your bridal shower?
Well, it can range from the extravagant, think a Waterford crystal vase, to a token – a perfumed soap or a few chocolates.  What about a theme?  KK had a "Tea" for her shower, so we chose a guest-take- away with a "Tea Party" theme.  The top photo is of a teabag that I ordered from beau-coup.com   I originally started to order on-line, but had a few questions, and placed a call.  The customer service rep was terrific.  My personalized tea bags arrived in just 3 days – with no shipping up-charge!  FYI, the teabag is plain white, the "personalization," a sticker.  Looks pretty good, doesn't it?  It makes for a nice keepsake, for KK and the guests.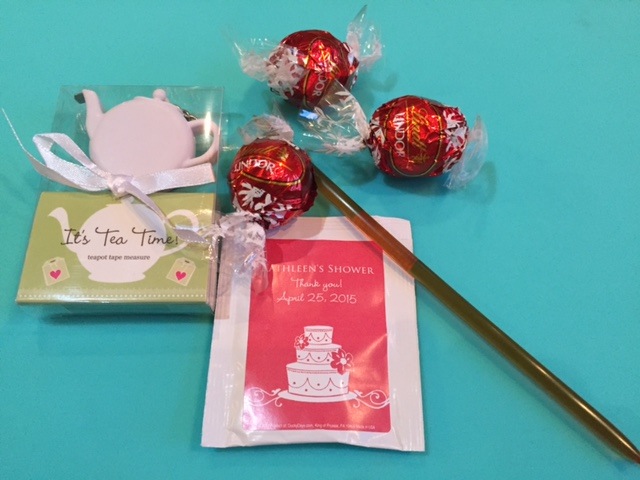 Each guest received a pink bag which included the tea bag, a "Tea" shaped tape measure, a few truffles, and a honey straw.  And don't forget Aunt Cindy's gorgeous "Tea" candle favor!  (if interested, you can click on the following link http://marypkarnes.com/2015/04/fun-bridal-shower-ideas-2/ and it will direct you to my post: "Fun Bridal Shower Ideas"  It made for a nice, cozy favor.  Below is a picture of the the favor bags grouped in my window sill.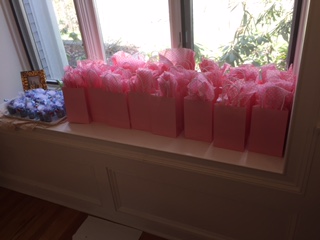 Photos: Mary P Karnes photos
Shop Mother's Day Savings in Amazon Exclusives