WEDDING DRESS STYLES PART II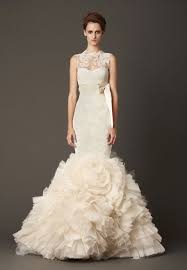 MERMAID
Bonus for the dress above.  Not only is it the coveted "Mermaid" style, but it has a lace bodice, and oodles of fabric ruffles on the bottom.  This is a gorgeous dress, the "Mermaid" a gorgeous style.  But take heed… it demands a model thin figure.  Had it been "the thing" when I married, I would have been far too short for it. It requires a tall, thin stature.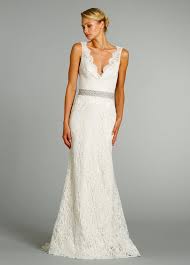 SHEATH
The sheath is often neglected by brides to be.  For most, it doesn't have enough, "Big Romance" bling. But it can be spectacular with the right figure -think Carolyn Bissett Kennedy.   It also flatters all age groups of brides, and you can add your own "pop" of sparkle like the bride above did with her belt.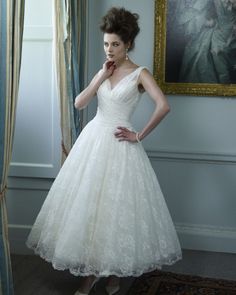 TEA LENGTH
I wrote a whole blog post on "Tea Length" wedding dresses.  Check it out in my "Archives"!  I think the tea length is a perfect choice for a more casual wedding, and it looks great on everyone.  You needn't wear a full skirt like the dress above, but the full skirt lends a delightful "50's" feel.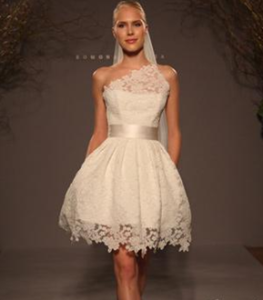 MINI
What about the "Mini"?  Much like the tea length , the wedding would have to be much more casual  but what a sophisticated look! And if you have the legs for it….why not show them off?  With this short length, you could wear it again.  Today, most women don't recycle their wedding gown, but in my mother's day, they were more practically minded, and it was not unheard of to wear your wedding dress/ suit again for another grad occasion.  Would YOU consider it?  We often follow the trnds celebrities start.  I recently saw a picture of Natalie Portman at an event decked out in HER wedding dress – food for thought…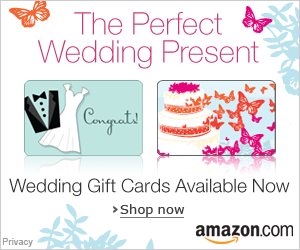 Shop Amazon – Gift Cards for Weddings
Image #1 rusolclothing.com
Image #2 designurge.com
Image #3 www.pinterest.com
Image #4 blog.jjshouse.com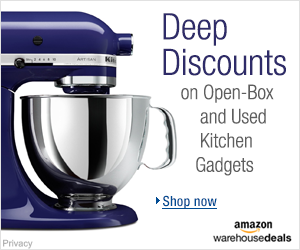 Shop Amazon Warehouse Deals – Deep Discounts on Open-box and Used Kitchen Gadgets