Everyone gives the bride and groom gifts, but what about when the bride wants to return the favor?  Where to start?  The sentimental gifts from the bride below, are a good start.  And nothing is as powerful as the written word…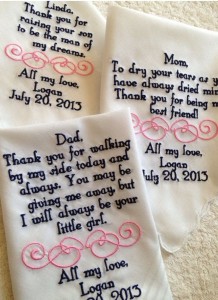 These embroidered hankies are thoughtful, timeless and can be personalized.  The bride can even use her wedding colors for the embroidery thread to tie it to her theme.  They are appropriate for anyone, male or female, young or old, whom the bride wishes to honor.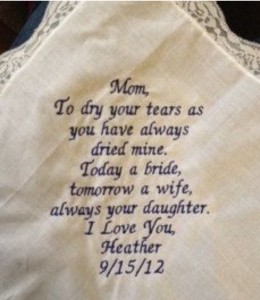 After the wedding, the recipient of this time-honored gift can choose to have it framed in a shadow box, or merely tuck it in a drawer for safe-keeping.  Who knows…it may become a family heirloom…
If you think hankies are an option for you, there are many websites offering their services.  When Maggie married, we did not choose them as gifts.  We just may for KK's wedding however… One company that offers responsible prices is: www.newtraditionshankies.com  I have not used this website, but they have many choices and are not cost prohibitive.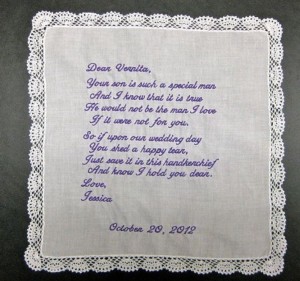 And whatever you do, don't forget the mother of the groom.  She is a vital part of the wedding party, and your groom would not be the man he is today without her influence.  Honor her, and continue throughout your marriage.  And also…don't forget your mom… 🙂
Next time…more gift giving options with the focus on bridal party attendants and guests!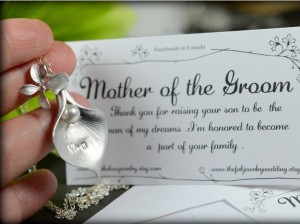 First four photos from Pininterest.com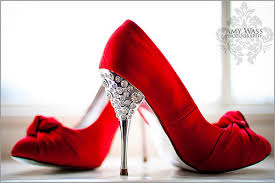 And the red shoes…well I just posted them 'cause I think they're gorgeous!
weddingshoestips.com
Shop Amazon – TurboTax – Get 10% more on Top of Your Federal Refund