It's all about the back … 'bout the back…  I don't think enough brides take the rear view of their dress seriously enough.  Your guests just MAY be looking at the back of your dress and hair more than the front — well at the wedding ceremony at least.  Think about it…unless you choose to be innovative and face your guests when you say your vows, (your presider would then be one one to have HIS back to the congregation), the focus is on the rear view.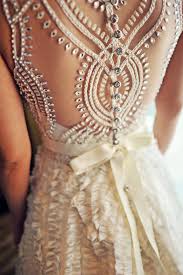 I ADORE the above dress, the one below too…Both are exquisite.  Two things to remember:  If you choose a dress style with such an intricate rear view, you must have either short hair, or wear your longer hair up.  Your veil may need to be modified as well.  My veil was so heavy and pure white, it was more opaque then sheer and not much was visible through it.  Maggie's, not the other hand, was as delicate as a spider web's…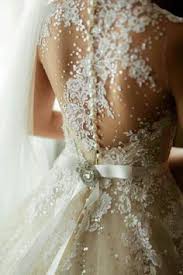 Much thought must be given to you hair as well.  The bride below chose a different "rear view."  The emphasis here is her hair, but she has created a blank canvas to showcase it.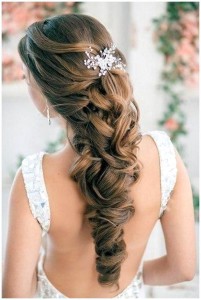 The next photo also presents an option for the highlighting your back.  This bride opted for her jewelry to hang down behind her.  I love this look and think it's a great coupling for a strapless gown.  It integrates a bride's dress and accessories.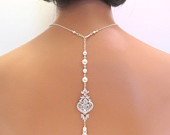 Or…you might favor the next dress which features a bow. This was my choice 🙂 My dress was very tailored/simply.  Although I preferred the word, "Elegant"  I had a big old bow on the back of my dress.  It was feminine, and gave the guests focus.  Just more food for thought…not that a bride needs any more confusion…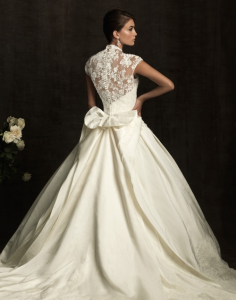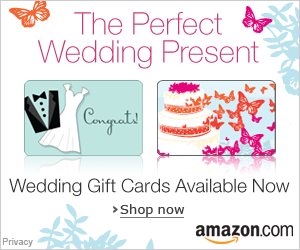 Shop Amazon – Gift Cards for Weddings
Image #1 dressshoppingonline.wordpress.com
Image #2 www.pininterest.com
Image #3 ultimatebrideblog.wordpress.com
Image #4 etsy.com
Image #5 weddingsbylilly.com