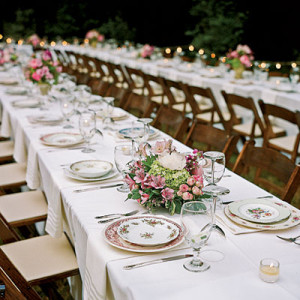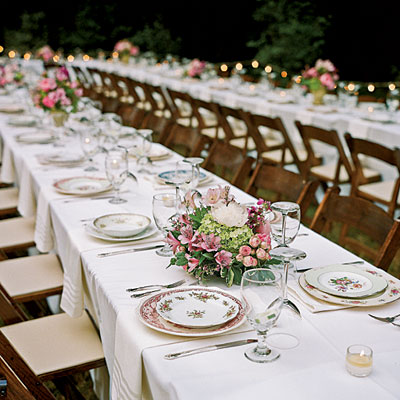 What's old becomes new again…and this is the case with a family style wedding dinner.  In days of old, weddings were not the grand affair they have become today.  Two people decided to marry, join their families, create their own.  Yes, a celebration took place, and it was a party.  But really…no one
cared if bubbles were blown, sparklers flashed, or butterflies released when the bride and groom made their get-a-way.  Nor was the emphasis on guest favors, chocolate fountains, or photo booths…photos booths?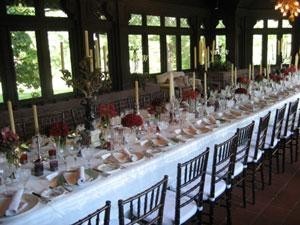 But weddings, maybe because brides are always looking for a new angle, are constantly morphing.  Weddings are circular. I've noticed some new trends, that are really not new at all, but from my generation or my mother's.  One example is the "all the rage" rainbow color scheme for the bridesmaid's dresses.  Maybe what's "IN" for weddings NOW will be in fashion when my grandkids are getting married.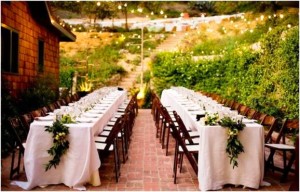 I LOVE the family style 'wedding dinner table'.  Of course if you have a large guest list, you can't seat EVERYONE at the same table, but you could try…  Instead of 24 tables of 8, just think 5 of 40.  If you go this route, consider an outside reception.  More room for those LONG tables…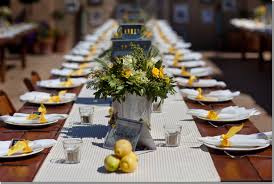 You CAN accommodate long family style tables indoors, but an outdoor affair will make the arrangement feel less cramped.  And what about the food?  How is IT served?  Well…just like it sounds…family style. Dishes are placed in any free space in front of guests at the table, and they in turn take their own serving and pass the dish along.  Brides who have used this arrangement claim it lends an immediate air of intimacy and camaraderie.  I think it just sounds like a party.  🙂