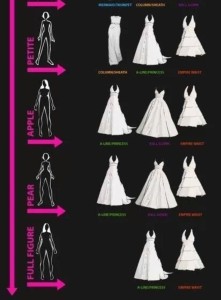 We've talked about wedding dress styles, but not what's the best wedding dress for your shape.  As my mother always told me, just because something is 'in fashion' doesn't mean it will look good on YOU.  And nothing is more important than to purchase a wedding gown that is flattering to your figure.  The chart above shows body types and the best look for yours.  The chart below takes the analysis to a finer point by …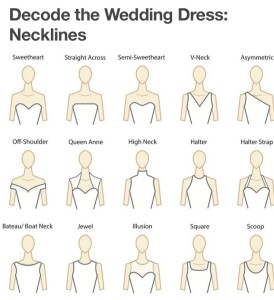 defining only necklines.  This chart doesn't suggest what would look the best on you, it only gives a reference guide so one can make the best decision.  I have never been a fan of the strapless gown, especially in a wedding dresses.  But there are the brides who can pull it off…  The neckline of my dress was the "Scoop."  Maggie had a modified "Illusion."  And KK, well…you will just have to wait to see.  All I will divulge is that it is very flattering, as is the whole gown, and she looks just beautiful in it.  Pretty vague, huh?  🙂
The charts are not a perfect science, but they do give you somewhere to start.  Decide what your body type is, focus on what is recommended for that type, and when you begin your gown search, concentrate on the styles that are supposed to flatter you.  And sometimes…you just HAVE to try them on…even if the experts say it's your ideal…Hopefully you'll just have one wedding, so get the dress right too..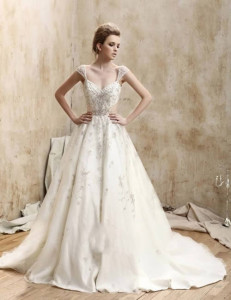 What would be my choice today, if I were a young bride again?  I think something like the very last picture.  It's slimming, elegant and has a bit of old world charm…but I would have to try it on.  And I'm not sure it would be the best for my body type…
Image #1 pininterest
Image #2 pininterest
Image #3 weddingdecorationshq.com
Image #4 www.finafani.com
Shop Amazon Gift Cards. Any Occasion. No Expiration.