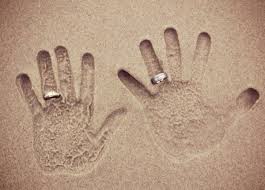 You think you've planned it all?  Well, add "Think of a memorable, creative, 'never-before seen' photo idea for your wedding rings".  Wedding Rings??? You ask.  Yes. It's quite the thing.  If you're planning a beach wedding, the top photo could be just what you're looking for…if not…not so much…and then again…might you loose those gorgeous rings in the sand?… could happen!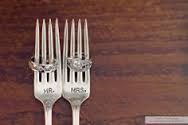 The fork idea is cute…but why???  Not sure what the theme is, but I really think there should be one…although the "Mr./ Mrs." works for me.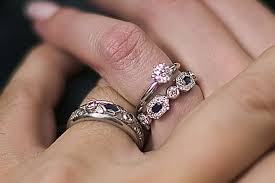 I rather like the next picture.  It's romantic, and shows both rings off to good advantage.  The bride and groom's fingers intertwined is very intimate.
Burt's Bees Lip Balm, Beeswax, 0.15 oz., 4 Count

Winter drying out your lips? – amazon has Bert's Bees at a great price.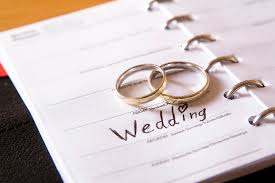 The next picture is not original, as far as the 'wedding ring photos' are concerned.  In my research, I found several…But it's cute, and if you enlarge the calendar, maybe it will be a way to remind your husband of your anniversary!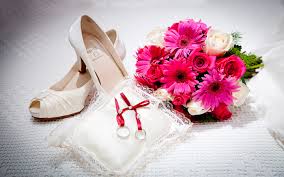 I LOVE the photo above.  It has all my favorite things: shoes, flowers… and jewelry – a can't miss combo.  Maggie and Rob had some lovely photos of their rings.  Their photographer did a nice job, but they didn't discuss it before hand.  If you really care, I suggest you think what about is special to the two of you, and try to incorporate that into a photo op.  Your wedding is a once in a life time event, make the most of it , and plan ahead.  Yes, yes, you have to micro manage – but you'll be glad you did.  The photos will last forever.
My Perfect Wedding Planner Free (Kindle Tablet Edition)

 Free kindle wedding planner from amazon!  Just click on the link!
Image #1 www.elegantweddinginvites.com
Image #2 pininterests.com
Image #3 963kklz.com
Image #4 bidsbypros.com
Image #5 rebelmouse.com
Image #6 yoterdesign.com