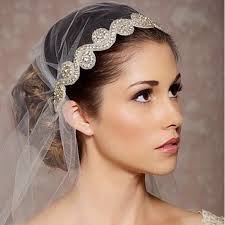 So you have said, "Yes to the Dress!"  Next, your bridal consultant walks over to the 'wall of veils' and rushes back to your side with glee, (obviously thinking of her commission!), and arranges a veil on your head.  Now you really look like a bride!  "Of course," she reminds you, "the color of the netting will match your dress color."  VERY few brides today wear stark white…not the most flattering shade.
But what about a headpiece?  In my day, it was all about a wreath.  I think every bride for the first 5 years of weddings Kenny and I attended wore one.  The wreath headpiece was to veils what the mermaid dress was to wedding gowns.
I love the top photo.  This headpiece can double as a holder for the bride's veil, and will look lovely if she chooses to remove her veil for the reception – something I HIGHLY recommend…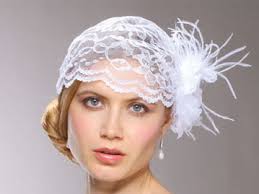 The above photo has quite the retro air.  One would have to have a certain "look" to carry it off, and a veil would be a no-go.  Maybe for an older bride, or a second marriage?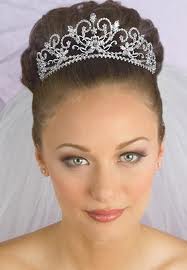 The photo with the tiara is quite regal.  It's flattering and classic.  It too would double nicely for ceremony and reception.  And the styling of the bride's hair and tiara will provide a nice "shelf" if she chooses to wear a blusher.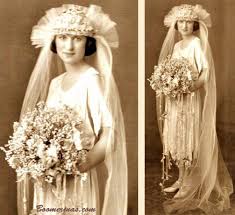 Seriously?  I have never been a fan of the 20's/30's fashion.  Never less so than for bride's.  I think this bride's headpiece/veil is gruesome.
And below…you see my own Maggie wearing my headpiece.  I have it on good authority that my own Kathleen is SERIOUSLY considering wearing it as well…could this become a Karnes girls' tradition?  I certainly hope so…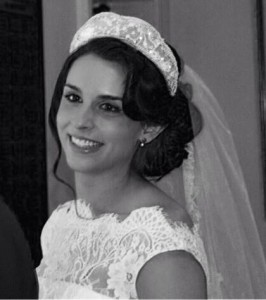 The Girl on the Train: A Novel

Reading this now-VERY good…available from amazon
just click on the link!
Image #1 tweeting.com
Image #2 a1invitations.blogspot.com
Image #3 plexwedding.com
Image #4 boomerinas.com
Image #5 Patty Cloherty Photos