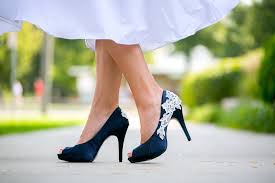 If I haven't mentioned it before…I love shoes!  What better way to showcase a gorgeous pair of shoes, than a tea length wedding dress!  There is something so "50's" about tea length.  It sets a nostalgic tone immediately.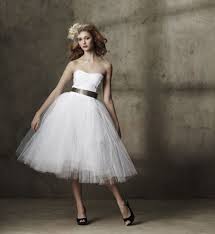 Several things to keep in mind if you do choose a dress of this length.  Your wedding will take a much less formal air.  Much of the tone of a wedding is set by the brides dress.  If you wear a tea length, your groom and his attendants, (and of COURSE your bridesmaids), must also take a more casual approach.  The men should wear suits or sport coats instead of the more formal tux or tails.  All ladies, from your mother to your attendants, must also follow your lead.  This is quite a practical approach.  No chance of tripping over a long hem at the ceremony OR the reception.  If you don't choose a reception dress, (click on the following link to read the pros and cons of two wedding dresses), http://marypkarnes.com/?s=two+wedding+dresses  no need to worry — you have one built in with your tea length wedding dress!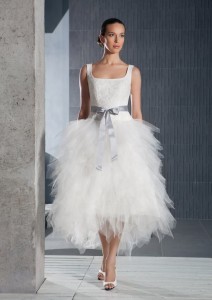 And yes…a tea length dress can be special.  Just look at the dress above.  I think it's gorgeous, and very 'bride-like.'  And best of all…your shoes will show!  This of course means you really want to find a pair of spectacular wedding shoes. Click on the following link to see some beautiful shoes!  http://marypkarnes.com/2015/02/blue-wedding-shoes/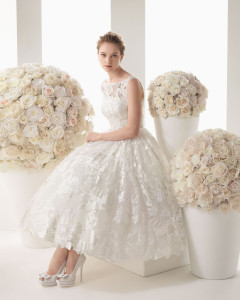 What if you decide on a destination wedding, with a beach theme?  Well then, your ONLY choice is a short dress – I guess you COULD wear a long gown, if you had your heart set on it – but think of the mess…Just remember it's YOUR day.  Is KK's dress tea length?  I'll never tell.  But it WAS discussed…
Hopefully, you'll marry once, so do it your way!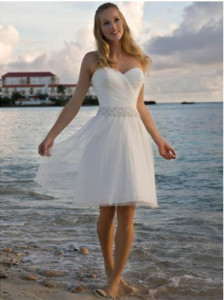 Image #1 Etsy.com
Image #2 weddingomanic.com
Image #3 weddingomanic.com
Image #4 imgkid.com
Image #5 youmbo.com