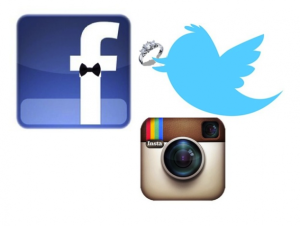 So… You think you have your wedding covered, as best you can, on social media? You've posted your preferred "hashtag" # for instagram and twitter. You may have looked into using an instagram growth service to make your event really stand out. Those running a wedding planning business may want to stay up to date with social media marketing strategies and buy Instagram likes to drive engagement. You may have even made a cute sign to ask all guests to turn off their cell phones. I suggest one step further… Print out a short (you really want your guests to read it) blurb on social media wedding etiquette. It could be placed on the table where your guests pick up their place cards and get their table assignments. Make it cute, and slightly humorous, if possible – don't want to offend anyone. You might have even had a surprise like an adventure wedding photographer either hiking or by helicopter that was going to help you make an amazing entrance for your wedding. You wouldn't want guests ruining the surprise for those that don't know! Of course, they are more than welcome to post photos of the special day afterward! We should all always be so grateful that people have shown up to celebrate one of the biggest days of our life so we should thank them all for taking pictures and being so invested in our happiness.
Below is an except on a "Social Media Wedding Tips/Survey" from David's Bridal. Some thought provoking ideas to incorporate into your "social media manual" if you choose to use one.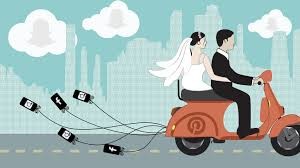 "According to David's Bridal survey, 44% of brides believe digital rules are important in setting the tone for their guests. Only 14% of brides are taking cues from some celebs and are asking that there be absolutely NO social media posting.
Here are some other findings from the survey.
Don't Spoil the Surprise: 62% of brides believe the bridesmaids should not post any photos of the bride in her wedding dress before the ceremony. And I personally agree with this one. If the groom can't see the bride before the ceremony, why should anyone else.
Wait Your Turn: 58% of brides believe the bride and groom should be the first to post a photo from the wedding.
Viral Video Stars: 32% of brides are saying I don't to any video content on YouTube from my wedding, which means no chance of a viral video.
#BestWeddingEver: 26% of brides want you to use their specially-created hashtag should you post anything about the wedding.Have you thought of a hashtag for your wedding yet?
Sharing is Caring: Only 22% think the bride and groom should be the only ones to post photos from the wedding.
And check this out. A majority (56%) of brides will update their profile with their new name within a day of the wedding, and 10% will actually do it as the wedding is happening! I know I am guilty of stalking a bride's page to see when the name change takes place." http://kaicongroup.com/2014/05/21/social-media-wedding-etiquette/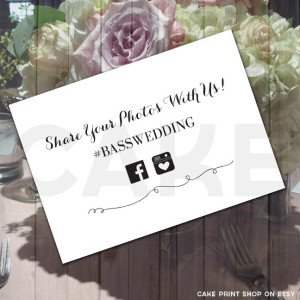 Header: www.chicagonow.com
Image: #1 mdmentertainment.com
Image #2 mashable.com
Image#3 www.etsy.com
Image #4 problog.weddingwire.com