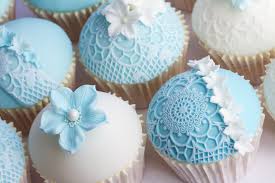 Will you have a wedding cake…a fake cake…or wedding cupcakes?  We all know what a wedding cake looks like – no surprises there.  It's a beautiful, but very traditional choice.  You can't miss.  Everyone loves the pageantry of the bride and groom cutting the cake, feeding each other – and don't forget the all important pictures.
What's a "fake cake", you may ask.  You can look for a future post on that one…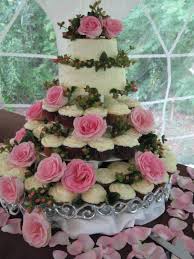 Cupcakes are a big deal now.  There are bakeries that sell nothing but cupcakes, there are cooking shows devoted to cupcake bake-offs.  The advantages to cupcakes over a conventional cake are many.  The bride can have many more flavor and frosting choices – something for everyone!  There are even vegan options available.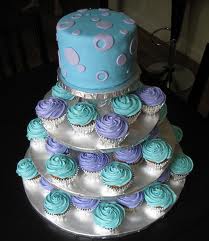 In the photos above, there is a nice combination of "Traditional Wedding Cake" and cupcakes.  The top layer is a cake for the bridal couple to preserve for their first anniversary, and the lower levels are for the guests' enjoyment.  I personally love this "Hybrid" option.  In the pink cake above, the fresh flowers decorating the delightful concoction make it look like a traditional wedding cake.
If you choose the hybrid option, your price point may be reduced from a traditional wedding cake, thus freeing up some funds for other dessert options.  Most caters offer dessert choices on their menu, and not all guests are cake eaters.  A dessert bar is very popular on the wedding circuit.  KK has never really liked cake.  I'm sure she'll be paying close attention to our caterer's dessert offerings… And let's not forget the ease of eating a cupcake…and it can be done on the move…or the dance floor…  🙂

click on the link below to check out my favorite wedding "Prep" product!
bliss Fatgirlslim, 6 fl. oz.
Image #1 beyondsignatures.com
Image #2 www.weddingsee.com
Image #3 www.piece-a-cake.com