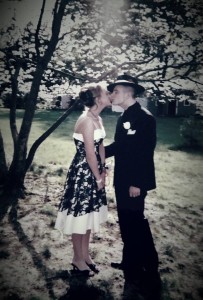 I love this picture of KK and Tyler.  I had never seen it until recently.  It was taken prior to KK's senior ball – where else, my Glastonbury Friends…but by "The Fountain."  For those of you who don't live in town, the "Fountain" is an institution.  It is the town residents' favorite photo opportunity.   EVERYONE goes there to take pictures for Junior Prom and Senior Ball – the attendees, the parents,  siblings.  It is quite the spring social event.  You see a few brides there on a Saturday afternoon – but not as many as I would think.  As with everything else… time is always a factor.  I have mentioned "The Fountain" in a pervious blog, but didn't include pictures.  The photo below is an evening view in spring or early summer.  The one following,  a picture taken on Main Street, Glastonbury.  You can see the rock wall entrance to the park where the fountain is located.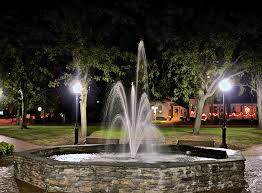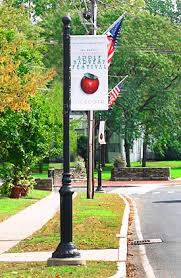 When booking your photographer, it's a good idea to discuss before hand where your would like your formal photos taken.  If you get married in a "Four Season" part of the country, keep in mind the changing foliage if you plan outdoor pictures.  Also consider other weather related senarios -…for example, while the fountain is one of the most iconic photo spots in Glastonbury, the water is shut off at the end of fall through winter.  It's not as special without the delicate spray.  Have ideas for all weather possibilities.  What if it rains?  Have some indoor options in your bag of tricks.  It rained on Maggie's wedding day – supposed to be good luck, but boy did it change our photo plans.  KK and Tyler have many options for wedding pictures.  There is a darling gazebo at their reception site, as well as the signature "Crystal Lake."  If it rains, well, they can head to the covered deck and use the lake as a backdrop. The photo below showcases Crystal Lake.  The view…from the covered deck.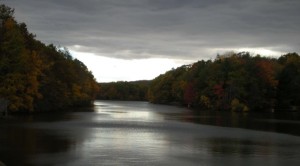 I am closing in on the final selection of KK and Tyler's photo package…lots to consider…remember…when you sign that contract, you're locked in.   You can always add on, but as the coordinator told me, "Once you pick a package, you can go up, but not down-size."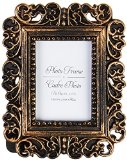 Click on the link below to see this elegant frame for wedding pictures, or place card settings from amazon!
Kate Aspen Ornate Antique Gold Place Card Holder/Photo Frame
Image #1 Unknown
Image #2 flickriver.com
Image #3 franklinpainting.com
Image #4 ffdjs57.wordpress.com