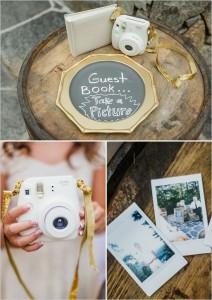 So you want to remember all the guests who attended your wedding?  Easier to do these days as everyone has a smart phone with a camera.  In fact, your wedding may make it's debut on social media even before you do!  But that's a whole other blog…check back tomorrow for that one.
When Kenny and I got married 31 years ago, we had the standard white guestbook.  Maggie and Rob had the same.  KK and Tyler, however, are going to have something more innovative.  I have been doing my research.  There are a lot of new guestbook ideas out there!  I have become quite the pininterest addict, www.pininterest.com, and ran across the CUTEST ideas for recording the attendance of your wedding guests, all from weddingchicks.com.  The photo above is my favorite.  I love the concept of having pictures, via poloroid photos – (you young ones may not know what they are!).  Down side… the photos of this type fade. Lovely idea, though.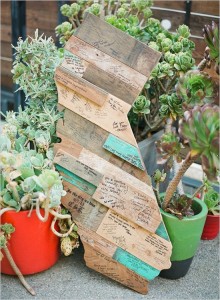 The wooden state of California above, serves three purposes.  Guests are invited to sign sections of wood on the state model, providing the wedding couple with a  lasting keepsake of their guests.  Secondly, it appears to tie in to a "Western" type theme.   Note the lovely succulents around it, and third, it can be a piece of art for the couple's new home.
Another novel idea, and a practical one to boot, is the photo below.  A bride can purchases a desk calendar, then ask her guests to sign their name on their birthdate!  Not only is it innovative, but the new couple now has a complete record of friends and family's birthdays.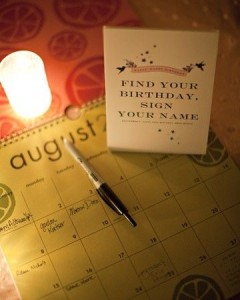 The idea below is interesting, but not as generic.  But hey, if you're a music buff, I can't think of anything much nicer than a lovely instrument with all your wedding guests' autographs!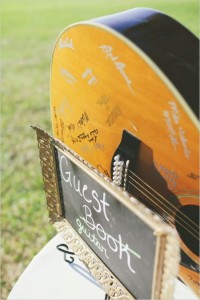 Header: www.unitedwithlove.com
All images: Pininterest.com